Since 2001, the Emerging Markets corporate bond market (or "CEMBI" market – per JP Morgan CEMBI Broad Index, the most followed benchmark in the space) has grown into a nearly $1 trillion standalone asset class worthy of consideration from those looking to diversify their emerging markets and/or broad credit exposures. Indeed, the CEMBI market has grown larger than the $857 billion EM Hard Currency Market (or "EMBI" market – per JP Morgan EMBI Global Diversified Index), and is quickly gaining on the more mature, $1.2 trillion U.S. High Yield Corporate Bond market. EM Corporates also exhibit an attractive risk-return profile compared to Hard Currency Sovereigns and U.S. High Yield, offering competitive total and risk-adjusted returns with lower volatility over the long term (Figure 1).  With over 1,400 issues from 640-plus issuing entities across 12 industries and over 50 countries, the EM corporate debt market can serve as a well-diversified, risk-adjusted complement in a fixed income portfolio. 
Figure 1. EM Corporates: a risk-adjusted approach to emerging markets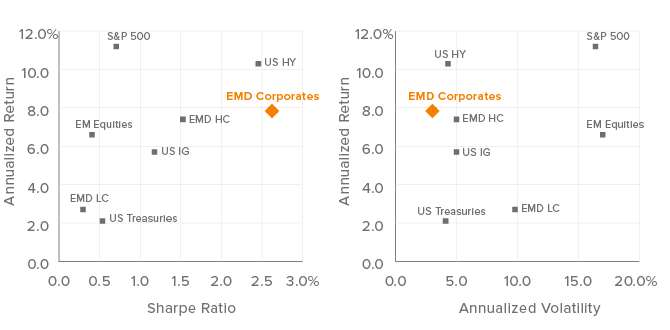 Source: Voya Investment Management, Bloomberg.  Data based on daily returns from January 1, 2008 - December 31, 2018.
Evolution, expansion and growth
In its 17-year life span, CEMBI's composition has evolved and expanded across countries and regions, industries, credit qualities, and maturity profiles, offering one of the most diverse asset classes available to investors.  The universe now consists of over 50 countries, up from 13 in 2001, with China and Russia as two of the top five countries that were not represented at inception.  Much of the growth in regional diversification has come from the Middle Eastern and African issuers, which now account now for 22% of the sector versus less than 3% in 2001.
Meanwhile, the growth in regions and countries has subsequently led to a more diverse set of industries, with 12 now represented, allowing investors the ability to capture global market themes and sector trends.  Many emerging markets countries have matured into more consumption- and services-driven economies, reducing cyclical risks and dependency on exports or commodities, and making the asset class more attractive as a long-term allocation.  While, Oil & Gas and Metals & Mining are still well represented - highlighting the abundant natural resources across many emerging economies - this structural shift has led to Financials being the largest industry represented in the market. That said, Financials are beginning to decline as the market continues to evolve, thus highlighting the steadily decreasing dependence of the space on banks and commodity prices.  Furthermore, once comprised of over 80% investment grade issues - which was higher than sovereign universe - the current average rating of the Index is now Baa3/BBB-, signaling an increase in investor confidence as the market has allowed more below-investment grade corporations to issue debt.  From a maturity standpoint, the CEMBI market offers investors the ability to allocate across the credit curve, with over a third of the issuance longer than seven years, further highlighting investor confidence in the sustainability of issuer profile.  With that said, not all issuers are unrecognizable; CEMBI consists of many household names such as Alibaba, Petrobras, and Teva Pharmaceuticals.
Figure 2. The Emerging Market Corporate Bond universe has undergone significant maturation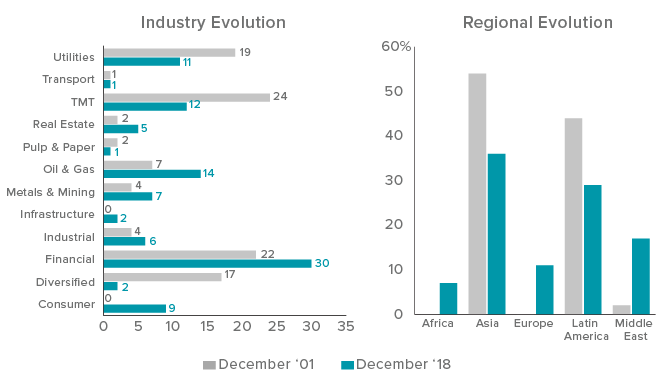 Source: JP Morgan Chase.  As of 12/31/18
What to consider: CEMBI vs. EMBI / US HY
Four key risks should be considered when allocating to emerging markets debt: country, credit, duration, and currency.  As noted above, EM Corporates offer an attractive risk-return profile compared to other emerging market and credit asset classes, but there are certain differences that can help investors decide where and how they want to allocate to EMD.
First, the regional dispersion of the EM Corporate market skews more towards Asia and the Middle East, which makes up 36% and 17%, respectively, of the universe compared to 20% and 6% of the sovereign universe.  On the other hand, EM Sovereigns have historically been more concentrated to Latin America and Europe, which makes up a combined 61% of the market compared to 40% in the EM corporate market. In fact, it is this skew towards Asia and the Middle East that is a key component to why the EM Corporate market maintains a higher average credit quality than sovereigns at BBB- compared to B+. With that said, the inclusion of sovereign debt issued by Gulf Cooperation Council ("GCC") nations such as Saudi Arabia and Kuwait, among others, into the EMBI in 2019 will begin to slightly close the gap on this regional dispersion.
From a credit risk perspective, default rates in the EM Corporate market currently sit at 1.2% compared 2.9% for the U.S. High Yield market, further indicating the resilience and discipline of EM economies and strength of EM balance sheets.  Furthermore, despite being higher quality, EM Corporates exhibit less interest-rate sensitivity with a duration of 4.5 years, significantly shorter than EM Sovereigns (6.5 years) and only modestly longer than U.S. High Yield Corporates (3.9 years).
Finally, the EM Corporate market consists only of U.S. dollar-denominated debt and thus does not exhibit the currency volatility experienced when allocating to local sovereign market. However, fluctuations in an EM Corporate issuer's base currency can affect that issuer's ability to pay back their dollar-denominated debt.  As such, that is one of the many considerations taken into account by active managers when which sectors and securities in which to invest.
Figure 3. Key Emerging Market Debt Index characteristics as of December 31, 2018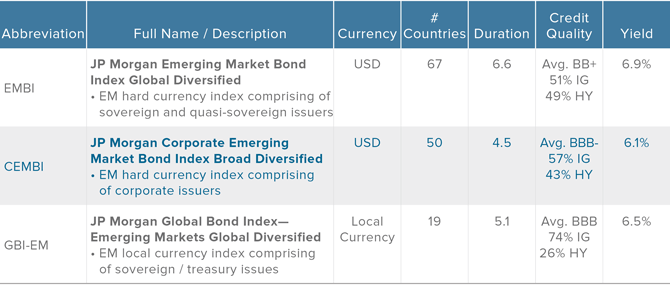 Source: JP Morgan Chase.  As of 12/31/18
EM Corporate bonds offer investors an attractive risk-return profile for an asset class that is only going to continue to grow and evolve as EM countries continue to develop and benefit from globalization.  Diversification is key when allocating to EM Corporates in order to minimize concentration and default risk, thus highlighting the importance of active management and managers' ability to maximize alpha.  Given minimum trading sizes and sporadic bouts of illiquidity, choosing an established manager with a diversified vehicle is also an important consideration in order to efficiently take advantage of the growing opportunity set that is EM Corporate debt.
This commentary has been prepared by Voya Investment Management for informational purposes. Nothing contained herein should be construed as (i) an offer to sell or solicitation of an offer to buy any security or (ii) a recommendation as to the advisability of investing in, purchasing or selling any security. Any opinions expressed herein reflect our judgment and are subject to change. Certain of the statements contained herein are statements of future expectations and other forward-looking statements that are based on management's current views and assumptions and involve known and unknown risks and uncertainties that could cause actual results, performance or events to differ materially from those expressed or implied in such statements. Actual results, performance or events may differ materially from those in such statements due to, without limitation, (1) general economic conditions, (2) performance of financial markets, (3) changes in laws and regulations and (4) changes in the policies of governments and/or regulatory authorities. The opinions, views and information expressed in this commentary regarding holdings are subject to change without notice. The information provided regarding holdings is not a recommendation to buy or sell any security. Fund holdings are fluid and are subject to daily change based on market conditions and other factors.
Past performance is no guarantee of future results.