Research we published this summer –The Momentum Effect: Is the End in Sight?—showed that momentum stocks had enjoyed an abnormal period of significantly higher than historical returns with significantly lower risk.  In that paper we noted that, "Trees do not grow to the sky," words late financial journalist Louis Rukeyser used to describe the inevitability of down markets. We did not need to wait long for these words to ring true, as the market experienced the worst December selloff since the Great Depression. However, contrary to expectations, momentum stocks were actually a safe haven (Figure 1).
Figure 1. Momentum Factors Outperformed Despite December Volatility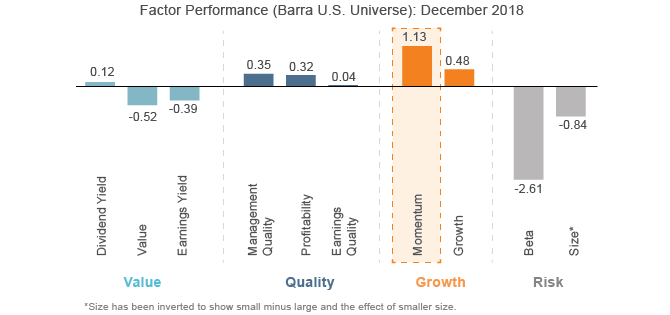 Data as of 12/31/18.  Source: Voya IM and FactSet. Past performance is not indicative of future results.
Sector performance is based on the S&P 500.  Factor performance represents the US Universe.
Figure 2. Momentum Worked on December's Most Volatile Days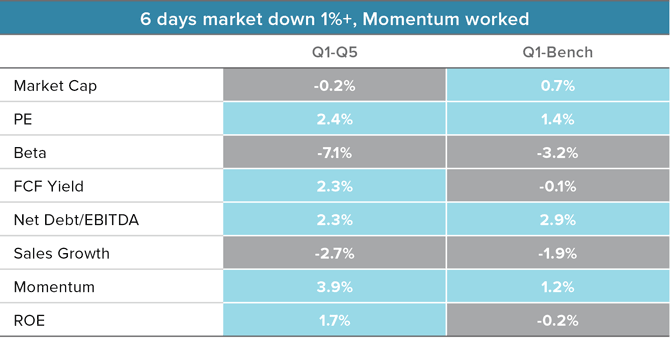 Data as of 12/31/18.  Source: Voya IM and FactSet. Past performance is not indicative of future results.
Performance is based on the S&P 500.  Factor performance represents the US Universe.
In December Momentum stocks actually outperformed on days where the market sold off more than 1% (Figure 2). In small cap for example, momentum darling Twilio (TWLO) was up more than 140% through November and only retreated 5.5% in December while the Russell 2000 Index was down close to 12%. 
Are we crazy?  What is going on here?  Ah, that's the million dollar question. It's the quants.  It's ETFs. It's the big guy.  It's the little guy.  Day traders are back!  Whatever the cause, momentum stocks behaved differently than a rational market observer would expect in December. Our working hypothesis is that active investors continued to hold onto these stocks because they still have solid growth prospects (though weakening), have less cyclical exposure to a slowing economy and less leverage in a deteriorating credit cycle. Hardly seems irrational, right?  Valuations, however, tell a different story (Figure 3).
Figure 3. Historical Context for Current Valuations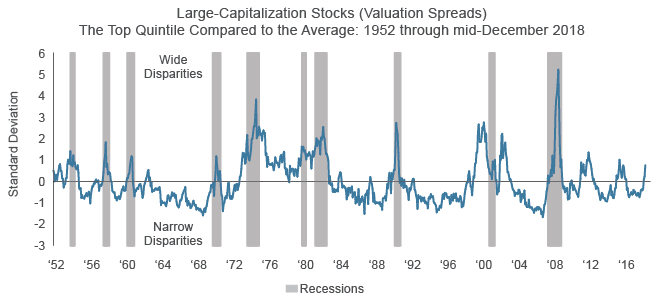 1952- December 2018. Source: National Bureau of Economic Research, Empirical Research Partners Analysis.
While the overall market multiple shrunk, the gap between the "haves" and "have nots" actually widened.  As we have seen from prior momentum cycles, when sentiment starts to shift back towards fundamentals and valuation the drawdown is painful. After all, a company's stock price is a function of investors' expectation of future cash flows discounted back to present day. In other words, valuation ultimately matters.
While it was disappointing that the fourth quarter was not the momentum-driven drawdown we have been expecting we remain committed to our approach and investment philosophy. We believe the probability of momentum continuing to deliver abnormal returns relative to risk is quite low. Focusing on fundamentals, valuation and risk continues to be the right thing to do for our clients at this stage of the economic and market cycle.
This commentary has been prepared by Voya Investment Management for informational purposes. Nothing contained herein should be construed as (i) an offer to sell or solicitation of an offer to buy any security or (ii) a recommendation as to the advisability of investing in, purchasing or selling any security. Any opinions expressed herein reflect our judgment and are subject to change. Certain of the statements contained herein are statements of future expectations and other forward-looking statements that are based on management's current views and assumptions and involve known and unknown risks and uncertainties that could cause actual results, performance or events to differ materially from those expressed or implied in such statements. Actual results, performance or events may differ materially from those in such statements due to, without limitation, (1) general economic conditions, (2) performance of financial markets, (3) changes in laws and regulations and (4) changes in the policies of governments and/or regulatory authorities. The opinions, views and information expressed in this commentary regarding holdings are subject to change without notice. The information provided regarding holdings is not a recommendation to buy or sell any security. Fund holdings are fluid and are subject to daily change based on market conditions and other factors.
Past performance is no guarantee of future results.