With many investors contemplating a late-cycle approach to navigating their investment portfolios, we believe it is important to keep in mind that certain markets and their related credit cycles are less mature than others. Focusing on rigorous security selection can go a long way in avoiding the trap of becoming a forced seller in the months and even years ahead.
While some may be searching for ways to drastically de-risk, we caution that it is rarely necessary to take risk completely off the table, even during late-cycle environments. Certainly, with valuations stretched and the interest rate backdrop currently compressed, stakes are high: any deviation in economic data from the market's expectations is intensely scrutinized and can be quickly priced into the markets. While current factors may keep these dynamics in place for the foreseeable future, investors can stay the course via prudent risk-taking that is intentional and precise around specific combinations of risk.
As we have noted in recent publications, we believe that with the consumer credit cycle lagging its corporate counterpart, the securitized credit market can offer the growth and downside protection that many fear may become scarce in other fixed income risk markets as the current environment progresses. Below, we highlight certain subsectors of the securitized asset class, specifically elements within the Credit Risk Transfer (CRT) and Commercial Mortgage Backed Securities (CMBS) markets that represent key areas where new issuance continues to evolve and selection-focused investors can discover scalable opportunities.
Credit Risk Transfer: Opportunities abound, but selection will matter as market growth evolves
With many-a-headline over the past few quarters claiming to portend the turning of the housing market cycle, we continue to believe that mortgage credit fundamentals represent a good basis to invest in. Through the end of 2018, mortgage debt as percent of GDP had continued its nearly 10-year decline to around 45%, from nearly 70% in 2010. While total U.S. consumer debt as a percent of GDP has continued to increase over the past five years, the decline in mortgage debt when coupled with strong job and wage growth – which we expect to continue – still makes favoring U.S. consumer-centric risks a good idea, especially when weaving in security selection skill to zero in on some specific risk combinations.
At nearly six years old, the Credit Risk Transfer subsector has developed quickly to represent an important component of the Residential Mortgage-Backed Security market, and an area of opportunity for security selection-driven, long-term focused investors. (For more background on the CRT market, please see: Happy 5th Birthday Credit Risk Transfer). As security selection will indeed matter more and more throughout 2019, we feel the best risk-adjusted opportunities among CRTs will be among seasoned deals, typically issued early in 2018 or before. As illustrated in Figure 1, despite currently accentuated pre-payment risk, these deals tend to see faster deleveraging, more embedded home price appreciation, better collateral attributes and shorter cash flow periods versus their newer counterparts, which will have essentially the complete opposite characteristics.  Additional structural advantages also exist in more seasoned issuances, including shorter legal final maturities that help cap an investor's extension risk.  Taken together, these characteristics can be expected to foster greater stability in collateral performance.  Historically, this has led to a reliable pace of credit-ratings upgrades, which favors greater spread stability across a wider range of potential market scenarios.
Figure 1. CRT Considerations: Seasoned versus New Deals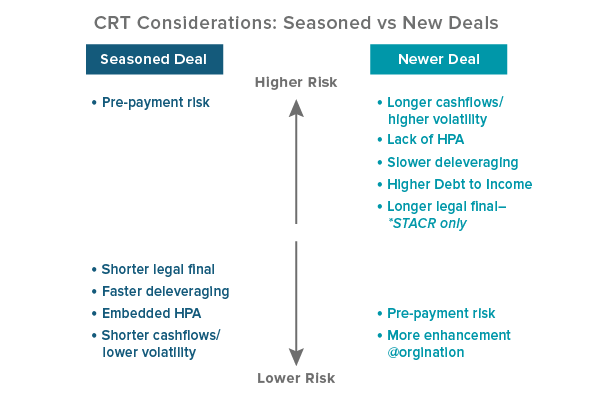 As these programs evolve, and the universe of outstanding bonds continues to grow, the richness of the opportunity set reflects the dynamism of this compelling RMBS sub-sector. 
Single Asset, Single Borrower CMBS
When most securitized investors think of Commercial Mortgage-Backed Securities, the so-called Conduit deal comes to mind.  Championed by the benefits of diversification, Conduit deals are collateralized by a pool of loans on commercial mortgages from multiple borrowers.  Risk is tranched and distributed to CMBS investors and is considered the traditional investment vehicle of the CMBS asset class.  Conduit CMBS have been an important aspect of broadly diversified securitized credit strategies dating as far back as the Saving & Loans crisis. Since the Financial Crisis, borrowers, issuers and investors have aligned to take increasing notice to a lesser known, but well established subsector of CMBS: the Single Asset Single Borrower (SASB) CMBS market. Unrelated to the status of the credit cycle, with new issuance of $35 billion in 2018 alone (second highest of all time in the CMBS market according to JPMorgan), the merits of this sub-sector as a self-sustaining capital market are unmistakable.
Similar to their conduit counterparts, SASB securities function like traditional CMBS bonds that derive their cash flows from loans secured on commercial real estate mortgages. However, as the name suggests, instead of a pool of assets, the transactions are backed by either a single commercial asset, or a portfolio of commercial properties with a loan owed by a single entity.
It is precisely this level of simplicity and associated transparency into the underlying reference obligation or borrower that make this product relatively attractive for "through-the-cycle" focused investors. SASBs do present investors with less diversification on a deal-to-deal basis versus their Conduit counterparts.  However, when compiling a portfolio of SASB investments, a properly selected array of transactions can achieve proper diversification while promoting more precision in one's risk taking. In addition, SASBs are typically self-selected as more readily financeable on a stand-alone basis, often collateralized by trophy properties or managed by a reputable, well-resourced borrower.  Accordingly, SASBs have historically demonstrated robust credit dynamics.
While overall CMBS credit performance dynamics have been strong against the post-Crisis economic recovery backdrop, SASB transactions have routinely outperformed Conduit collateral from such measures as percentage specially serviced, delinquencies, defaults and losses.  This is evidenced in Figure 2, which shows that since 2004 overall delinquency rates have averaged 1.1% while loss rates have never exceeded 2%.  The little loss experience is attributable to four discreet loans in this sub-sector, all from pre-Crisis issued SASB. Post Crisis delinquency and default experience has been even more limited, with just one delinquency that was ultimately successfully refinanced.
Figure 2. SASB loss rates have been below 2% since 2004
SASB delinquency (60d+ including FC/REO and non-performing matured loans) and loss rates over time (%)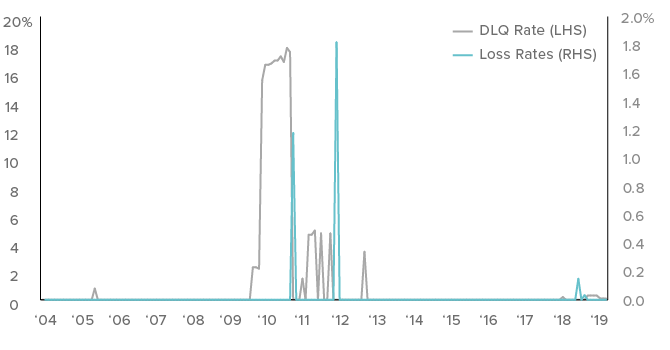 This relatively pristine loan performance is reflected in greater historical credit ratings stability for the SASB sub-sector.  Ultimately, all of these credit measures benefit relative spread stability for SASB CMBS across a broad range of market scenarios.   
So as we contend with compressed yields, the potential for elevated volatility and uncertainty around where we are in the cycle, capitalizing on security selection opportunities (CRT, SASB) in this environment can offer peace of mind for risk takers.  Going forward, we expect this evolution to continue to provide more ways to efficiently take and combine risk at the security level.  In our view, focusing on these examples, and others like it, will prove to be a critical driver of through-the-cycle outperformance.
This commentary has been prepared by Voya Investment Management for informational purposes. Nothing contained herein should be construed as (i) an offer to sell or solicitation of an offer to buy any security or (ii) a recommendation as to the advisability of investing in, purchasing or selling any security. Any opinions expressed herein reflect our judgment and are subject to change. Certain of the statements contained herein are statements of future expectations and other forward-looking statements that are based on management's current views and assumptions and involve known and unknown risks and uncertainties that could cause actual results, performance or events to differ materially from those expressed or implied in such statements. Actual results, performance or events may differ materially from those in such statements due to, without limitation, (1) general economic conditions, (2) performance of financial markets, (3) changes in laws and regulations and (4) changes in the policies of governments and/or regulatory authorities. The opinions, views and information expressed in this commentary regarding holdings are subject to change without notice. The information provided regarding holdings is not a recommendation to buy or sell any security. Fund holdings are fluid and are subject to daily change based on market conditions and other factors.
Past performance is no guarantee of future results.