The Federal Reserve's power to roil markets was on full display in December 2018 when Chairman Powell's "tightening on auto-pilot" language sent markets into a tailspin. Since then, the Fed has reversed course, striking a considerably more dovish tone.
While many market participants have focused on the end of balance sheet normalization as one sign of a more accommodative Fed, we believe the duration profile of the Fed's holdings is being overlooked. Figure 1 plots the dollar size amount of the Fed's balance sheet against the duration of its holdings using 5- and 10-year equivalents.
As you can see, not only has the Fed's balance sheet expanded in size since the crisis, the Fed has also extended the duration profile of what it holds. The purchase of longer-dated securities has more of an impact on bond markets and the Fed's recent statements to reinvest in securities of moderate duration instead of short-term Treasury securities is yet another indication of its extremely accommodative policy. 
Figure 1. The Fed's Duration Profile Strikes a Dovish Tone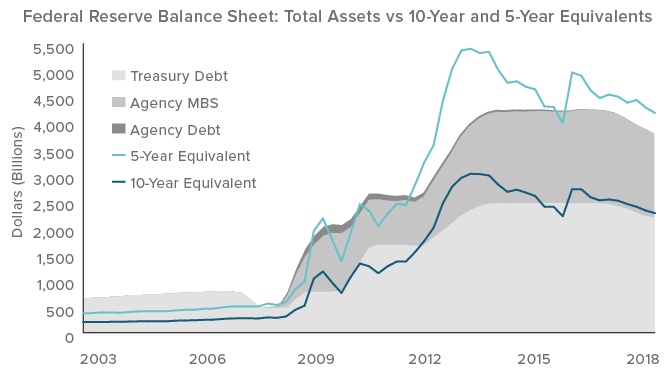 As of February 20, 2019.
Source:  Federal Reserve Bank of New York, BloombergBarclays and Voya Investment Management.
10-Year equivalent as reported by the New York Federal Reserve.  5-Year equivalent as estimated by Voya Investment Management, using the durations of the 5-Year and 10-Year BloombergBarclays Bellwether Index and applying the ratio to the 10-Year equivalent.
While the Fed's dovish stance has calmed markets, the $3.936 trillion question remains how will this experiment end? Will central banks get their houses in order in time to combat the next recession?
On this front the Fed is in much better shape relative to its counterparts in the rest of the developed world. Looking under the hood of global central bank balance sheets paints a much more ominous picture.
Figure 2. The Legacy of QE: Magic Bullet or Ground Zero?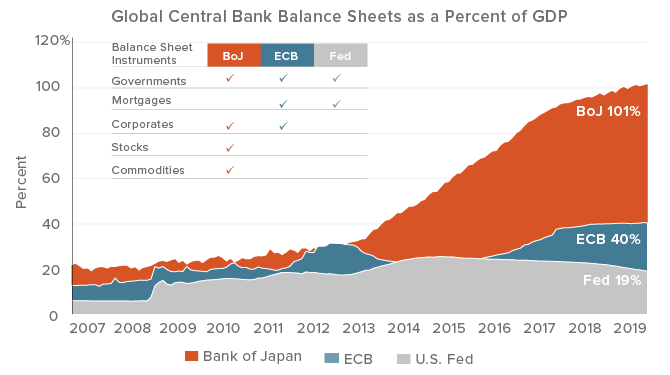 As of February 28, 2019.
Source:  Bloomberg, Bank of Japan, European Central Bank, US Federal Reserve and Voya Investment Management.
Not only are balance sheets of the ECB and BOJ high as a percentage of GDP, they own riskier assets like stocks and commodities (Figure 2). Given the risk profile of their balance sheets and current economic conditions, central banks will have a very difficult time unwinding without significantly exacerbating market volatility.
More likely, the ECB and BOJ will maintain current allocations, run out of time before the next downturn and leave themselves with little firepower to combat any growth headwinds. One thing is for sure: The path to either outcome is fraught with uncertainty.
This commentary has been prepared by Voya Investment Management for informational purposes. Nothing contained herein should be construed as (i) an offer to sell or solicitation of an offer to buy any security or (ii) a recommendation as to the advisability of investing in, purchasing or selling any security. Any opinions expressed herein reflect our judgment and are subject to change. Certain of the statements contained herein are statements of future expectations and other forward-looking statements that are based on management's current views and assumptions and involve known and unknown risks and uncertainties that could cause actual results, performance or events to differ materially from those expressed or implied in such statements. Actual results, performance or events may differ materially from those in such statements due to, without limitation, (1) general economic conditions, (2) performance of financial markets, (3) changes in laws and regulations and (4) changes in the policies of governments and/or regulatory authorities. The opinions, views and information expressed in this commentary regarding holdings are subject to change without notice. The information provided regarding holdings is not a recommendation to buy or sell any security. Fund holdings are fluid and are subject to daily change based on market conditions and other factors.
Past performance is no guarantee of future results.