Every year around this time, for as long as we can remember, various media outlets publish their take on common New Year's resolutions based on the untold amount of polls on the matter. While the precise way the questions are asked tend to differ among the pollsters, the overall themes tend to be the same. Most people want to lose weight, reduce or get out debt, spend less, quit one habit or another, and so on.  For us, the common thread is that most want to reduce something in order to improve their lives, a notion that we believe should carry over to investors' equities portfolio. Specifically, we're imploring investors to consider making concentration risk reduction one of their top New Year's resolutions for 2020.
How Much Risk Can I Carry Over Into the New Year?
Teflon Momentum Shows Some Cracks in Its Armor
Momentum factors have bolstered the ten-year rally in stocks. In several pieces over the last year, we have referenced the sharp drawdowns of previous Momentum rallies. In September, the current Momentum rally finally started to show some cracks.
In addition to their potential for downside risk, we also noted in September that momentum stocks are increasing investors' exposure to interest-rate volatility. Normally thought of as a bond risk, momentum stocks have become highly dependent on the directionality of interest rates. No wonder, considering momentum's lofty valuations. While higher rates do diminish the value of future earnings, investors are nonetheless betting on current growth continuing farther into the future for momentum companies.
Figure 1. If Rising Rates Can Spark Rotation out of Momentum, What's Next?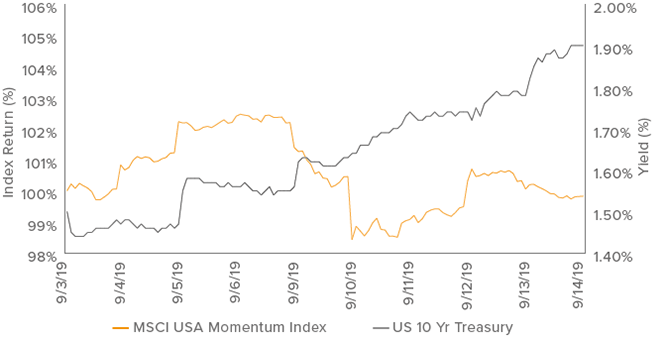 Source: FactSet and Bloomber. From 9/3/19 – 9/13/19
Remember Pets.com?
In 2000, the heyday of the so-called "Dot-Com Bubble," 72% of IPOs were issued by companies with negative earnings. In hindsight of course, this represented a hallmark of irrational exuberance as investors bet heavily on future growth prospects that were disconnected from underlying fundamentals. Fast forward to today and the rate of IPOs issued by companies with negative earnings has reached all-time highs, a phenomenon we outlined in "Red is the New Black in IPOs (again)".
Figure 2. Signs of Exuberance: Investors Bet on Future Growth
Source: Empirical Research Partners Analysis. Data shown through 05/31/19.
Figure 3. Massive Crowding in Tech - Reminiscent of 1999?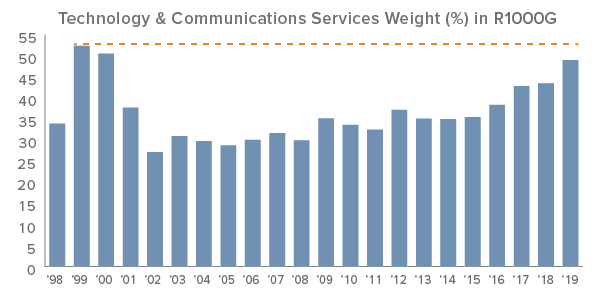 Source: Voya IM, Factset, data as of 12/31/2018, Data for June 30, 2019 is estimated.
The sectors are once again becoming overcrowded, as investors either arbitrarily buy into the Technology and Communications Services sectors assuming each stock is a growth story, inadvertently overexpose themselves via passive vehicles, or once again attempt to market-time a momentum trade. As we all know, history is not on their side.
Meanwhile, from an individual stock perspective, ten stocks now comprise almost one-fifth of the entire Russell 1000 Index. Not surprisingly, much of the concentration has come from the dramatic rise of the FAANG stocks, which have grown significantly in market capitalization over the last decade. As a result, investors in passive index strategies likely have more concentration risk than they realize, while investors in concentrated active strategies are doubling down on this exposure, betting that the next ten years will look similar to last ten.  
Do You Know Your "Why"? Eat, Love, and Avoid Large Equity Drawdowns
Like any worthwhile New Year's resolution, the end goal is just as important as the path to change. As eating a better diet makes us healthier, employing a more balanced approach to risk helps avoid the types of drawdowns that quickly wipe out gains and leave investors with losses that can take years to recover. In our latest blog, we use simple mathematics to remind investors about The True Cost of a Drawdown.  
Figure 4. Losses from Large Drawdowns are Hard to Recoup: This is Why We Favor a Balanced Approach to Risk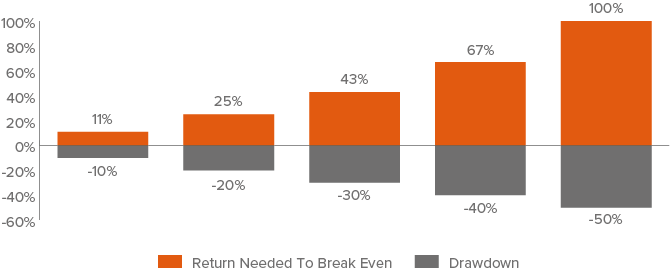 Reducing concentration risk will require commitment over the long-term, regardless of whether or not each incremental step along the way yields immediate experiential results. Indeed, investors will likely have to accept short-term opportunity costs in the process, but those costs will likely pale against the downside that concentrated portfolios can experience, even acutely in a short market correction.
If there is any resolution to stick with beyond mid-January (when most resolutions fizzle out) let it be the commitment to diversify the bloating and evolving concentration risk that so many seem to be either misunderstanding or totally underestimating.
IM1016345
This commentary has been prepared by Voya Investment Management for informational purposes. Nothing contained herein should be construed as (i) an offer to sell or solicitation of an offer to buy any security or (ii) a recommendation as to the advisability of investing in, purchasing or selling any security. Any opinions expressed herein reflect our judgment and are subject to change. Certain of the statements contained herein are statements of future expectations and other forward-looking statements that are based on management's current views and assumptions and involve known and unknown risks and uncertainties that could cause actual results, performance or events to differ materially from those expressed or implied in such statements. Actual results, performance or events may differ materially from those in such statements due to, without limitation, (1) general economic conditions, (2) performance of financial markets, (3) changes in laws and regulations and (4) changes in the policies of governments and/or regulatory authorities. The opinions, views and information expressed in this commentary regarding holdings are subject to change without notice. The information provided regarding holdings is not a recommendation to buy or sell any security. Fund holdings are fluid and are subject to daily change based on market conditions and other factors.
Past performance is no guarantee of future results.