The rate of IPOs issued by companies with negative earnings has reached all-time highs, reminiscent of the dot-com era when investors over-relied on growth prospects.
In the spring of 1997, a small, little known and financially challenged online bookseller named Amazon.com easily tapped a burgeoning IPO market. No wonder, as the irrational exuberance that inflated the now-infamous dot-com bubble all but guaranteed any Internet company, money-losing or not, would be snapped up by the growing hoard of investors convinced that each IPO was an opportunity to be part of the future of the global economy. The thinking back then was that the prospects of revenue and market share growth, and "clicks and eyeballs" thought to be inherent with Internet companies would eventually prevail over bottom-line stagnation or current losses. While history proved them very wrong in the vast majority of cases, Amazon ended up being one of the few exceptions that paid off beyond the imaginations of even the most irrationally exuberant investors.
Amazon was the exception, not the rule
Although Amazon did prove that the concept could work, it was indeed the exception and not the rule. With so many companies coming to market showing negative earnings, the bursting of the bubble, in hindsight, was inevitable. Lesson learned? Not so fast. As Figure 1 shows, the hunt for the next Amazon-like business model is hotter now than ever before. Indeed, the amount of IPOs issued today by companies with negative earnings has exceeded the dot-com era and reached all-time highs. Investors are once again betting more on future growth prospects than anything else.
Figure 1. Signs of Exuberance: Investors Bet on Future Growth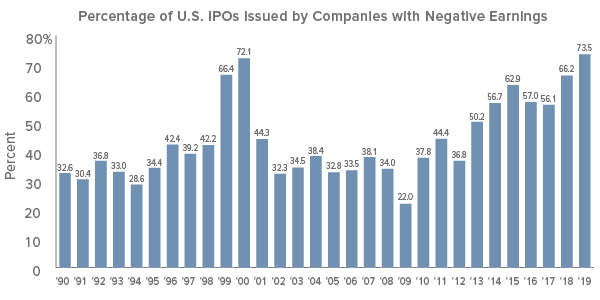 Source: Empirical Research Partners Analysis. Data shown through 05/31/19.
Know your risks before betting on future growth
With today's exuberance seeming to surpass that of the dot-com era, navigating this market phenomenon requires a balanced approach. In our view, investors should focus primarily on knowing where risks are and carefully chipping away at them, versus blindly jumping into sector bets based solely on growth potential. As with the dot-com era, this is especially true today with respect to the technology sector, which has not only seen much of the recent IPO activity, but has also grown to become a dominant weight in the market. As we noted recently in "Today's tech-boom is beginning to rhyme with the dot-com era", it's not a question of should investors consider reducing their exposures, but how best to de-risk from the ongoing bloat in technology.
Our approach to such cyclical dynamics has always been Sector Neutrality. While we're not advocating for a complete abandonment of the IPO market, or the Tech sector for that matter, we feel that now more than at any time since the dot-com bust, it makes sense to be highly selective, carefully balancing the reward potential with appropriate risk management.
This commentary has been prepared by Voya Investment Management for informational purposes. Nothing contained herein should be construed as (i) an offer to sell or solicitation of an offer to buy any security or (ii) a recommendation as to the advisability of investing in, purchasing or selling any security. Any opinions expressed herein reflect our judgment and are subject to change. Certain of the statements contained herein are statements of future expectations and other forward-looking statements that are based on management's current views and assumptions and involve known and unknown risks and uncertainties that could cause actual results, performance or events to differ materially from those expressed or implied in such statements. Actual results, performance or events may differ materially from those in such statements due to, without limitation, (1) general economic conditions, (2) performance of financial markets, (3) changes in laws and regulations and (4) changes in the policies of governments and/or regulatory authorities. The opinions, views and information expressed in this commentary regarding holdings are subject to change without notice. The information provided regarding holdings is not a recommendation to buy or sell any security. Fund holdings are fluid and are subject to daily change based on market conditions and other factors.
Past performance is no guarantee of future results.