With volatility returning to equity markets, the common refrain, "sell in May, go away" might seem rather tempting. Indeed, today's market is anything but certain, and one that investors will need to pay close attention to in the coming months. One key dynamic that we remain particularly concerned about is the expanding momentum rally as a growing risk factor among large growth stocks. As we have noted recently, not only are such reversals a common feature of momentum rallies, they can be brutal, especially for the passive investor who suddenly discovers just how much exposure they have to momentum factors.
As Figure 1 shows, exposure to momentum in the primary growth benchmark has significantly increased in the last two years, recently approaching levels not seen since the Tech Bubble of late 1990's. And as the chart also shows, those peaks are often followed by a sudden shift to the downside.
Figure 1. Risk Contribution of Momentum to the Russell 1000 Growth Index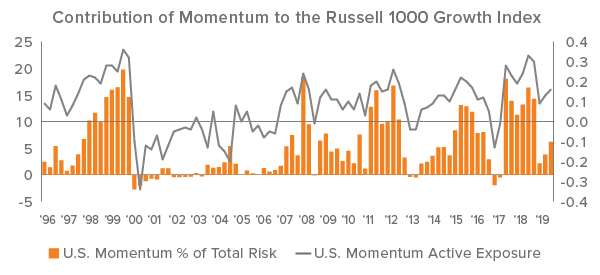 Source: FactSet, Russell Investments
An Endless or a Cruel Summer?
Momentum has actually proven to be a safe-haven during recent, albeit acute bouts of volatility (see our blog post "Fourth-Quarter Small Cap Selloff: Teflon Momentum (aka Schadenfreude delayed)". However, just like we saw when momentum reached such high levels in the past, we've seen momentum start to underperform in 2019.  The question is, will this just be another momentum speed bump or something more persistent? Regardless of the short-term environment, we continue to believe that over-exposure to momentum factors, especially passively, can have a damaging effect on portfolio returns over the long term.
The Path Forward
While the old adage "sell in May, go away" may seem tempting given the recent market turmoil, trying to time the market has proven to be a fool's errand. Yet, risk-taking at this stage of the cycle needs to be intentional and more precise than ever. This is especially true in equities. In our view, with so much uncertainty in the market it is prudent to sit on the momentum sideline and stick with high quality companies that have attractive relative valuations.
This commentary has been prepared by Voya Investment Management for informational purposes. Nothing contained herein should be construed as (i) an offer to sell or solicitation of an offer to buy any security or (ii) a recommendation as to the advisability of investing in, purchasing or selling any security. Any opinions expressed herein reflect our judgment and are subject to change. Certain of the statements contained herein are statements of future expectations and other forward-looking statements that are based on management's current views and assumptions and involve known and unknown risks and uncertainties that could cause actual results, performance or events to differ materially from those expressed or implied in such statements. Actual results, performance or events may differ materially from those in such statements due to, without limitation, (1) general economic conditions, (2) performance of financial markets, (3) changes in laws and regulations and (4) changes in the policies of governments and/or regulatory authorities. The opinions, views and information expressed in this commentary regarding holdings are subject to change without notice. The information provided regarding holdings is not a recommendation to buy or sell any security. Fund holdings are fluid and are subject to daily change based on market conditions and other factors.
Past performance is no guarantee of future results.