Special needs planning is an emerging issue expected to become critical in the future; today, plan advisors have an opportunity to take the lead in addressing this concern with their clients.
A growing subset of employees is going unnoticed — caregivers and employees with disabilities and special needs. This group is not only growing, but in many organizations makes up a significant portion of top-level staff members. According to the U.S. Census Bureau, one in five workers has a disability or will have one in his or her lifetime,1 and one in six serves as a caregiver.2 Caregivers generally do not feel confident about their financial wellness. Of those who care for an adult with a disability, 90% say they receive little or no financial support.3
Definition
What do we mean by special needs? Examples include congenital disorders such as Down syndrome or autism, debilitating diseases such as multiple sclerosis and mental health related issues, catastrophic events such as strokes or heart attacks and afflictions of aging populations such as Alzheimer's disease or Parkinson's disease.
Imperfect Awareness
The Voya Cares program — which advocates for and offers educational and planning resources and solutions to help people with disabilities, special needs and caregivers, plan for their futures —conducted extensive market research to assess the complex realities and needs of caregivers and employees with disabilities to help inform employers on how to best support them. The results showed that almost half of surveyed employers lacked awareness of the increasing numbers of caregivers and people who have disabilities and special needs in their workplaces.
These results jibe with the findings in Voya's 2018 retirement survey, where plan sponsors and plan advisors showed little awareness of what percentage of employees is affected by special needs. Both groups generally underestimated the actual number, 15–20% (see graph below).
Both advisors and sponsors underestimate the number of special needs caregivers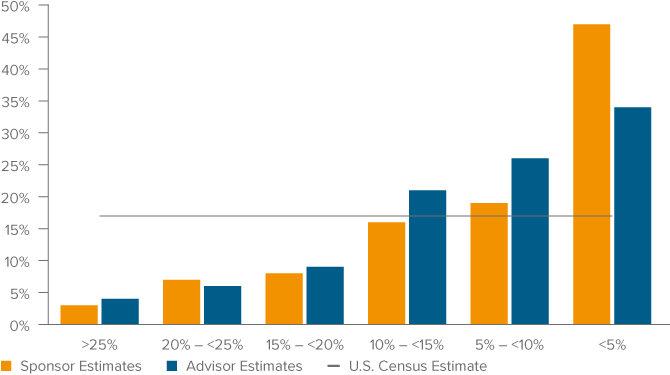 Source: Voya Investment Management
Though plan sponsors generally underestimate the prevalence of caregivers among employees, they do show some awareness of the importance of special needs planning. Averaged across plan sizes, 47% of survey respondents in 2018 said it was important or very important to focus on the unique financial needs of caregivers over the next two years. Agreement with this statement increased as plan size increases: for smaller size plans it was 42%, for midsize plans 64% and for larger plans 72%.
Leadership Opportunity for Advisors
Today, with the Covid-19 pandemic front and center, special needs might seem to be a simmering, backburner issue, but it has the potential to boil over. The increased life expectancy of those giving and receiving care can extend the time of caregiving — potentially leading to situations in the future where the financial resources run out, or where caregivers themselves come to need support while still having to provide care for special needs family members.
Advisers can add value to special needs planning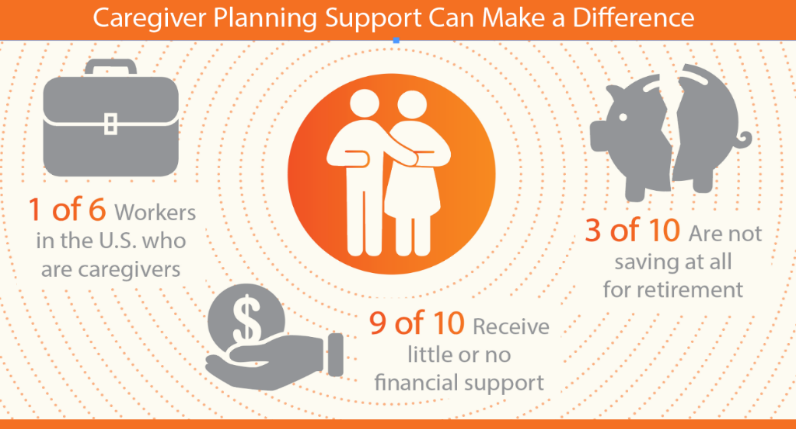 Source: Voya Financial, published in PLANSPONSOR, November 15, 2018.
We'll see in the next iteration of the retirement plan survey whether sponsors took action on their 2018 intentions. Even if they didn't, advisors can play a critical role in planning to help muster the financial resources to meet these future needs. Many people seek out resources, financial education and support through the workplace. For plan advisors willing to educate themselves about special needs planning, this presents an opportunity to offer leadership to plan sponsor clients as an emerging concern takes center stage in the future.
Call to action
The Voya Cares online resource center is a great place to find core educational content; it's the starting point to get educated on this topic and on key financial considerations. The site includes educational content, such as planning checklists; helpful articles that are frequently updated; and links to community resources such as general advocacy groups and government support.
The site also provides details on the key life events for a loved one with special needs and helpful articles and education geared towards each life stage. You can find the online resource center at Voyacares.com. Bookmark the site and check back often!
Let Voya help you
Voya is dedicated to meeting the unique requirements of DC-focused advisors. Our primary goal is to support your needs and those of your clients. We are committed to developing long-term partnerships and enhancing the effectiveness of your business. To learn more, contact your local Voya Investment Management representative or call (800) 334-3444 and ask to speak with a Voya DCIO specialist.
Survey of the Retirement Landscape: Insights from Current Research
Voya Investment Management recently released the second edition of its survey of retirement plan sponsors and plan advisors, to identify and better understand the current service needs of sponsors and help DC-focused advisors better align their offerings and priorities to meet those needs. Though some perceptions have changed since the initial survey in 2016, views on a few key issues have evolved and several new issues have arisen. We present key findings of the study in this series of insights. For all the research results, read Survey of the Retirement Landscape: Challenges and Opportunities for Advisors.
IM1446341
1 Source: U.S. Census Bureau. "Americans with Disabilities: 2010."
2 Source: Gallup-Healthways Well-Being Index, 2011.
3 Source: Family Caregiver Alliance: Caregiver Statistics – Work and Caregiving, 2016.
This commentary has been prepared by Voya Investment Management for informational purposes. Nothing contained herein should be construed as (i) an offer to sell or solicitation of an offer to buy any security or (ii) a recommendation as to the advisability of investing in, purchasing or selling any security. Any opinions expressed herein reflect our judgment and are subject to change. Certain of the statements contained herein are statements of future expectations and other forward-looking statements that are based on management's current views and assumptions and involve known and unknown risks and uncertainties that could cause actual results, performance or events to differ materially from those expressed or implied in such statements. Actual results, performance or events may differ materially from those in such statements due to, without limitation, (1) general economic conditions, (2) performance of financial markets, (3) interest rate levels, (4) increasing levels of loan defaults (5) changes in laws and regulations and (6) changes in the policies of governments and/or regulatory authorities. Past performance is no guarantee of future returns.
The opinions, views and information expressed in this commentary regarding holdings are subject to change without notice. The information provided regarding holdings is not a recommendation to buy or sell any security. Fund holdings are fluid and are subject to daily change based on market conditions and other factors.