As Technology sector weightings approach levels last seen in 1999, investors would be wise to heed that era's lessons on timing the market.
The old adage about history not repeating itself, but rhyming may serve equity investors well in the current environment. A little over 20 years ago, many were noticing a sharp increase in the weighting of the Technology, Media & Telecommunications (TMT) sectors in the primary growth benchmark, but few seemed alarmed. After all, the Internet at the time represented a vast new means of doing business, and any company coming to market with such a business model represented a chance to be part of the future of the global economy. Hence, investors crowded into the TMT sector, clamoring for space on the wave of IPOs that flooded the market.
Many of those investors were long, faith-driven buyers of story-stocks they believed would eventually be profitable growth investments, while others were hoping to time a momentum trade just right. In keeping with the tradition of such approaches, the vast majority were very, very wrong, as we noted recently in "Sell in May and… Stay tuned".
Noting that history rhymes and not repeats, Figure 1 indicates that we appear to be nearing a similar dynamic in today's market.  While there are notable differences - such as the fact that technology is far more integrated into every aspect of the economy today than 20 years ago and the weighting increase has been more gradual this time around – the sectors are once again becoming overcrowded, as investors either arbitrarily buy into the Technology and Communications Services (today's TMT equivalent) sectors assuming each stock is growth story, inadvertently overexpose themselves via passive vehicles, or once again attempting to market-time a momentum trade. Also as noted, history is not on their side.
Figure 1. Massive Crowding in Tech - Reminiscent of 1999?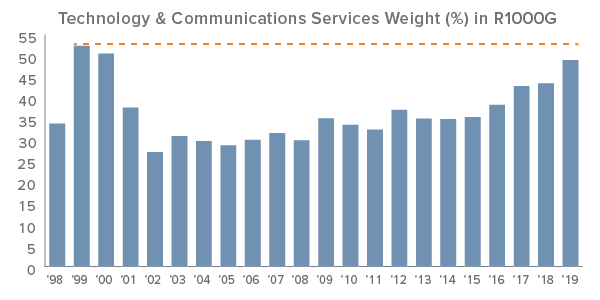 Source: Voya IM, Factset, data as of 12/31/2018, Data for June 30, 2019 is estimated. 
How to avoid crowds when occupancy limits are unknown?
In our view, with Tech and Communications Services benchmark weightings approaching the TMT levels of the Dotcom era, it's not a question of should investors consider getting out, but how best to position themselves to avoid having to time their sector allocations. At Voya, we take a different approach:  Sector Neutrality.
There are always stocks that outperform their sector peers, either on the upside - as the current trend has shown – or on the downside by protecting better than their more expensive or more volatile peers. However, as we've learned from the Dotcom era, cycles can go on for much longer than what rational investors might expect. Therefore, while it makes sense to participate in the growth of technology in our daily lives, prudently heeding history's rhymes would suggest that balancing the reward potential with appropriate risk management is critical at this stage of the market cycle.
This commentary has been prepared by Voya Investment Management for informational purposes. Nothing contained herein should be construed as (i) an offer to sell or solicitation of an offer to buy any security or (ii) a recommendation as to the advisability of investing in, purchasing or selling any security. Any opinions expressed herein reflect our judgment and are subject to change. Certain of the statements contained herein are statements of future expectations and other forward-looking statements that are based on management's current views and assumptions and involve known and unknown risks and uncertainties that could cause actual results, performance or events to differ materially from those expressed or implied in such statements. Actual results, performance or events may differ materially from those in such statements due to, without limitation, (1) general economic conditions, (2) performance of financial markets, (3) changes in laws and regulations and (4) changes in the policies of governments and/or regulatory authorities. The opinions, views and information expressed in this commentary regarding holdings are subject to change without notice. The information provided regarding holdings is not a recommendation to buy or sell any security. Fund holdings are fluid and are subject to daily change based on market conditions and other factors.
Past performance is no guarantee of future results.