Can momentum stocks increase investors' exposure to interest-rate volatility? Short answer: Yes
Despite the advance in equities over the past several weeks, heightened volatility continues to be the norm and uncertainty remains the default sentiment. While there are many factors driving today's ebb and flow of volatility, we note the recent pull-back in momentum stocks and once again reiterate how crucial having a balanced portfolio is in the current environment. Indeed, over the past several months we have been articulating our concerns about the expanding momentum rally and its potential for an abrupt reversal, which now appears to be underway. As such, the many investors who over-allocated to the momentum rally – intentionally or not – are likely finding themselves more exposed to macro forces than they perhaps realized was possible.
Interest-Rate Volatility is a Bond Risk…Right?
When most investors consider their exposure to interest-rate sensitivity, they naturally think of their traditional bond portfolio. Duration profiles are a key factor when constructing a fixed income allocation, which is generally the primary means to diversify equity allocations. However, as noted in a recent note from Sanford Bernstein, momentum stocks have become highly dependent on the directionality of interest rates (Figure 1), a trait normally characteristic of fixed income strategies. No wonder considering momentum's lofty valuations. While higher interest rates diminish the value of future earnings, investors are nonetheless betting on current growth continuing farther into the future for such companies. Furthermore, there's also the rising cost of capital that will hinder future growth initiatives for early stage and/or high growth companies in the cohort. Thus, when interest rate spiked nearly 10 bps higher at the beginning of last week, momentum investors were met with a commensurate move to the downside.
Figure 1. If Rising Rates Can Spark Rotation out of Momentum, What's Next?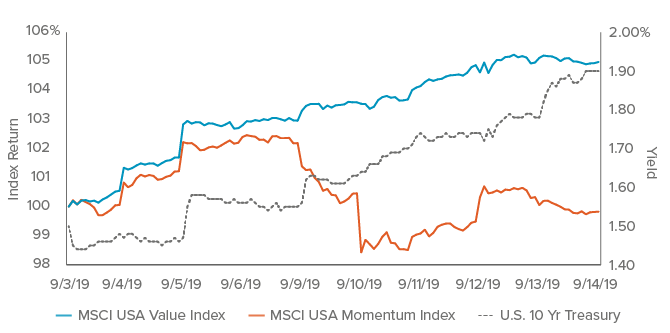 Source: FactSet and Bloomberg. From 9/3/2019 – 9/13/2019
Another Speed Bump or an About-Face?
As we noted in Sell in May and… Stay tuned, momentum has begun to struggle in 2019, albeit with acute patches of relative strength. Nonetheless, we once again question, will this be yet another momentum speed bump or something more persistent? With momentum now being so heavily influenced by interest-rate volatility, investors have yet another factor to add to the growing list making this trade all the more risky. We're not shy about belaboring the point that risk-taking at this stage of the cycle needs to be intentional and more precise than ever, all part of a well-balanced approach that does not over-rely on one trade. We're not suggesting investors avoid momentum all together, but with so much uncertainty in the market it is prudent to focus on constructing a well-balanced portfolio of high quality companies that have attractive relative valuations instead of trying to time a trade that appears to be running on borrowed time.
IM955607
This commentary has been prepared by Voya Investment Management for informational purposes. Nothing contained herein should be construed as (i) an offer to sell or solicitation of an offer to buy any security or (ii) a recommendation as to the advisability of investing in, purchasing or selling any security. Any opinions expressed herein reflect our judgment and are subject to change. Certain of the statements contained herein are statements of future expectations and other forward-looking statements that are based on management's current views and assumptions and involve known and unknown risks and uncertainties that could cause actual results, performance or events to differ materially from those expressed or implied in such statements. Actual results, performance or events may differ materially from those in such statements due to, without limitation, (1) general economic conditions, (2) performance of financial markets, (3) changes in laws and regulations and (4) changes in the policies of governments and/or regulatory authorities. The opinions, views and information expressed in this commentary regarding holdings are subject to change without notice. The information provided regarding holdings is not a recommendation to buy or sell any security. Fund holdings are fluid and are subject to daily change based on market conditions and other factors.
Past performance is no guarantee of future results.