Sponsors say they most value advisor support for investment, communication and fiduciary issues. They also say they value support for participant financial wellness, a new category first included in the 2018 survey, as well as help with choosing and managing record keepers and other service providers. Another emerging priority appears: advice on other plan types, such as deferred, non-qualified and defined benefit plans.
Sponsors tend to value plan support most highly1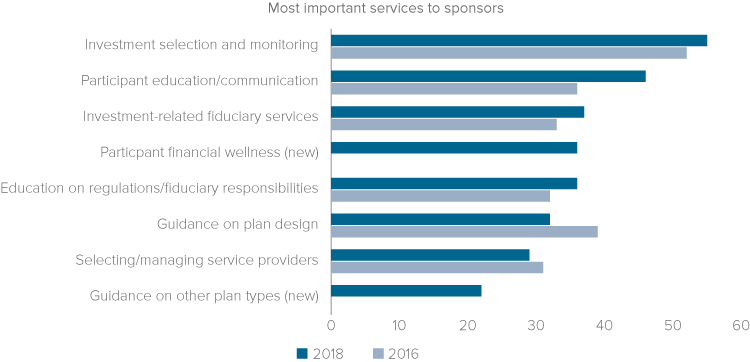 Source: Voya Investment Management
Survey of the Retirement Landscape: Insights from Current Research
Voya Investment Management recently released the second edition of its survey of retirement plan sponsors and plan advisors, to identify and better understand the current service needs of sponsors and help DC-focused advisors better align their offerings and priorities to meet those needs. Though some perceptions have changed since the initial survey in 2016, views on a few key issues have evolved and several new issues have arisen. We present key findings of the study in this series of insights. For all the research results, read Survey of the Retirement Landscape: Challenges and Opportunities for Advisors.
933967
1 Sponsors: Which of the following are the most important to you in choosing an advisor to work with your retirement plan? Advisors: Which of the following types of support or benefits you provide is the most valued by your plan sponsors?
This information is proprietary and cannot be reproduced or distributed. Certain information may be received from sources Voya Investment Management ("Voya IM") considers reliable; Voya IM does not represent that such information is accurate or complete. Certain statements contained herein may constitute "projections," "forecasts" and other "forward-looking statements" which do not reflect actual results and are based primarily upon applying retroactively a hypothetical set of assumptions to certain historical financial data. Actual results, performance or events may differ materially from those in such statements. Any opinions, projections, forecasts and forward-looking statements presented herein are valid only as of the date of this document and are subject to change. Nothing contained herein should be construed as (i) an offer to buy any security or (ii) a recommendation as to the advisability of investing in, purchasing or selling any security. Voya IM assumes no obligation to update any forward-looking information.