Anchoring portfolios to the past will not help navigate the path ahead—investors need a new blueprint for fixed income.
Executive Summary
More than ten years of accommodative global central bank policy has ushered in a persistent low-rate environment that has made it challenging for investors to achieve their expected rates of return while balancing risks in their portfolios.
While traditional core and core plus fixed income has historically served as a portfolio anchor to balance risk-seeking allocations, the low yield and extended duration profile of the Bloomberg Barclays U.S. Aggregate Bond Index has made this allocation less efficient today.
To improve fixed-income allocations, we believe investors should complement traditional fixed income with a more flexible, unconstrained strategy to boost the yield and total return of the portfolio without extending duration or eroding the desired risk-hedging characteristics of fixed-income allocations.
Yesterday's Risk Will Not Write Tomorrow's Headlines
Imagine yourself today as an entirely new investor looking to construct a traditional, agg-based fixed income allocation intended to serve as the anchor of your portfolio. After all, conventional wisdom dictates this approach as a logical starting point.
However, considering the degree to which the investment landscape has evolved over the past decade, conventional wisdom may be out dated. More than ten years of accommodative global central bank policy has ushered in a persistent low-rate environment that has made it challenging for investors to meet their goals without assuming undue levels of risk.
Nevertheless, having a robust fixed income allocation remains crucial for long-term investors.
But, would you buy your current fixed income portfolio in today's environment?
More Risk, Less Yield: As the Agg Turns
Ready for a massive understatement? The investment landscape has changed dramatically in the last 30 years. Interest rates have been trending lower for more than three decades. Now, many investors are beginning to consider the possibility of negative rates in the United States. While we do not believe negatives rates are likely, we illustrate this point to show just how dramatic the changes have been.
As Figure 1 shows, this backdrop has forced traditional fixed income investors to take on more duration risk without a commensurate increase in yield. In 2004, the Bloomberg Barclays U.S. Aggregate Bond Index (the "Agg") had a duration of 4.77 years. Today, not only does the Agg have a riskier duration profile, it yields significantly less than it did in 2004.
Figure 1. Now and Then: The Agg has more duration risk and less yield
Duration and Yield for the Agg: 2004 vs 2019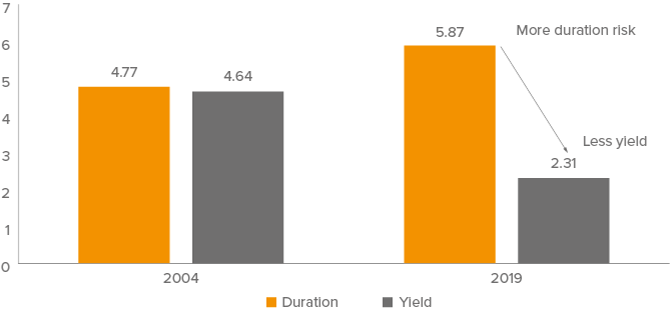 Source: Source: Bloomberg Barclays. As of 12/31/2019.
7.5% Just Isn't What It Used to Be
While those who invest for the long term expect change, it remains staggering to take a step back and evaluate how this environment has affected investors' portfolio allocations. As Figure 2 highlights, achieving the same level of return during the last three decades has required investors to significantly increase the complexity, risk and illiquidity of their overall portfolios.
Very simply, the world has changed—fixed-income allocations need to change, too.
In 1989 - which was roughly when the long-term downward trend in rates began - a 100% allocation to public fixed income netted a 7.5% return with a risk of only 3.1%. Achieving this same 7.5% return in 2019 required investors to ratchet up their risk to 18% and invest significantly more in equities and less liquid alternatives.
Figure 2. Declining rates have forced investors to add risk and complexity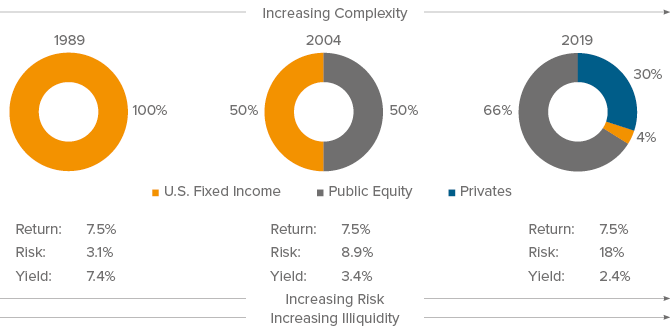 Source: Callan Institute. As of June 30, 2019.
The current balancing act between the need to grow assets while being mindful of the risks ahead is difficult for all investors. While the tremendous run in public equities has helped many investors, most cannot afford to take risk completely off the table. Yet, at this stage in the cycle, without some level of diversification, investors are exposing their portfolios to the potential for sharp equity drawdowns like those that we witnessed in the fourth quarter of 2018.
Walking this tightrope requires investors to consider a new blueprint for fixed income, one that maximizes efficiency and diversifies against multiple risks.
Don't Make Macro Bets With Your Portfolio Anchor
More than ten years of extraordinary and unprecedented monetary policy action has reshaped the makeup of traditional fixed income. Today, the flagship fixed-income index consists primarily of low-yielding Treasury and agency mortgage securities. While Treasury securities are directly correlated to interest rates, agency mortgage securities have virtually no exposure to mortgage credit risk due to their agency guarantee. As a result, the performance of the two primary components of the Agg—agency MBS and Treasurys—is largely driven by movements in interest rates.
Core plus strategies have helped investors expand the investible universe to include a broader array of risk sectors stretching beyond the benchmark, including securitized credit, high yield, emerging market debt, senior loans and CLOs. Nonetheless, these off-benchmark allocations are generally limited, which results in strategies that remain tethered to the Agg. Duration remains the key risk factor. This means investors in core plus strategies are still assuming an undue level of interest-rate risk in the fixed-income anchor of their portfolio at a period of time where the risk premium for interest-rate risk is low.
Investors in core plus strategies are still assuming an undue level of interest-rate risk in the fixed-income anchor of their portfolio at a period of time where the risk premium for interest-rate risk is low.
With investors starting to seriously consider the prospect of negative rates in the U.S., diversifying interest-rate risk may seem low on the list of tactical priorities. As a long-term strategic allocation, however, with the Agg's risk/reward tradeoff between yield and duration at all-time lows, would you buy your fixed-income portfolio today?
Answering this question should reinforce the primary role of fixed income in a broader portfolio. Fixed-income allocations are not about immunizing your portfolio against one specific type of risk. Fixed-income allocations should protect portfolios from risk on multiple fronts. In this regard, adding flexibility can significantly enhance the risk profile of a fixed-income portfolio.
Conclusion: Unconstrained Can Complement Core Allocations
Given the downward trend of interest rates, traditional Agg-tracking fixed-income strategies have generally helped investors diversify and protect their broader portfolios. However, there have been bumps in the road when traditional fixed income actually exposed investors to more downside volatility than equities. Figure 3 shows returns for the S&P 500 and the Agg during the "Taper Tantrum," a short-term period where rates spiked significantly and caused the Agg to plummet.
Figure 3. When duration risk goes wrong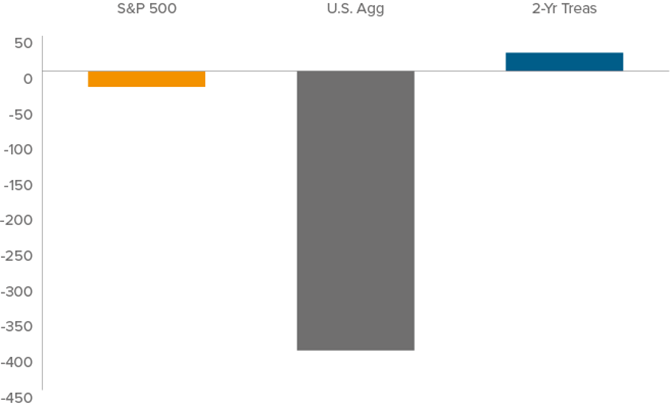 Source: Standard & Poors, Bloomberg Barclays and Voya Investment Management. 5/22/13 – 9/5/2013.
To manage volatility in fixed-income portfolios driven by interest rates, we believe investors should complement Agg-based strategies with a more flexible unconstrained strategy that can add diversification through exposure to an array of credit sectors. 
As more investors look to lock in equity gains and reduce the volatility of their portfolios, we believe unconstrained strategies will start to play a larger role in fixed-income portfolios. In our view, unconstrained managers who remain focused on the long term, primarily using their flexibility to manage volatility, are the ones most likely to help investors improve risk-adjusted returns and create a smoother path towards helping investors meet their long-term objectives.
IM1074928
This commentary has been prepared by Voya Investment Management for informational purposes. Nothing contained herein should be construed as (i) an offer to sell or solicitation of an offer to buy any security or (ii) a recommendation as to the advisability of investing in, purchasing or selling any security. Any opinions expressed herein reflect our judgment and are subject to change. Certain of the statements contained herein are statements of future expectations and other forward-looking statements that are based on management's current views and assumptions and involve known and unknown risks and uncertainties that could cause actual results, performance or events to differ materially from those expressed or implied in such statements. Actual results, performance or events may differ materially from those in such statements due to, without limitation, (1) general economic conditions, (2) performance of financial markets, (3) changes in laws and regulations and (4) changes in the policies of governments and/or regulatory authorities. The opinions, views and information expressed in this commentary regarding holdings are subject to change without notice. The information provided regarding holdings is not a recommendation to buy or sell any security. Fund holdings are fluid and are subject to daily change based on market conditions and other factors.
Past performance is no guarantee of future results.