Executive Summary
Markets blazed through year-end and right up until a "St. Valentine's Day Massacre" saw the beginning of the end of history's longest running bull market
While the COVID-19 global pandemic was ostensibly the culprit, deteriorating corporate earnings and consecutive declines in manufacturing had been building
While the first quarter of 2020 might be among the worst in history when factoring in loss of life, jobs and wealth, it certainly was for investors as it represented the steepest first-quarter drop in the Dow's 124-year history
Looking beyond the roiled stock and credit markets, the good news came when the Federal Government announced waves of massive stimulus and plans for "Reopening the U.S."
While the shock-and-awe response of the first quarter is over, the market will be at risk until there are concrete signs that preparation will be in place for the next time this happens: opening up America again depends on being ready – for the next one
Looking back: Fundamentals before the storm
Last December in Voya Global Perspectives 2020 Forecast "The Storm Before the Calm: The Sequel" we noted that fundamentals had turned negative:
What's this? Fundamentals are failing? Uh oh. After three years of positive fundamentals we have an inflection point, from good to bad. But that would be quite a contrarian signal in the face of a year-end rally. Yes, it sure is. Corporate earnings growth, weak all year, faltered in the third quarter with a -0.4% reading and the important ISM manufacturing index just came out with its fourth consecutive contractionary monthly reading. There is a message here: Prices measure current sentiment; fundamentals measure future value. Our 2020 forecast is to batten down the hatches for the impending storm.
Despite our warning, the S&P 500 blazed past our year-end 2019 forecast of 3250 by more than 100 points through mid-February. Apparently, the market was not seeing the bad news we were seeing, as we noted unequivocally in the last sentence in "Storm Before the Calm: The Sequel".
Our 2020 forecast is to batten down the hatches for the impending storm.
Figure 1. Corporate Fundamentals Were Flashing Warnings in the Run-up to the COVID-19 Pandemic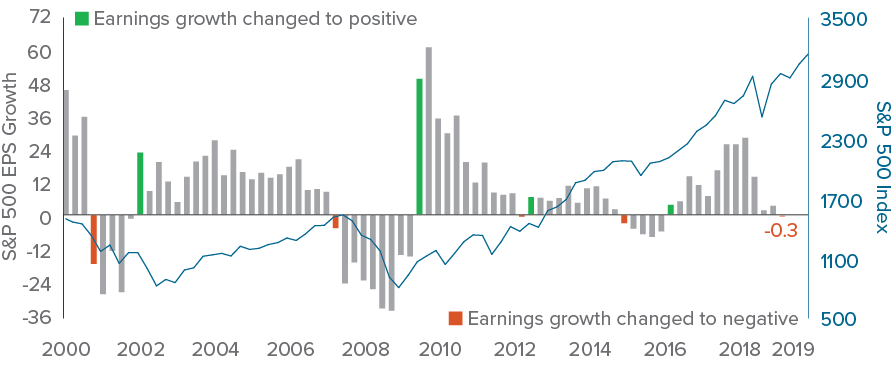 Source: Refinitiv – Thomson Reuters and FactSet, Voya Investment Management. Earnings per share (EPS) is the portion of a company's profit allocated to each outstanding share of common stock. The S&P 500 index is a gauge of the U.S. stock market that includes 500 leading companies in major industries of the U.S. economy. Past performance is no guarantee of future results. Indices are unmanaged and not available for direct investment.
Yet, the markets surged nearly 5% into the New Year, with the S&P 500 hitting an astounding 3380 by Valentine's Day. What happened next could be compared to the infamous "St. Valentine's Day Massacre" mob hit on February 14, 1929, in which five members of George "Bugs" Moran's gang were murdered – allegedly, of course – by rival mob boss Al Capone. The hit to the global markets over the next few weeks of 2020 seemed almost as ruthless, as the S&P 500 plummeted over 1,000 points to 2305 or 28.33% by the end of Friday, March 20, 2020.
Figure 2. Global Effective Diversification Beat the S&P 500 During an Acute Mass-Market Drawdown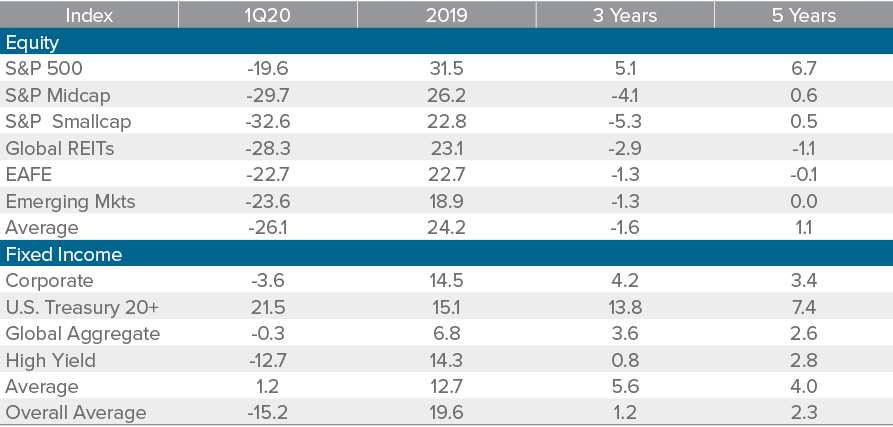 Source: FactSet, FTSE NAREIT, Voya Investment Management. The Overall Average model allocation includes 10 asset classes, equally weighted: S&P 500, S&P 400 Midcap, S&P 600 Smallcap, MSCI U.S. REIT Index/FTSE EPRA REIT Index, MSCI EAFE Index, MSCI BRIC Index, Bloomberg Barclays U.S. Corporate Bonds, Bloomberg Barclays U.S. Treasury Bonds, Bloomberg Barclays Global Aggregate Bonds, Bloomberg Barclays U.S. High Yield Bonds. Returns are annualized for periods longer than one year. Past performance is no guarantee of future results. An investment cannot be made in an index.
Now is as good a time as any to review what happened; what was missed, and why was it missed? Note in the excerpt above from December's 2020 forecast that we discussed weak to negative corporate earnings and consecutive declines in ISM manufacturing as being the major events. While these weak fundamentals did not predict COVID-19, they did reflect that something is wrong with the global economy.  That should be enough: fundamentals are a "siren call," or a veritable "canary in the coal mine," that it is time to act quickly and "batten down the hatches."  We don't have to know why the canary is singing, we just know it is time to act because the market is less resilient to shocks when fundamentals are falling precipitously.
Nassim Taleb, writer of the 2007 book, "The Black Swan: The Impact of the Highly Improbable," which foretold the Great Recession and even discussed pandemics, said recently that what we are seeing now is a "White Swan," in that it was foreseeable.  What astounded me was that in September 2019 the Global Preparedness Board - which is part of the United Nations' World Health Organization - published a report titled presciently "A World at Risk – Annual Report on Global Preparedness for Health Emergencies."  What caught my eye was this bold statement:
For too long, we have allowed a cycle of panic and neglect when it comes to pandemics: we ramp up efforts when there is a serious threat, then quickly forget about them when the threat subsides. It is well past time to act.

September 2019 Global Preparedness Board "A World at Risk"
Market Review 1Q20
The first quarter of 2020 might be the worst quarter in history when factoring in loss of life, loss of jobs and loss of wealth as the global economy didn't so much screech to a halt as crash into a wall. It was certainly punishing for investors, as the market went into a coronavirus-sparked free fall that saw the 124-year-old Dow Jones Industrial Average registering its worst quarterly loss since the fourth quarter of 1987. In fact, the first quarter of 2020 represented the steepest first-quarter drop in the index's history, according to Dow Jones Market Data.
In U.S. equities, Large Caps descended the least by a still-devastating 20%, while Small Caps were hit the worst, sliding over 30%. Indeed, there was nowhere to hide, as international and Emerging markets also were hit hard. In fixed income, bonds overall had positive returns led by U.S. 20-year and longer-dated Treasuries, which were up over 20%.  However, these positive returns did not offset the carnage in bond-like "structured securities," aka collateralized debt obligations (CDOs), collateralized mortgage obligations (CMOs), credit default swaps (CDSs) and the like. 
The straw that broke the camel's back was the crude oil price collapse caused by Russia refusing to join Saudi Arabia's proposed output curbs.  In truth, the spat only sped up the inevitable; the crude oil price collapse was imminent as the demand shock from airlines screeching to a halt, along with autos and the economy in general was a veritable snowball of building problems. Then the unthinkable happened: on April 20 the May WTI crude oil future collapsed to $11.20 in the morning and then crashed through zero, ending substantially negative.  Like every futures contract, when it expires the holder must take delivery of the commodity or settle in cash.  But most holders of crude oil futures are financial people who do not have the physical ability to take delivery of crude oil, so they had to pay someone else to take it. 
It was bad — 2008 bad, maybe worse. This was an emergency, and it was global. The U.S. government acted quickly with gargantuan monetary and fiscal stimuli, but not quick enough to prevent credit markets from seizing up and massive losses in stocks.  The Federal Reserve then followed up with a veritable "hell-fire" missile to win the battle — and they are winning for now.  Here are some of the actions taken to date:
On April 9 the Fed announced $2.3 trillion of available credit to backstop the economy on top of the enormous measures taken in March
The $2 trillion CARES Act — the largest single injection of cash into the U.S. economy in history
Coordinated central bank actions to enhance U.S. dollar liquidity, which are serving as a backstop to ease strains in global funding markets. This is helping both domestic and overseas businesses
The Next Front in the War: Re-Opening America
The Trump administration on April 17, 2020 announced a three-phase plan for "Opening Up America Again."  This was not some instantaneous magic wand, but it did show America that there is a light at the end of the tunnel. While the markets responded accordingly and surged on the announcement, there is even more good news to offset the incessant drumbeat of bad news notably, the 20 million unemployed over the past few weeks.
The miserable economic statistics do not yet reflect the massive support that the Federal government has applied to the economy and markets. In fact, for good or bad, markets are the only way to the economy.  Risk assets are getting a floor put under them, especially in the credit markets.  Airlines are being saved; their manufacturers are being saved; the oil business is being saved and Wall Street is being saved.  Risk-taking is coming back.  But most important is that Main Street is being saved via the most generous small business assistance and unemployment benefits in U.S. history.
Market Outlook 2Q20
The shock-and-awe response of the first quarter is over; reality is setting in or will soon. The global economy and the markets are in trouble now for two reasons that ultimately combined to create a perfect storm: First, the clear warnings of deteriorating corporate fundamentals and manufacturing were being discounted on the premise that the Fed could and would provide support if necessary; and second was the horrible timing of the COVID-19 pandemic, a global event that no one could have truly grasped the full magnitude of until it was too late. The market will be at risk until there are concrete signs that preparation will be in place for the next time this happens. It will happen again. We know that now. Opening up America again depends on being ready for the next one.
IM1156166
Disclosures
This commentary has been prepared by Voya Investment Management for informational purposes. Information should not be construed as legal, tax, or financial planning advice. Investors should seek the guidance and advice of their own legal and tax counsel. Nothing contained herein should be construed as (i) an offer to sell or solicitation of an offer to buy any security or (ii) a recommendation as to the advisability of investing in, purchasing or selling any security. Any opinions expressed herein reflect our judgment and are subject to change. Certain of the statements contained herein are statements of future expectations and other forward-looking statements that are based on management's current views and assumptions and involve known and unknown risks and uncertainties that could cause actual results, performance or events to differ materially from those expressed or implied in such statements. Actual results, performance or events may differ materially from those in such statements due to, without limitation, (1) general economic conditions, (2) performance of financial markets, (3) changes in laws and regulations and (4) changes in the policies of governments and/or regulatory authorities. The opinions, views and information expressed in this commentary regarding holdings are subject to change without notice. The information provided regarding holdings is not a recommendation to buy or sell any security. Fund holdings are fluid and are subject to daily change based on market conditions and other factors.
Past performance is no guarantee of future results.