Third-quarter earnings for S&P 500 companies are essentially in (one company remains). Overall, the index posted year-over-year (YoY) revenue and earnings growth of approximately -1% and -6%, respectively. Roughly 85% of companies reported earnings that were better than expected, which is above the long-term average of 65% and the prior four-quarter average of 73%. There was significant variation across sectors (Figure 1). Excluding energy, earnings only declined by about 2%. Healthcare and technology have held up well throughout the pandemic, with eight out of ten healthcare sub-industries posting higher earnings than they did a year ago.
While stockholders certainly prefer earnings that are better rather than worse than expected, the number of firms surprising to the upside has been somewhat discounted — analysts have limited insight into earnings because of the huge swing in activity coming out of the recession and reduced guidance provided by company management. The earnings surprise factor was actually larger in Q2 than it was for Q3, reflecting the worse visibility in the immediate aftermath of the downturn. What's more remarkable is that Q3 net profit margins ex-financials are now back to pre-COVID levels and consensus estimates are for them to rise to 11.1% in 2021. If the cyclical pick-up in growth does take place as many currently forecast and margins stay elevated, next year's earnings will be strong. For now, however, earnings growth is negative and, therefore, the Global Perspectives tactical positioning remains defensive.
Figure 1. YoY, third-quarter S&P 500 earnings and revenue growth varies widely across sectors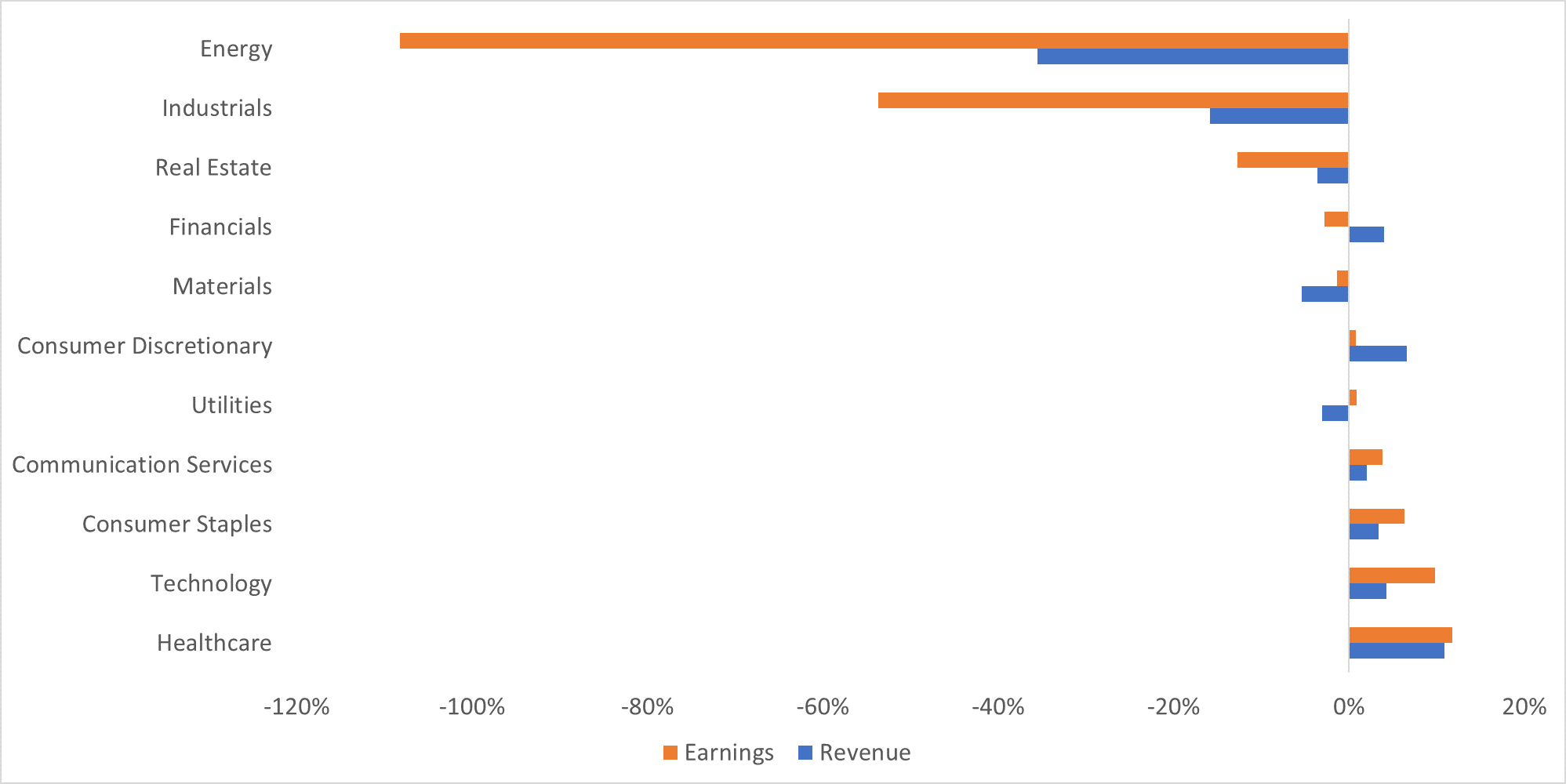 Source: Refinitiv, data as of 12/14/20.
Voya Investment Management has prepared this commentary for informational purposes. Nothing contained herein should be construed as (i) an offer to sell or solicitation of an offer to buy any security or (ii) a recommendation as to the advisability of investing in, purchasing or selling any security. Any opinions expressed herein reflect our judgment and are subject to change. Certain of the statements contained herein are statements of future expectations and other forward-looking statements that are based on management's current views and assumptions and involve known and unknown risks and uncertainties that could cause actual results, performance or events to differ materially from those expressed or implied in such statements. Actual results, performance or events may differ materially from those in such statements due to, without limitation, (1) general economic conditions, (2) performance of financial markets, (3) interest rate levels, (4) increasing levels of loan defaults (5) changes in laws and regulations and (6) changes in the policies of governments and/or regulatory authorities. Past performance is no guarantee of future returns.
The opinions, views and information expressed in this commentary regarding holdings are subject to change without notice. The information provided regarding holdings is not a recommendation to buy or sell any security. Strategy holdings are fluid and are subject to daily change based on market conditions and other factors.