Executive Summary
The U.S. is now, more than ever, the engine of the global economy
The lagged effect of unprecedented stimulus will likely sustain the boom
Despite the inflation fireworks the Federal Reserve is determined not to take the "punch bowl" away – the market is not buying it
It is sunny today but always be prepared for the unexpected tropical storm
The "Big 3" are Leading the Virtuous Global Economic Boom
The rebound in the United States has been explosive, which is the good news. The better news is that European growth has screamed back to an impressive "slightly" negative – beating its perennial low expectations – and of course the continued strong growth in China. When the "Big 3" are synchronized in their economic growth then the global economy is in a virtuous cycle – a further boost from the earnings growth witnessed by the astounding 52 percent increase in S&P 500 first-quarter 2021 corporate earnings. And while inflation rocketed higher in concert with this growth, it has likely seen its peak, if not now then soon. The Fed has assured this with its "stealth" tightening through policy expiration and intermittent jawboning from Fed governors.
The bottom-line message in our outlook is:
We are in a global-synchronized, high-growth phase led by the U.S.
Inflation has or will soon hit peak levels; U.S. Treasury bond yields are already dropping in anticipation of lower inflation
Typically, it takes around 18 months for major Fed action to be felt in the markets and economy. The tsunami of global stimulus led by the U.S. likely has not hit our shores fully
Markets are rich and likely to get richer
Recall our Global Perspectives term coined in 2018 "The Big 3," which refers to the three countries/regions just mentioned (U.S., Eurozone, China), and when they do well the global economy does well. he concern about inflation was vastly overstated and its barometer of "lumber prices" got pinpricked by its own success, i.e., high demand and high prices burst the bubble as it became unaffordable.
Second Quarter 2021 Market Summary
Equities, on average, added 6.1% for the quarter, bringing the year-to-date return to 14.9%, which is astounding given how explosive the prior year was. The quarter was led by Global REIT and the S&P 500 with S&P's Small-Cap and Mid-Cap indices the laggards, but still positive. International performance was positive but just couldn't keep up with the U.S. pace. Falling interest rates gave a significant boost to Growth stocks over Value stocks, as the S&P 500 Growth index returned 11.93% versus 4.99% for the S&P500 Value index. Top sectors for the quarter were technology, real estate, and energy with defensive utilities the only sector that had negative returns
Fixed income benefited from the reversal in rates with all sectors positive. Long duration U.S. Treasury was the biggest beneficiary, beating most equities for the quarter with its buffed 6.8% return. U.S. corporate bonds were far behind, with their still respectable 3.5% return, followed by Global Bonds, the laggard for the quarter with a still positive 1.3% return
Commodities continued to post gains, led by rising crude oil prices. The CBOE Volatility Index (VIX) – continued its drop, now down to 15.6
Figure 1. The Bull Market Runs Continues in the Second Quarter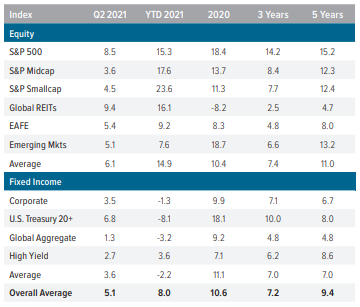 Source: FactSet, FTSE NAREIT, Voya Investment Management. The Overall Average model allocation includes 10 asset classes, equally weighted: S&P 500, S&P 400 Midcap, S&P 600 Smallcap, MSCI U.S. REIT Index/FTSE EPRA REIT Index, MSCI EAFE Index, MSCI BRIC Index, Bloomberg Barclays U.S. Corporate Bonds, Bloomberg Barclays U.S. Treasury Bonds, Bloomberg Barclays Global Aggregate Bonds, Bloomberg Barclays U.S. High Yield Bonds. Returns are annualized for periods longer than one year. Past performance is no guarantee of future results. An investment cannot be made in an index.
Figure 2. Equity Market Growth Continued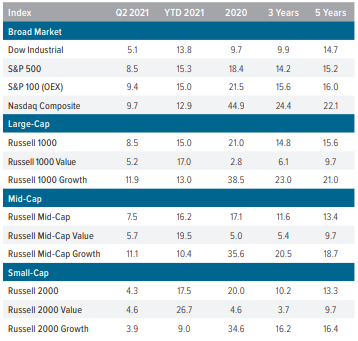 Source: FactSet, FTSE NAREIT, Voya Investment Management. The Overall Average model allocation includes 10 asset classes, equally weighted: S&P 500, S&P 400 Midcap, S&P 600 Smallcap, MSCI U.S. REIT Index/FTSE EPRA REIT Index, MSCI EAFE Index, MSCI BRIC Index, Returns are annualized for periods longer than one year. Past performance is no guarantee of future results. An investment cannot be made in an index.
Advancing Corporate Earnings
The economic boom continues with 1Q 2021 GDP reported at a blistering 6.4% pace. The following components of 1Q GDP growth are notable.
Consumption grew 11.4%
Business fixed investment grew 11.7%
Residential investment grew 13.1%
It is important to point out that while first quarter GDP is impressive, we just finished the second quarter, so this is old news. 2Q 2021 GDP has explosive expectations, albeit with a wide range in estimates. Two research firms I pay special attention to are:
Mike Englund, Action Economics LLC, forecasts 8.5% for 2Q 2021
Nancy Lazar, Cornerstone Macro, forecasts a whopping +14% for 2Q 2021
Both estimates, if accurate, will mark the first time since 1976 that the U.S. growth rate has surpassed China's.
This U.S.-led growth is benefiting global growth, and as such directly benefits multi-national firms in the S&P 500. It is no wonder that earnings growth is on fire. According to the latest Refinitiv report, with 499 of S&P 500 companies reporting, actual 1Q21 EPS growth was 52.8%, which was more than double the Wall Street consensus estimate of 24.2%, as recently as April 1st .
This was another gargantuan by miss by the cognoscenti of Wall Street. Wall Street analysts are behind the curve; the upside misses will likely continue in subsequent quarters and are a market positive.
Broadening Manufacturing
The second quarter was a blockbuster for U.S. and European manufacturing, which is good news, as manufacturing tends to be a leading indicator of U.S. corporate earnings strength and influences global economic strength. Indeed, ISM Manufacturing for June declined to a still robust 60.6, but it was the strength in Europe that caught our attention with the Eurozone manufacturing PMI hitting a record of 63.4 in June.
One note on the U.S. ISM regarding inflation: the prices-paid component surged to 92.1 from 88.0, the highest since 1979 and the oil crisis. No doubt a concern to the Fed.
Put bluntly, America and Europe just combined for a one-two punch to boost global economic growth, which bodes well for the future.
Figure 3. Fundamentals Drive Markets with Explosive Q2 EPS Growth

Source: Refinitiv – Thomson Reuters and FactSet, Voya Investment Management. Earnings per share (EPS) is the portion of a company's profit allocated to each outstanding share of common stock. The S&P 500 index is a gauge of the U.S. stock market that includes 500 leading companies in major industries of the U.S. economy. Past performance is no guarantee of future results. Indices are unmanaged and not available for direct investment.
Consumer the Gamechanger
The consumer did not disappoint either. Consumer confidence in the U.S. surged 7.3 points to 127.3. Recall in our last quarterly it was 109.7 in March, and we were doing backflips. The last five monthly levels for retail sales are the highest in history with June's report at an impressive $620 billion (Figure 4).
Consumer spending is predicated on job growth., The June nonfarm payroll report added 850,000 jobs, even though the unemployment rate ticked up from 5.8% to 5.9%.
Jobs and still-low mortgage rates have been an elixir for the housing market, but we may have seen housing sales peak, as home prices hit their third consecutive all-time high. The most sensitive indicator for housing, no surprise, is lumber prices, which skyrocketed and are now being pulled back to earth. In June, lumber prices plummeted 40%, the worst on record since 1978, and are down more than 18% in the first half.
The Fed reported in June that U.S. household wealth as of the end of March jumped to a record $136.9 trillion, driven mainly by rising equity markets and real estate values. It is no wonder as the Federal Reserve and government fiscal spending have ignited the U.S. consumer "gamechanger" for both the U.S. and world economy.
Figure 4. Consumer as the Gamechanger

Source: FactSet. U.S. retail sales, as of 05/31/2021
Conclusion
The U.S. is experiencing an economic boom due to the lagged effect of the Federal Reserve's massive stimulus from 15 months ago and more that followed. The U.S., like China in the Great Recession, has become the key driver of the global economy. Inflation will not wreck the party and likely has, or will soon, peak and begin to fade as it was quickly addressed by the Fed's "stealth" tightening.
We want to emphasize that the magnitude of the stimulus out of the U.S. is at an unprecedented scale and has the economy stoked, but watch out for bond yields. Plummeting bond yields are a sign that the market does not believe in the Fed's ability to navigate a "soft" landing while "taking the punch bowl away." Tropical storm Elsa is coming up the Atlantic coast and serves as a good reminder to sailors to always be prepared. Likewise, it is prudent for investors to always be prepared with a globally diversified portfolio of stocks and bonds.
1711918
*The Russell 1000 Growth Index measures the performance of the large-cap growth segment of the US equity universe. The Russell 1000 Value Index measures the performance of the large-cap value segment of the US equity universe. The CBOE Volatility Index (VIX) is a real-time index that represents expectations for the relative strength of near-term price changes of the S&P 500 index. Because it is derived from the prices of S&P 500 index options with near-term expiration dates, it generates a 30-day forward projection of volatility.
Disclosures
General Investment Risks: All investing involves risks of fluctuating prices and the uncertainties of rates of return and yield inherent in investing. All security transactions involve substantial risk of loss. Diversification does not guarantee a profit or ensure against loss.
Important Information
This paper has been prepared by Voya Investment Management for informational purposes. Nothing contained herein should be construed as (i) an offer to sell or solicitation of an offer to buy any security or (ii) a recommendation as to the advisability of investing in, purchasing or selling any security. Any opinions expressed herein reflect our judgment and are subject to change. Certain of the statements contained herein are statements of future expectations and other forward-looking statements that are based on management's current views and assumptions and involve known and unknown risks and uncertainties that could cause actual results, performance or events to differ materially from those expressed or implied in such statements. Actual results, performance or events may differ materially from those in such statements due to, without limitation, (1) general economic conditions, (2) performance of financial markets, (3) interest rate levels, (4) increasing levels of loan defaults, (5) changes in laws and regulations and (6) changes in the policies of governments and/or regulatory authorities. This material may not be reproduced in whole or in part in any form whatsoever without the prior written permission of Voya Investment Management.
Past performance is no guarantee of future results.