Control of the U.S. Senate and the fate of President-Elect Joe Biden's agenda rests in the hands of Georgia voters. Although the historically conservative state went to Biden this year, the consensus immediately following November's results was that Republicans would hold at least one seat, and thus maintain their majority. Since the start of December and following record-breaking fundraising in which Democrats raised over $210 million and Republicans raised over $135 million,1 polls and prediction markets have both shifted to what is now seen as essentially a toss-up. Should Democrat candidates prevail, count on a flurry of spending and left-leaning policies to be rolled out over the next two years. Markets have already moved to price in this possibility with inflation expectations climbing to their highest level since 2018 (Figure 1).
Meanwhile, COVID-19 infections are surging around the world, particularly in the United States and Europe. The new, more contagious coronavirus strain has caused cases to skyrocket in the UK over the last few weeks and forced the government to reimpose a country-wide lockdown through at least the end of the month. Although this new strain does not appear to be more deadly, its infectiousness is raising concerns over the vaccine distribution delays. The U.S. and other countries seem to be in a race to correct implementation flaws and vaccinate the population before the spread of this new variant virus causes the government to enact stricter, economically damaging restrictions.
Figure 1. Inflation expectations continue to rise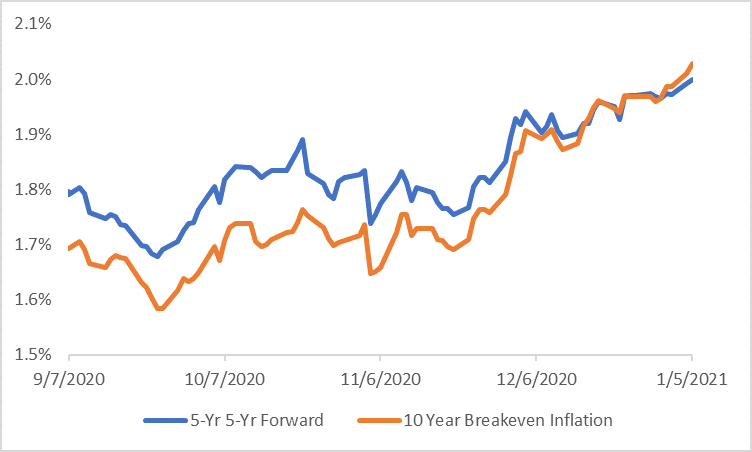 Source: Bloomberg, 1/5/21.
1 Source: The Wall Street Journal, as of 12/24/20
Voya Investment Management has prepared this commentary for informational purposes. Nothing contained herein should be construed as (i) an offer to sell or solicitation of an offer to buy any security or (ii) a recommendation as to the advisability of investing in, purchasing or selling any security. Any opinions expressed herein reflect our judgment and are subject to change. Certain of the statements contained herein are statements of future expectations and other forward-looking statements that are based on management's current views and assumptions and involve known and unknown risks and uncertainties that could cause actual results, performance or events to differ materially from those expressed or implied in such statements. Actual results, performance or events may differ materially from those in such statements due to, without limitation, (1) general economic conditions, (2) performance of financial markets, (3) interest rate levels, (4) increasing levels of loan defaults (5) changes in laws and regulations and (6) changes in the policies of governments and/or regulatory authorities. Past performance is no guarantee of future returns.
The opinions, views and information expressed in this commentary regarding holdings are subject to change without notice. The information provided regarding holdings is not a recommendation to buy or sell any security. Strategy holdings are fluid and are subject to daily change based on market conditions and other factors.