As the Biden administration takes the reins of the U.S. government, it has been handed the same major problem that has plagued our country for nearly a year: combatting the biggest global health crisis in modern history. Although President Biden has a long list of agenda items, nothing matters more for the U.S. economy and the wellbeing of its citizens than getting the COVID-19 pandemic under control. This is also true for capital markets. Stimulus has and will continue to be a huge support underpinning markets, but getting COVID in check by late second or early third quarter has been essentially priced into risk assets for some time.
While new cases, hospitalizations and daily deaths are near all-time highs, they have begun trending down (Figure 1). In terms of showing progress, Biden appears to be coming in at a good time: the cumulative impact of vaccinations will make an increasing difference in the virus' reproductive rate. Currently, about 5% of the U.S. population (~17.2 million) has received a vaccine dose and less than 1% (~2.3 million) has received two doses.1
President Biden has committed to provide 100 million vaccine doses in his first 100 days. Last week, a daily average of roughly 912,000 doses was administered, which makes this target seem achievable. If successful, it's difficult to say exactly how many people will have been fully vaccinated based on doses administered — both vaccines currently approved in the United States require two doses, but there are 77 other vaccine candidates (19 undergoing phase-3 trials), some of which require only one dose. However, if the same ratio today applies and no new one-dose vaccines become available — two current "best" assumptions which seem unlikely to hold — then we can expect ~31% of the population to have received one dose and ~5% to have received two doses by the beginning of May, 100 days from now.
This is a very rough approximation and no matter how you slice it, far from the CDC estimated ~60% herd immunity threshold for SARS-CoV-2. Still, it provides a ballpark estimate of where we can expect to be. Moreover, there are reasons to be optimistic that 100 million in 100 days is a low-ball goal, as more vaccines are approved, manufacturing ramps up and distribution and logistics bumps are ironed out. There are still risks of coming up short, as the distribution plans so far have been state run and any improvement would require some state and local governments stepping-up their game or the federal government executing a seamless, sweeping takeover. This also assumes no adverse side-effects of vaccinations are identified and derail public confidence.
For the benefit of people and portfolios everywhere, let's hope the Biden team outperforms.
Figure 1. COVID-19 new cases, hospitalizations and daily deaths are trending down from highs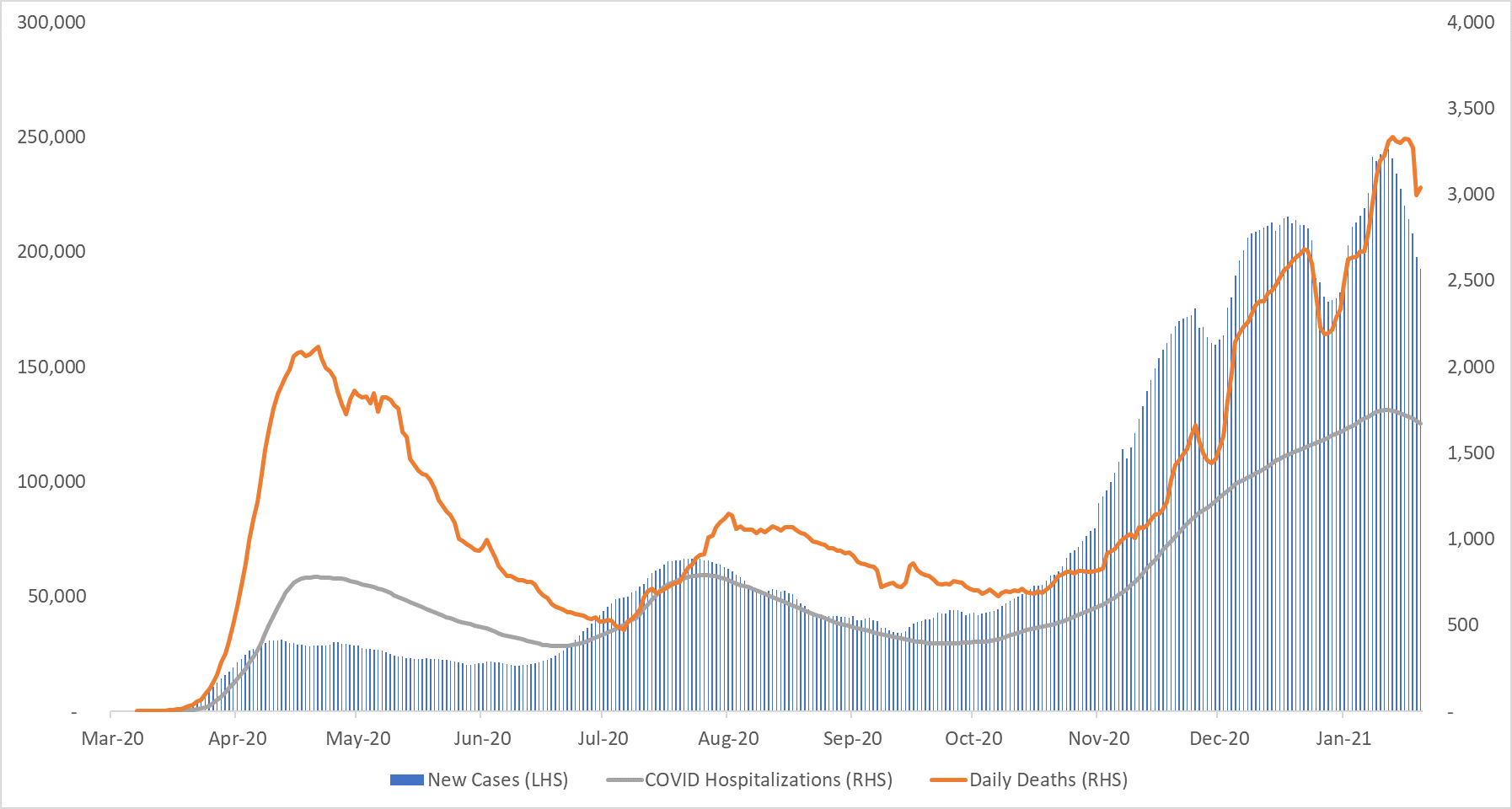 Source: The COVID Tracking Project at The Atlantic, as of 1/20/21
1 Source: Bloomberg Covid-19 Vaccine Tracker
Voya Investment Management has prepared this commentary for informational purposes. Nothing contained herein should be construed as (i) an offer to sell or solicitation of an offer to buy any security or (ii) a recommendation as to the advisability of investing in, purchasing or selling any security. Any opinions expressed herein reflect our judgment and are subject to change. Certain of the statements contained herein are statements of future expectations and other forward-looking statements that are based on management's current views and assumptions and involve known and unknown risks and uncertainties that could cause actual results, performance or events to differ materially from those expressed or implied in such statements. Actual results, performance or events may differ materially from those in such statements due to, without limitation, (1) general economic conditions, (2) performance of financial markets, (3) interest rate levels, (4) increasing levels of loan defaults (5) changes in laws and regulations and (6) changes in the policies of governments and/or regulatory authorities. Past performance is no guarantee of future returns.
The opinions, views and information expressed in this commentary regarding holdings are subject to change without notice. The information provided regarding holdings is not a recommendation to buy or sell any security. Strategy holdings are fluid and are subject to daily change based on market conditions and other factors.