2021 has been marked by what seems to be higher prices everywhere one looks: lumber, coper, groceries, cars, gas, the list goes on. It's not surprising that we have seen the YoY change in the consumer price index (CPI) reach in June the highest level in over 30 years.
Many worry that a consistent and rapid rise in prices is our future. The latest trends in the bond market should offer some degree of comfort in that recent movements suggests broad based inflation should moderate. The 5-year, 5-year forward, the Fed's preferred measure of inflation expectations, has pulled back from its mid-May high of near 2.5% to just above 2%. This seems like good news. However, on the flip side, growth expectations are also moderating. The 2-10 U.S. Treasury spread, a widely followed indicator of economic growth, has flattened significantly over the last two months, tightening from 150 bps down to under 100 (figure 1). The curve steeped in dramatic fashion at the start of the year, but has since retraced, reflecting an outlook of more subdued growth and inflation, as some market participants point to COVID cases back on the rise.
While investors are generally dismayed to see prospects for future economic growth dampen, if it means a higher probability of central banks staying accommodative, it's difficult to say what the impact will be on stocks going forward. Bad news, good news?
Figure 1. 2 Yr - 10 Yr U.S. Treasury Spread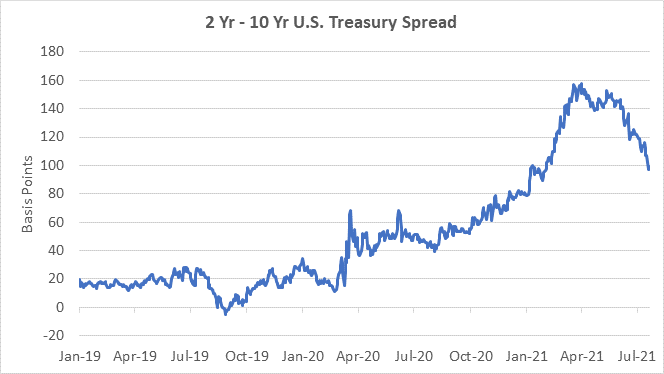 Source: Bloomberg, John Authors, as of 7/20/21
Voya Investment Management has prepared this commentary for informational purposes. Nothing contained herein should be construed as (i) an offer to sell or solicitation of an offer to buy any security or (ii) a recommendation as to the advisability of investing in, purchasing or selling any security. Any opinions expressed herein reflect our judgment and are subject to change. Certain of the statements contained herein are statements of future expectations and other forward-looking statements that are based on management's current views and assumptions and involve known and unknown risks and uncertainties that could cause actual results, performance or events to differ materially from those expressed or implied in such statements. Actual results, performance or events may differ materially from those in such statements due to, without limitation, (1) general economic conditions, (2) performance of financial markets, (3) interest rate levels, (4) increasing levels of loan defaults (5) changes in laws and regulations and (6) changes in the policies of governments and/or regulatory authorities. Past performance is no guarantee of future returns.
The opinions, views and information expressed in this commentary regarding holdings are subject to change without notice. The information provided regarding holdings is not a recommendation to buy or sell any security. Strategy holdings are fluid and are subject to daily change based on market conditions and other factors.