Some recent academic research has called into question the existence of the "size premium," i.e., the tendency for small cap stocks to outperform large cap stocks. Leading up to 2020, U.S. large caps had outperformed U.S. small caps for five of the previous six years, which would superficially seem to support this point. In addition, since the start of the pandemic, much has been made about winners winning, big getting bigger and little guys bearing the brunt of the punishment. While there is a lot of truth to these statements, smaller publicly traded firms (which aren't small relative to the average U.S. business) had largely kept pace with the big boys through the summer months of 2020. Since the November elections, however, when the reflation trade began in earnest, small caps have outperformed large caps by more than 20% (Figure 1). The risk-on appetite from investors and the rotation towards cyclical stocks has been a boon for these smaller stocks.
It remains to be seen if the next round of studies will draw different conclusions about the small cap premium with this new data, but when it comes to U.S. equities performance since the March 23 bottom, small has been better than large.
Figure 1. U.S. small caps have significantly outperformed large caps since the November elections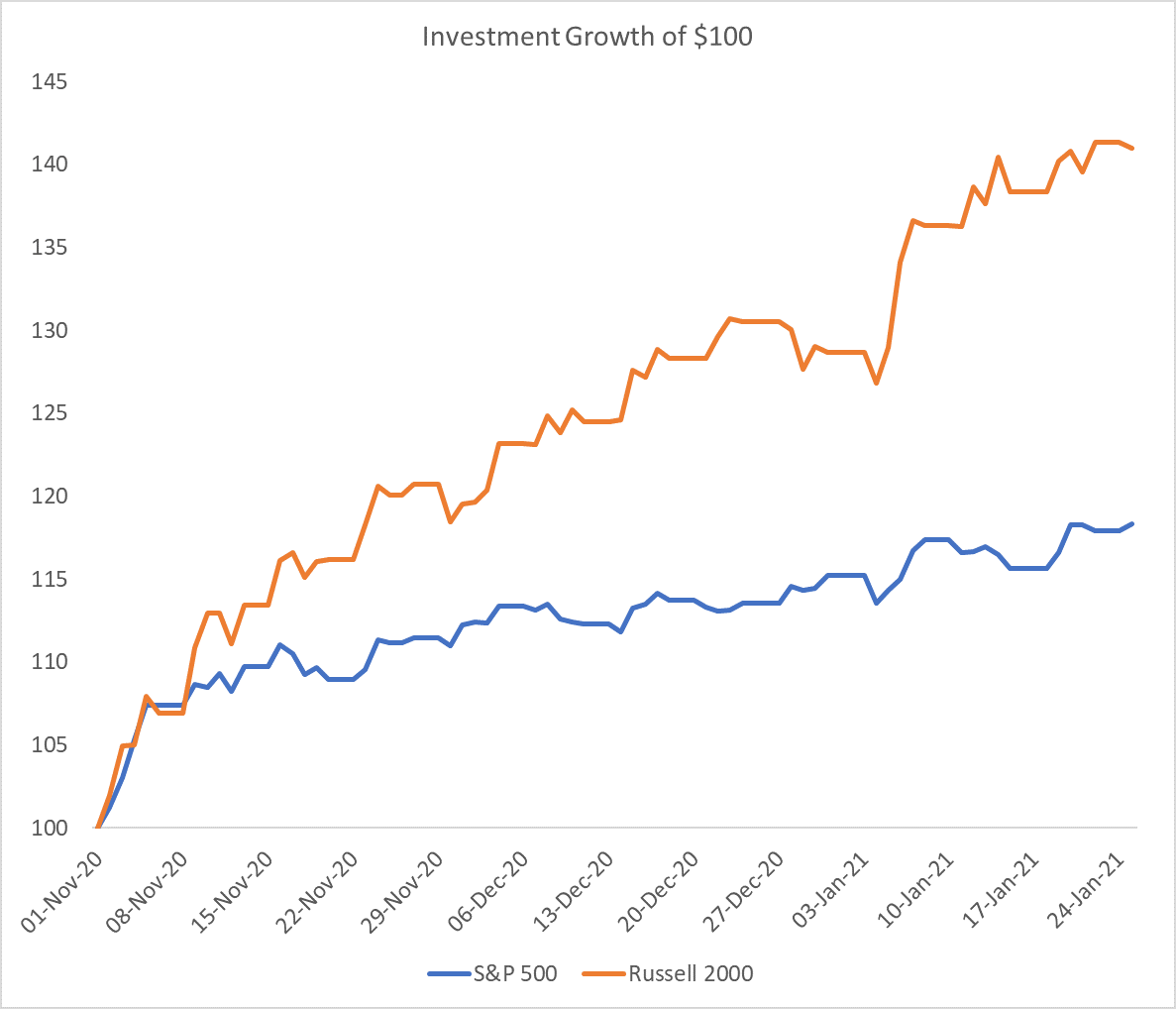 Source: Morningstar, Voya Investment Management, as of 1/25/21
Voya Investment Management has prepared this commentary for informational purposes. Nothing contained herein should be construed as (i) an offer to sell or solicitation of an offer to buy any security or (ii) a recommendation as to the advisability of investing in, purchasing or selling any security. Any opinions expressed herein reflect our judgment and are subject to change. Certain of the statements contained herein are statements of future expectations and other forward-looking statements that are based on management's current views and assumptions and involve known and unknown risks and uncertainties that could cause actual results, performance or events to differ materially from those expressed or implied in such statements. Actual results, performance or events may differ materially from those in such statements due to, without limitation, (1) general economic conditions, (2) performance of financial markets, (3) interest rate levels, (4) increasing levels of loan defaults (5) changes in laws and regulations and (6) changes in the policies of governments and/or regulatory authorities. Past performance is no guarantee of future returns.
The opinions, views and information expressed in this commentary regarding holdings are subject to change without notice. The information provided regarding holdings is not a recommendation to buy or sell any security. Strategy holdings are fluid and are subject to daily change based on market conditions and other factors.