Yesterday the yield on the benchmark ten-year U.S. Treasury note surpassed 1% for the first time since the pandemic kicked into high gear and the U.S. Federal Reserve began its unprecedented, aggressive response. At the same time, inflation expectations have been climbing, leaving real yields decidedly negative, which is a good thing for stocks. The spread between the ten-year T-note and the three-month T-bill also has moved higher and is now nearing 1%. One doesn't need a degree in mathematics to ascertain that short rates must be near zero, where we expect they will remain for the foreseeable future. This curve steepening is a reflection of an improving economic outlook and is welcome relief for financials, in particular banks, whose core business is based on short-term borrowing and long-term lending. As the outlook for economic growth gets better, so too should the performance of financials and other cyclical sectors, which generally have lagged over the last several years but are leading the charge in the first few trading days of 2021.
The ten-year U.S. Treasury yield has moved back above 1%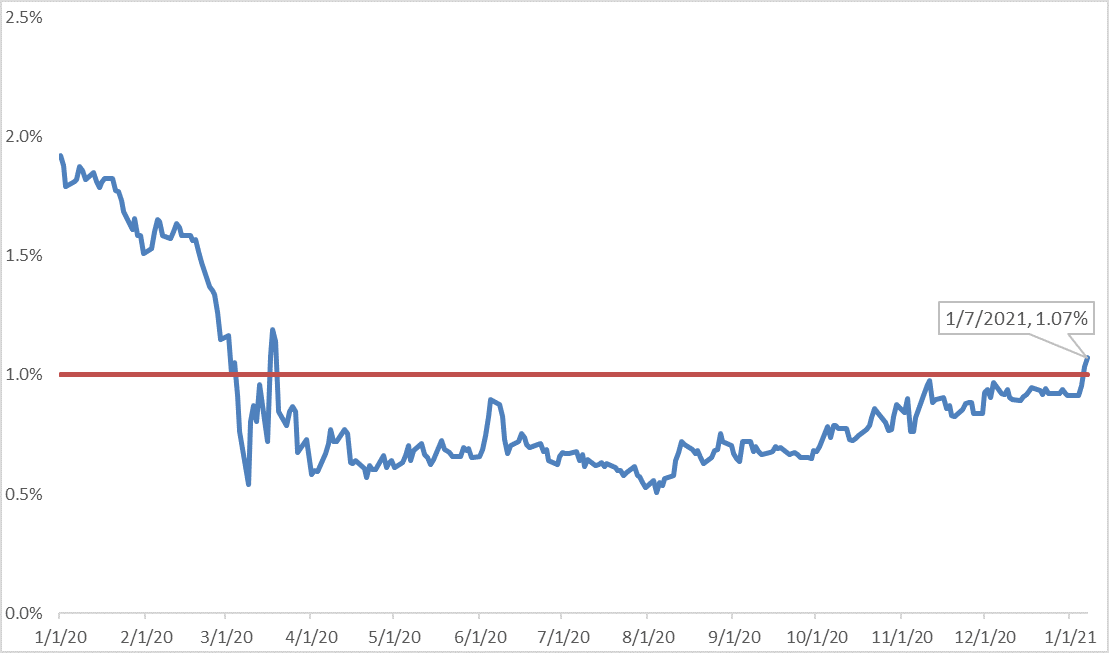 Source: Bloomberg, as of 1/7/21.
Voya Investment Management has prepared this commentary for informational purposes. Nothing contained herein should be construed as (i) an offer to sell or solicitation of an offer to buy any security or (ii) a recommendation as to the advisability of investing in, purchasing or selling any security. Any opinions expressed herein reflect our judgment and are subject to change. Certain of the statements contained herein are statements of future expectations and other forward-looking statements that are based on management's current views and assumptions and involve known and unknown risks and uncertainties that could cause actual results, performance or events to differ materially from those expressed or implied in such statements. Actual results, performance or events may differ materially from those in such statements due to, without limitation, (1) general economic conditions, (2) performance of financial markets, (3) interest rate levels, (4) increasing levels of loan defaults (5) changes in laws and regulations and (6) changes in the policies of governments and/or regulatory authorities. Past performance is no guarantee of future returns.
The opinions, views and information expressed in this commentary regarding holdings are subject to change without notice. The information provided regarding holdings is not a recommendation to buy or sell any security. Strategy holdings are fluid and are subject to daily change based on market conditions and other factors.