Executive Summary
Volatility is back with a vengeance, or so it seems as the market's volatility index is currently at its historic norm
The fundamentals of corporate earnings, manufacturing and the game-changing consumer are nothing short of explosive
Stagflation risks are rising due to cost-push inflation sparked by global supply chain shortages and surging energy prices
Surging energy prices on net are good for the United States but deal a crushing blow to energy importers Europe and China
Now is a good time to evaluate how certain investments did in a down market and adjust accordingly, but be prepared for the occasional "Santa Claus" rally
The "S" Word is Stagflation
Before we get to the good news on the continued economic boom, let's discuss the elephant in the room: stagflation. We'll start by dissecting the word: the stag is short for stagnation of economic growth, and the flation is short for inflation. It is a contradictory time when growth slows and prices rise, and it is dangerous. Not only have we not seen stagflation in a generation, it does and should spark fear among investors and individuals alike. Stagflation can be triggered by:
Cost-push inflation, as seen with the severe semi-conductor chip shortages slamming the auto industry
Cost-push inflation, as seen with the severe energy shortages most prevalent in China and Europe
Demand-push inflation, currently due to excessive central bank monetary pumping, which tends to weaken economic growth while raising the cost of goods
At this point in time, stagflation is a long, left-tailed risk, i.e., a low probability, but it is nonetheless a genuine concern given that the magnitude of its impact is like a meteor hitting earth. There is little policymakers can do with the cost-push inflation in the system, but the demand-push inflation induced by the U.S. Federal Reserve's artificial manipulation of the money supply is leading to a boom-bust business cycle. Taper of the Fed stimulus must, and I believe will, begin at the November FOMC meeting. Anything short of tapering would substantially increase the odds of stagflation and be viewed as a "policy mistake."
The Eurasian Self-Induced Power Crunch
Eurasia's power crunch — or more specifically, Europe's and China's power crunch — is dealing a crushing blow to the outlook for these two regions. It is largely self-induced due to a policy mismatch in timing on the move to green energy and away from fossil fuels, where demand vastly outstrips supply. The answer in the short term is fossil fuels (coal and natural gas), which have been shunned for so long that there just aren't enough. Meanwhile, China is paying whatever it takes to secure the little supplies there are, leaving Europe in the lurch. Here are some highlights that could best be described as the "Perfect Storm":
China's factories, aka "supply-chain for the world," are being told to cut back to preserve power, and blackouts have been initiated across the country
Coal fuels 60% of China's power, but China is running out of coal due to its unilateral decision to stop coal imports from Australia
China's renewable sources have suffered a one-two punch: a drought at the hydropower station in Yunnan, and unfavorable weather at northeastern wind farms
In Europe, power prices are rising so fast that their markets can't compete with China's willingness to pay any price, which is pushing the European industry closer to the breaking point
EU natural gas is up over a whopping 600%, and already a major UK manufacturer has halted operations at two facilities. Meanwhile, Russia is in no rush to save Europe with its copious supplies of natural gas
Figure 1. European Natural Gas Energy Crunch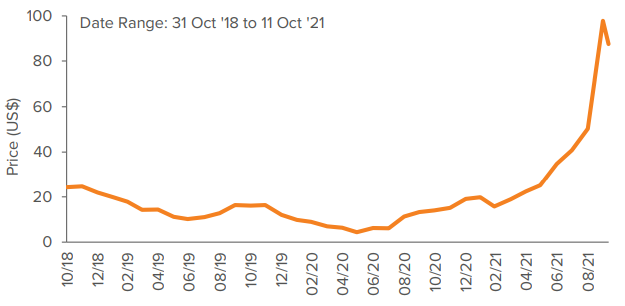 The U.S. investor is largely oblivious of these problems since energy is plentiful here, even if it has been increasing at the gas pump. In fact, as a petroleum-exporting economy, the U.S. benefits from higher energy prices. We have more coal, oil, and natural gas than we could ever use, but now most of it gets shipped to China, for a premium, and not to Europe.
Economic Boom Prevails
Then there is the continuing economic boom, which is undeniable given that revenues, profits, and investment are all still rising, not to mention the strong consumer. While the stag part of stagflation is not evident just yet, we may see it more clearly in subsequent quarters. In the meantime, rising inflation with low rates continues to morph into a dangerous elixir in the epic "hunt for yield."
Bottom-line messages in our outlook
We are in a globally-synchronous, moderate-growth phase led by the U.S.
Inflation is high, and has stayed high longer than we expected, but we expect a November taper will have a big impact in moderating expectations; U.S. Treasury bond yields have recently started rising again in a nod to the taper delay
Typically, it takes around 18 months for major FOMC action to be felt in the markets and economy: the tsunami of global stimulus led by the U.S. likely has not hit our shores yet. But it will, and it will be big
Markets are rich and have been adversely impacted by bursts of volatility, but are currently treading below normal volatility
The action plan is to stay fully invested and "surf the wave"
Summary of markets in the third quarter of 2021
Equities: 
On average, lost 2.2% for the quarter, bringing the year-todate return to 12.4%, as September marked its first nearly sub-5% drawdown for the year
The quarter was led by the stalwart S&P 500, which was the only equity index to produced positive returns. Despite a small loss, EAFE held up well. Emerging markets got hammered with a brutal 8% loss, led by troubles in China's equity market brought on by the collapse of the property behemoth, Evergrande
U.S. has been the place to be and will likely remain so as the energy power crunch continues to weigh on international and emerging markets
Growth and value stocks were mixed around zero across capitalizations. Financials were the best performer, but it was energy that staged the biggest comeback with a gusher in September at 9.44% return while every other sector was negative. The cyclical industrials sector was the worst performer with a 4.28% loss
Fixed income:
Benefited from flat rates and was slightly positive, the only detractor being global aggregate bonds. Long-duration U.S. Treasurys and U.S. high yield were the only gainers, with marginally positive returns
Commodities:
Continued to post gains, led by rising crude oil prices. The CBOE Volatility index (VIX) rose back to historical norms
Figure 2. Markets in the Third Quarter of 2021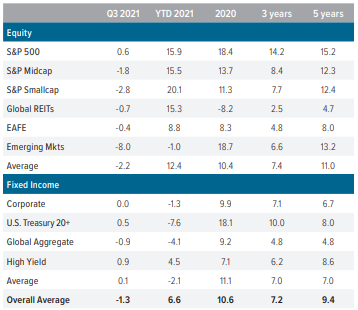 Figure 3. Equity Markets…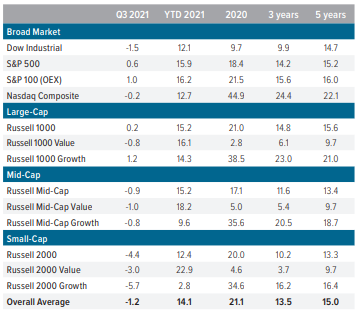 Source: FactSet, FTSE NAREIT, Voya Investment Management. The Overall Average model allocation includes 10 asset classes, equally weighted: S&P 500, S&P 400 Midcap, S&P 600 Smallcap, MSCI U.S. REIT Index/FTSE EPRA REIT Index, MSCI EAFE Index, MSCI BRIC Index, Bloomberg Barclays U.S. Corporate Bonds, Bloomberg Barclays U.S. Treasury Bonds, Bloomberg Barclays Global Aggregate Bonds, Bloomberg Barclays U.S. High Yield Bonds. Returns are annualized for periods longer than one year. Past performance is no guarantee of future results. An investment cannot be made in an index.
Advancing Corporate Earnings
Solidifying that the prevailing economic boom continues is second quarter of 2021 GDP growth, which notched a blistering 6.7% pace. The following components of second quarter GDP growth are notable:
Consumption grew 12.0%, but notably the durables component dropped from 50% in Q1 down to 11.6% in Q2
Business fixed investment grew by a slower 3.3% pace
Residential investment had a surprising loss of 11.7%
While headline GDP was better than first quarter 2021, it is important to point out that expectations were for much, much higher. As we pointed out last quarter, there were estimates in the wide range of 8.5% and 14%.
The momentum from several quarters of near record GDP growth culminated in a blockbuster 2Q21 earnings season, with EPS growth registering 95.4%!
Figure 4. Fundamentals Drive Markets with an Explosive Q2 EPS Growth

Source: Refinitiv – Thomson Reuters and FactSet, Voya Investment Management. Earnings per share (EPS) is the portion of a company's profit allocated to each outstanding share of common stock. The S&P 500 index is a gauge of the U.S. stock market that includes 500 leading companies in major industries of the U.S. economy. Past performance is no guarantee of future results. Indices are unmanaged and not available for direct investment.
This was another gargantuan miss by the cognoscenti of Wall Street. Wall Street analysts are behind the curve, and the positive misses will likely continue in subsequent quarters… and are a market positive.
Broadening Manufacturing
The third quarter was a blockbuster for U.S. and European manufacturing, which is good news, as manufacturing tends to be a leading indicator of U.S. corporate earnings strength and influences global economic strength. Indeed, ISM Manufacturing for September increased to 61.1. However, Europe's PMI Manufacturing is dropping precipitously, having logged a 55.6 reading likely due to the power crunch and global supply chain disruption.
In regard to the U.S. ISM and inflation: the prices-paid component dropped 81.2 from 92.1 at the end of last quarter. Notably, the semiconductor chip shortage, brought on by the deteriorating global supply chain, is impacting the auto industry, as U.S. light vehicle sales were down to 12.2 million per month, versus a cycle high of 18.5 million per month in September 2017. This is also a result of poor management from the car companies, which failed to see the bounce-back in demand before it overwhelmed them.
China's PMI Manufacturing for September was a warning shot, having dropped below the magic 50 to 49.6, indicating contraction. Again, likely due to the power crunch, but this is an ominous sign for global growth, notwithstanding the great news out of the U.S.
Consumer the Gamechanger
The consumer continued to deliver but consumer confidence in the U.S. dropped down to 109.3 from 128.9. The latest August retail sales slipped to $618 billion from $625 billion at the end of the last quarter, mainly due to the ongoing semi-conductor shortages and delayed unloading at ports (Figure 4).
Consumer spending is predicated on job growth, and the September nonfarm payroll report pushed the unemployment rate down to 4.8%, adding 194,000 jobs. Jobs and still-low mortgage rates have been an elixir for the housing market, but we may have seen housing sales peak, as home prices hit an all-time high and rates have begun to rise. The offset to slower housing is high prices that increase housing starts. We will watch this tug-of-war closely, but at this point the consumer continues to be the gamechanger.
Figure 5. The Consumer as Gamechanger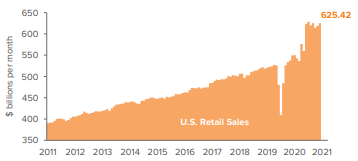 Source: FactSet. U.S. retail sales, as of 09/30/2021.
Conclusion
The economic boom in the U.S. is driving consumers and manufacturers, followed by stellar corporate profits. But internationally, storm clouds are building. The energy crisis – aka, the power crunch — outside the U.S. and with the left-tail risk of stagflation are building. The hunt for yield and returns is creating bubbles like China's Evergrande, and there are a lot more in waiting. At this point, it will be good news when Fed Chair Powell tapers, otherwise the bubbles will build and require draconian moves in the future.
The good news is that corporate profits — the fundamental driver of markets — continue to break records. Sure, they will slow from here, but at still exorbitantly high growth rates. Keep in mind that markets "climb a wall of worry" and are still positioned to do so. Volatility is normal now, and this is the time to build clients' wealth, albeit with effective diversification and not "gaming" diversification with outsized bets. Do you believe in Santa Claus rallies?
IM1881155
Disclosures
General Investment Risks: All investing involves risks of fluctuating prices and the uncertainties of rates of return and yield inherent in investing. All security transactions involve substantial risk of loss. Diversification does not guarantee a profit or ensure against loss.
Important Information
This paper has been prepared by Voya Investment Management for informational purposes. Nothing contained herein should be construed as (i) an offer to sell or solicitation of an offer to buy any security or (ii) a recommendation as to the advisability of investing in, purchasing or selling any security. Any opinions expressed herein reflect our judgment and are subject to change. Certain of the statements contained herein are statements of future expectations and other forward-looking statements that are based on management's current views and assumptions and involve known and unknown risks and uncertainties that could cause actual results, performance or events to differ materially from those expressed or implied in such statements. Actual results, performance or events may differ materially from those in such statements due to, without limitation, (1) general economic conditions, (2) performance of financial markets, (3) interest rate levels, (4) increasing levels of loan defaults, (5) changes in laws and regulations and (6) changes in the policies of governments and/or regulatory authorities. This material may not be reproduced in whole or in part in any form whatsoever without the prior written permission of Voya Investment Management.
Past performance is no guarantee of future results.