U.S. initial jobless claims rose to 885,000 from 862,000 a week earlier. After steadily trending down from a high of 7 million near the end of March (Figure 1), the labor market is cooling as COVID-19 cases remain elevated heading into the winter season and the government imposes new restricts on activity. Although vaccines are being rolled out, most economists expect hiring won't accelerate until Q2 2021. November retail sales also came in softer than expected at -1.1% and October's results were revised down to -0.1%, from 0.3%, ending a streak of five straight monthly increases. November's weakness was broad-based, with the largest declines in apparel (-6.8%), food and beverage (-4.0%) and electronics and appliances (-3.5%). December's Flash Markit PMIs declined for both manufacturing (-0.2 pts) and services (-3.1 points). Housing continues to be a bright spot with housing starts and building permits coming in better than expected. However, the NAHB Housing Market Index, a measure of homebuilder sentiment, came in slightly worse than expected.
With a sputtering labor market recovery, wobbly economic backdrop, and extended-unemployment benefits programs expiring at the end of this year, now seems like an opportune time to deploy a fresh round of fiscal stimulus. After months of bickering and disappointment, there is renewed optimism that Congressional leaders will pass a roughly $900 billion coronavirus relief bill that includes another round of direct payments to households. Markets have performed incredibly well despite several previous failed attempts to reach an agreement, but with the recovery waning and the near-term outlook frosty, a breakdown in talks at this point could be damaging.
Across the pond, four and a half years after the Brexit referendum, negotiations grind on. The UK officially left the European Union in January and has been in a transition phase since. That transition ends at the end of this year. According to the European Parliament, a deal must be reached by midnight Sunday if it is to be ratified by December 31. Though many deadlines have come and gone without significant consequences, this one apparently matters. Consensus seems to be that a less than comprehensive deal will be reached, avoiding disastrously disordered separation. If, however, there is no deal and no new deadline extension, it is likely that the UK's growth outlook would be lowered and sterling would fall, reducing real incomes for UK consumers who purchase a lot of imported goods. The near-term market reaction is likely to be risk-off, but longer term implications are unclear. Let's hope we don't find out.
Figure 1. The labor market is cooling off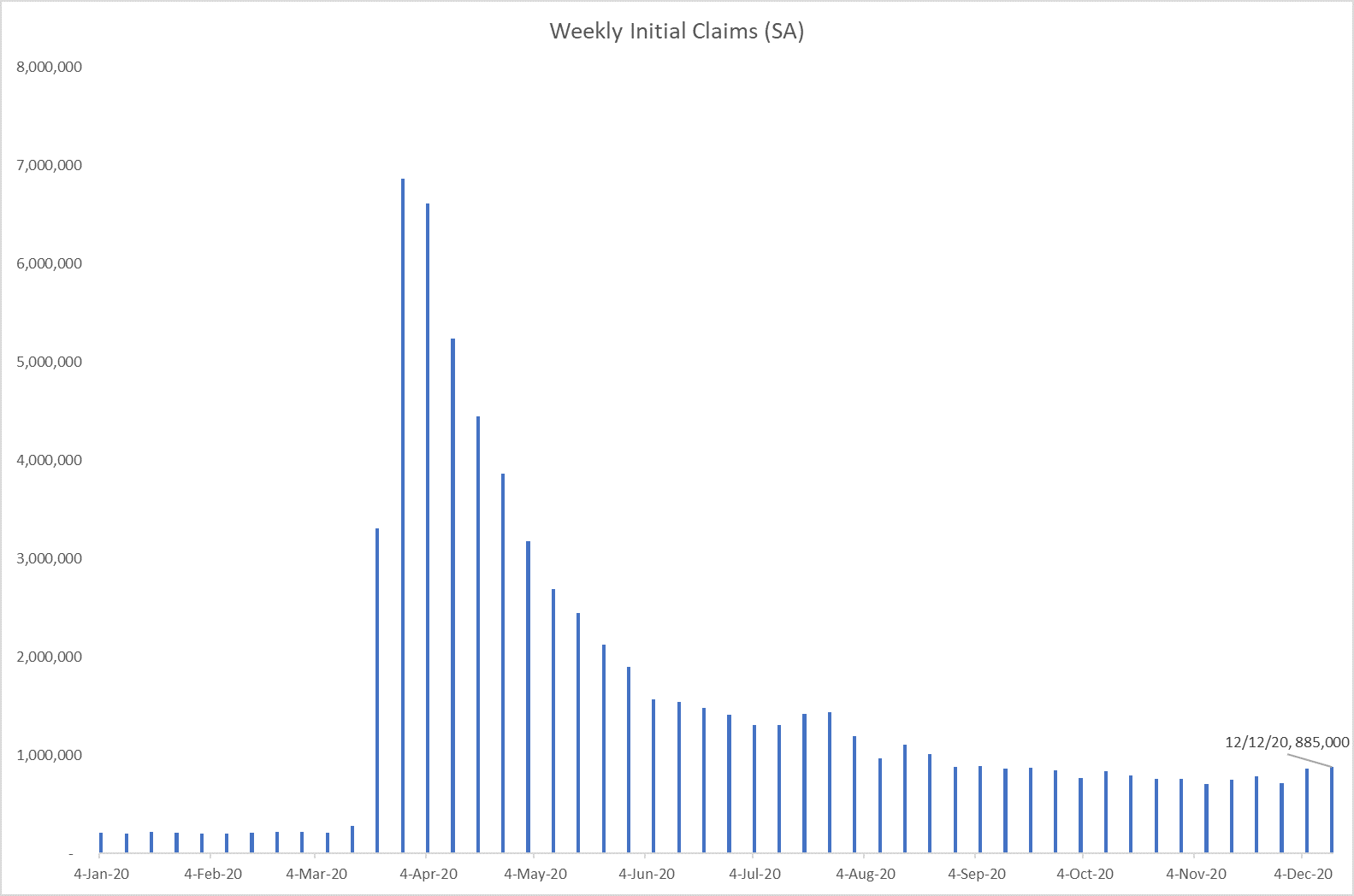 Source: Federal Reserve Bank of St. Louis, as of 12/17/20.
Voya Investment Management has prepared this commentary for informational purposes. Nothing contained herein should be construed as (i) an offer to sell or solicitation of an offer to buy any security or (ii) a recommendation as to the advisability of investing in, purchasing or selling any security. Any opinions expressed herein reflect our judgment and are subject to change. Certain of the statements contained herein are statements of future expectations and other forward-looking statements that are based on management's current views and assumptions and involve known and unknown risks and uncertainties that could cause actual results, performance or events to differ materially from those expressed or implied in such statements. Actual results, performance or events may differ materially from those in such statements due to, without limitation, (1) general economic conditions, (2) performance of financial markets, (3) interest rate levels, (4) increasing levels of loan defaults (5) changes in laws and regulations and (6) changes in the policies of governments and/or regulatory authorities. Past performance is no guarantee of future returns.
The opinions, views and information expressed in this commentary regarding holdings are subject to change without notice. The information provided regarding holdings is not a recommendation to buy or sell any security. Strategy holdings are fluid and are subject to daily change based on market conditions and other factors.