Executive Summary
The inflation genie is out of the bottle; the Fed let inflation run a little hot, now its scorching due to macro factors and the heat will be felt for some time to come.
Through all the gloom, don't forget the economic boom, which is only now downshifting from great to good.
Manufacturing is beginning to strain under weight of inflation, but the game-changing Consumer continues to deliver.
The Fed's policy shift, if it goes ahead, represents a historical and intentionally aggressive U-turn.
The Inflation Genie
If you don't turn on the TV, things can feel quite good. In America, we are at full employment, businesses are making record profits, and the value of our homes are going up like meme stocks and NFTs. What could go wrong?
Unfortunately, a lot. Costs for gas, food, and cars are all increasing, as are interest rates on mortgages and consumer credit, just to name a few. But price increases are good, right? Not so fast: These rising prices are key contributors to inflation, which at first is good – until it's not. Indeed, inflation is a systemic risk to the markets. And what this all means is that the proverbial "inflation genie" is now out of the bottle, and it takes a long time to coax the genie back in.
Figure 1. The inflation genie is out of the bottle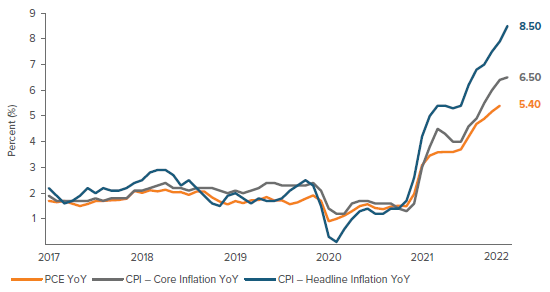 Source: FactSet, as of 3/31/2022
So, how did this happen? The reasons are many, but it was truly codified on August 27th, 2020 when the U.S. Federal Reserve's Federal Open Market Committee instituted the "Federal Reserve Average Inflation Targeting" initiative. Basically, the FOMC decided to let inflation run "just a little hot" and they would know when it's time to cool it down. They failed. Sure, there are other contributing factors including the Russia-Ukraine war, which exacerbated a budding energy crisis, a nascent food crisis - not to say anything about China – and so on. But, to paraphrase Shakespeare, "inflation by any other name is still inflation". Inflation is bad for markets – both stock and bonds — because it is a discounting mechanism that hits long duration assets, like long maturity bonds and growth stocks, especially hard.
First quarter 2022 Review
It was a rough first quarter: Stocks and bonds were negative, with bonds underperforming equities; rampant inflation was the biggest concern as it hit an 8%-handle in March; and the Russia-Ukraine war worsened an already strained energy market, with Europe hit especially hard.
Global REITs and the S&P 500 were the best equity performers but were still negative. Indeed, growth stocks were slammed across all market capitalizations. Emerging Markets – dominated by China shares – performed the worst, losing 6.9% due in part to China's support and aid of Russia in its war against Ukraine. From a sector perspective, Energy dominated with a 39% return while Technology stocks faltered to an 8.4% loss. Commodities gushed across the spectrum, dominated by energy, and the CBOE Volatility Index (VIX) rose 19.4% to 20.56.
Meanwhile, U.S. Treasury 20+-year bonds were hit the hardest by surging inflation and interest rates, losing 11% in the quarter.
Figure 2. Markets in the First Quarter of 2022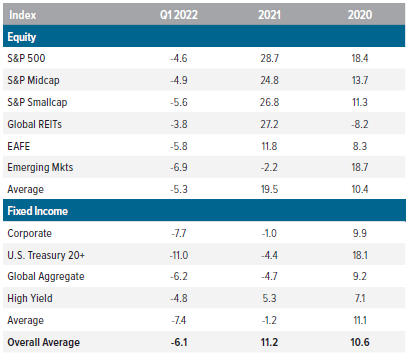 Figure 3. Equity Markets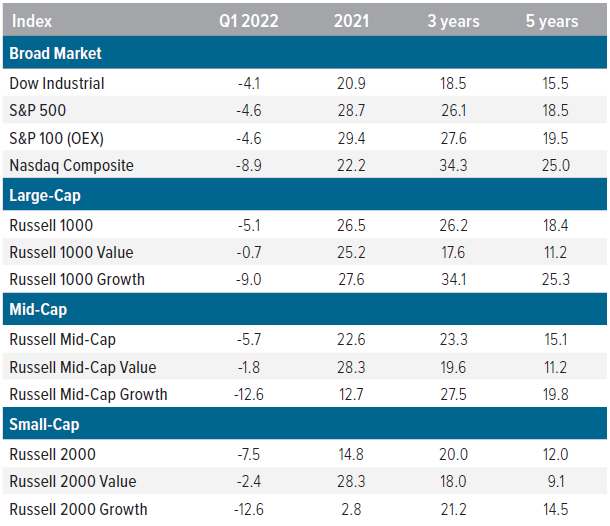 Source: FactSet, FTSE NAREIT, Voya Investment Management. The Overall Average model allocation includes 10 asset classes, equally weighted: S&P 500, S&P 400 Midcap, S&P 600 Smallcap, MSCI U.S. REIT Index/FTSE EPRA REIT Index, MSCI EAFE Index, MSCI BRIC Index, Bloomberg Barclays U.S. Corporate Bonds, Bloomberg Barclays U.S. Treasury Bonds, Bloomberg Barclays Global Aggregate Bonds, Bloomberg Barclays U.S. High Yield Bonds. Returns are annualized for periods longer than one year. Past performance is no guarantee of future results. An investment cannot be made in an index.
Advancing Corporate Earnings
The most recently reported quarterly results for the S&P 500 were for the fourth quarter of 2021, and it was big: Earnings grew 32% overall, with topline revenue growth at 15.1%, which was led by the Energy sector's 91.3% growth. Gross domestic product (GDP) notched a blistering 6.9% pace, led by a buildup in inventories, especially autos. Key components of fourth quarter GDP growth include:
Consumption grew 2.5%, most notable was the durables component's 2.5% increase after dropping 24.6% in Q3; services continued their run at 3.3% growth
Business fixed investment increased 2.8% after falling 2.3% in Q3
Residential construction rebounded 2.2% after two quarters of losses
The nearly 7% GDP growth signals that the economic boom continued through year-end, though expectations are for a weak first quarter, due in part to difficult comparisons to a big fourth quarter.
Figure 4. Fundamentals Drive Markets with an Explosive Q4 EPS Growth

Source: Refinitiv – Thomson Reuters and FactSet, Voya Investment Management. Earnings per share (EPS) is the portion of a company's profit allocated to each outstanding share of common stock. The S&P 500 index is a gauge of the U.S. stock market that includes 500 leading companies in major industries of the U.S. economy. Past performance is no guarantee of future results. Indices are unmanaged and not available for direct investment.
This was yet another too-low miss by the cognoscenti of Wall Street on their estimates for corporate earnings. Wall Street analysts were behind the curve; on January 1st 2022, their estimate was for 22.3% earnings growth, versus the 32.1% actual growth. This is market-positive.
Broadening Manufacturing
The U.S. Institute for Supply Management manufacturing index fell 1.5 points to 57.1 in March, more than erasing the 1-point increase to 58.6 in February from January. This is the lowest since September 2020. The index was at 63.7 last March and weakness was fairly broad-based.
Despite the pullback, March readings remain historically elevated. Producers have benefited from higher prices despite rising input costs, and the need to rebuild inventories into 2022 after stimulus-induced 2021 sales surge. However, Eurozone industrial production stagnated in January, leaving production down 1.3% year-over-year at the start of the year.
Eurozone manufacturing PMI was revised down to 14-month low. The S&P Global Eurozone manufacturing PMI came in at 56.5, down from 58.2 in February. The German industrial sector is being adversely impacted by the Russia-Ukraine war and subsequent uncertainties in its gas and energy supplies, among other factors.
Inflation is rampant and widespread, as was evidenced by the prices-paid component, which jumped to 87.1 from 75.6, an increase not seen since December 2020. While this was the lowest recorded ISM level in 18 months, it was also the 21st consecutive month the United States has been in expansion territory.
Consumer the Gamechanger
Retail and food services sales in the U.S. for February 2022 were $658.1 billion, an increase of 0.3% from the previous month, and 17.6% year-over-year. It is worth noting that this number is in nominal dollars and is not inflation adjusted. Consumer confidence in March rose to 107.2 versus a 16-month high of 128.9 in June of 2021 and a 6-year low of 85.7 in April of 2020.
Consumer spending is predicated on job growth, and the March nonfarm payroll report pushed the unemployment rate down to 3.6%, adding 431,000 jobs. Inflation does have an upside for homeowners as U.S. Household net worth in the fourth quarter totaled $150.3 trillion, rising 8.2% from the previous quarter and 14.4% from a year ago.
Figure 5. Consumer as a Gamechanger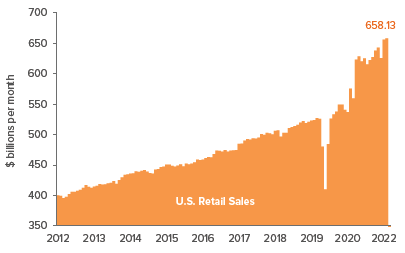 Source: FactSet. U.S. retail sales as of 2/28/22.
United States home price statistics revealed big December gains that extended the streak of outsized increases to 19 months. Statistics such as the S&P CoreLogic Case-Shiller 20-City Composite, which increased to a record high of 285.63 points in December 2021, which is an 18.6% year-over-year increase, illustrate this point. Mortgage rates are rising fast, and the expectation is that costlier financing will slow the housing market - like it always does - but it may not stop this tsunami any time soon. As good as this is for current homeowners, it is not so good for first time home buyers.
Looking Ahead: The Fed's U-turn
The Fed's policy shift represents a historical and intentionally aggressive U-turn. Indeed, it may have waited too long to start reducing the balance sheet, but it's coming at a time when the markets are vulnerable. Asset valuations are high and mortgages rates are climbing substantially. Let's hope the Fed doesn't overcompensate for lateness with overaggressive reductions. But, in the meantime keep in mind that corporate earnings are at record highs, manufacturing is booming, and U.S. household wealth is higher than ever before.
This sudden U-turn in the markets is a hurricane-force stress-test of not only a portfolio's construction but also whether the manager "sticks to the plan" when emotional, fear-based errors are most likely to occur. We recommend and integrate a rules-based investment plan for markets such as this one.