Target date funds should be designed not just to maximize wealth accumulation during a participant's career; they should also protect that wealth as the participant approaches and enters retirement. Here are three reasons why the glide path design of target date funds matters.
1.  Participants are most vulnerable on the day they retire
On the last day of a participant's working life, their contributions to their plan end and (in many cases) withdrawals begin. Retirees face a lengthy period of covering expenses without earning a paycheck. In our view, avoiding large drawdowns in the early phase of retirement is critical to the longevity of assets. A target date fund that reduces its allocation to equities as retirement approaches can help mitigate downside risk.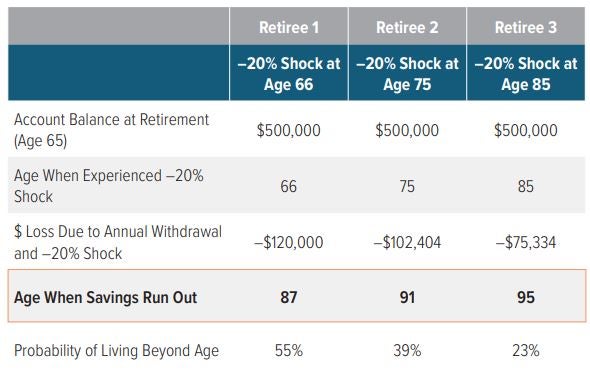 2.  Higher allocations to equities don't necessarily alleviate longevity risk
Loss aversion — a powerful cognitive bias — leads most people to feel losses much more acutely than they feel gains. Put another way, the average person feels twice as much pain losing $100 than they feel joy in gaining the same amount. For retirees, loss hurts even more: according to research, a retired participant is five times more sensitive to the pain of loss than one who is still working.1
Target date funds that have high equity allocations near (and at) retirement may force participants to bet against large market drawdowns in retirement — a bet that many older participants may not be willing to take.
3.  Broad exposure to a variety of asset classes helps to manage volatility
In our view, the approach to portfolio management in target date funds should go beyond determining the optimal equity/bond allocations over a participant's life cycle. We believe that the selection of sub-asset classes in the funds is equally important.
Accordingly, defined contribution plan sponsors should have a thorough understanding of the breadth of sub-asset classes in a target date fund — and how the sub-asset classes are adjusted to manage the various risks that participants face. We believe that target date funds that offer broad exposure to a diverse set of asset and sub-asset classes should offer more consistent investment outcomes for participants.