Narrative divergences are interesting to study and provide potential opportunities, since the gap between a narrative and reality often takes time to close as people slowly update their views. In this case, the divergence between China's expected reopening boom and its lackluster economic and stock market performance suggests that something is not quite right.
On Wednesday, China reported that exports fell 7.5% year over year in May (versus median estimates of -1.8%) and imports fell 4.5% (versus median estimates of -8.0%). Exports to the United States, Japan, and European Union countries such as France and Italy, fell by double digits.
The "Great Opening" of the Chinese economy and "the biggest economic event of 2023," touted by many earlier this year, doesn't seem to be living up to its hype. A quick glance at the graph of the MSCI China ETF (MCHI) confirms this: after bottoming ~$35 in October 2022, MCHI rose ~60% to ~$56 per share in late January 2023 and has fallen back down to ~$45. Coincidentally, MCHI peaked around three weeks after China officially opened its borders on January 8 ― another textbook example of "buy the rumor, sell the news."
Exhibit 1. Share prices of the MSCI China ETF have fallen with China's outlook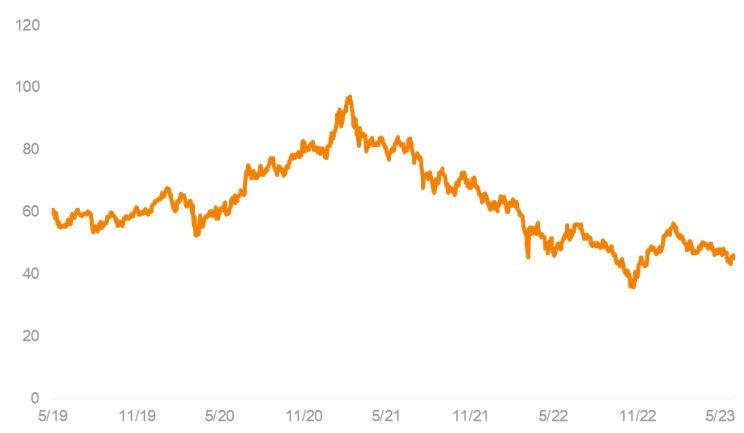 As of 6/8/23. Source: Bloomberg, prices in U.S. dollars. Past performance does not guarantee future results.
In short, the post-Covid rebound seems to have lost its momentum. Unemployment among 16–24 year-olds hit a record high of 20% in April. In May, new home prices and sales, and manufacturing activity fell (though services activity did pick up). Historically, China has turned to real estate and infrastructure to help stimulate its economy ― but this time might be more difficult, as it faces already heavily indebted developers and its worst oversupply of apartment buildings in years. Combined with increasing geopolitical tensions, a steady flow of companies leaving China, a declining population and weak global growth (Narrative Divergence in Oil Signals Slowing Economy), China's economic growth seems to be facing multiple headwinds. If that's the case, then it should eventually translate into a further dampening of appetite for Chinese equities as more investors slowly incorporate recent data into their narratives.
Of course, the markets rarely operate in such a linear fashion ― if future data contradict our current viewpoint, we will be sure to update our views as well.