With yields near 15-year highs, bonds have resumed their role in portfolios as a tool for potential income, compelling risk-adjusted returns and diversification. To help investors get their bond allocations back on track, we spotlight three bond strategies: intermediate, unconstrained and GNMA.
Bonds are back
After years in the desert of yield scarcity, fixed income is back in business as a competitive asset class. In the post — financial crisis era of extraordinarily low interest rates, investors had to reach down in credit quality or extend duration to generate meaningful yield. But as the Federal Reserve has ratcheted rates higher to combat inflation, the environment has changed decisively.
Across the credit quality spectrum, yields are significantly higher than they have been in more than a decade (Exhibit 1). Investors can now get better yields from Treasury bonds than they could from junk bonds just two years ago. That higher yield translates to several potential benefits: an extra cushion against falling bond prices if rates continue to rise, a relatively stable source of return, and the prospect of attractive long-term performance. (Historically, the yield of the U.S. Agg — currently 4.4% as of April 30 — has been a good indicator of returns over the next five years.1 ) Against this backdrop, we believe bonds are well positioned to help investors diversify equity and credit risk.
Exhibit 1. Investors no longer need to reach down in credit quality for attractive yield
U.S. Yields by Credit Quality, 2012–2023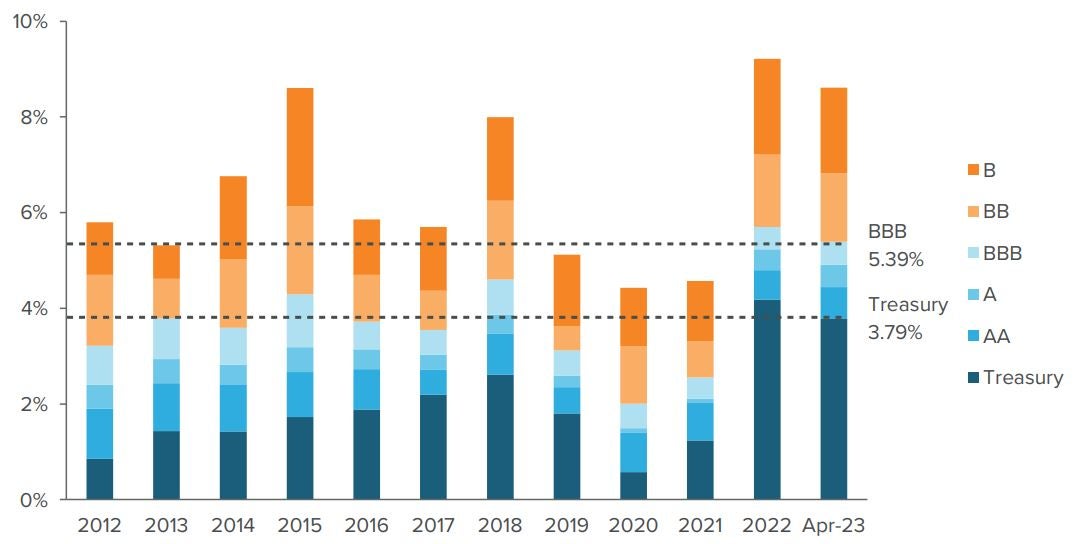 As of 04/30/23. Source: Bloomberg Index Services Limited, Voya Investment Management. Treasury: Bloomberg U.S. Treasury Index; AA–BBB: Bloomberg U.S. Corporate Aa, A and Baa subindices; BB-B: Bloomberg U.S. High Yield Corporate 2% Issuer Cap Ba and B subindices. Dashed lines represent yield for BBB and Treasury bonds at 04/30/23.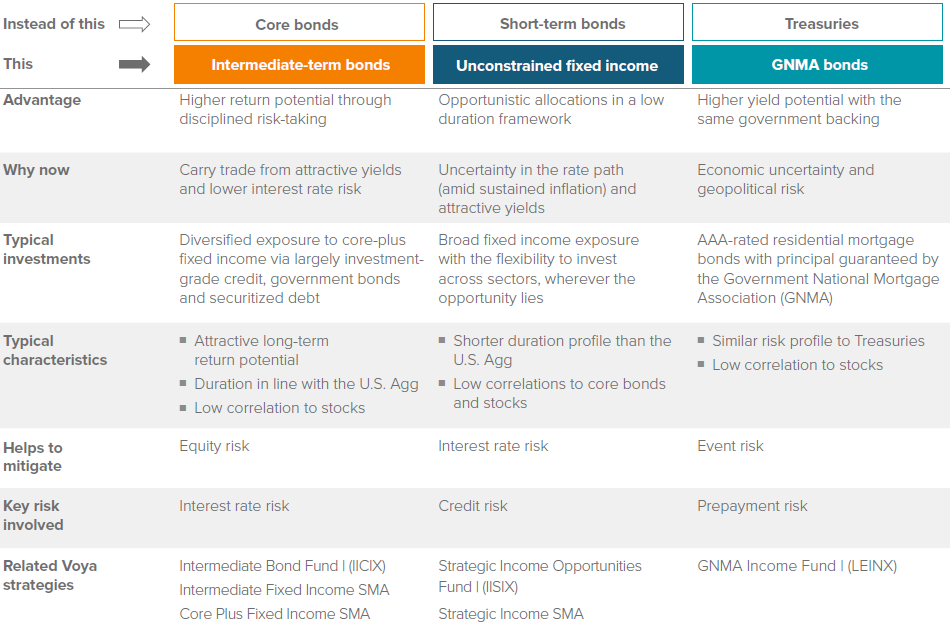 Investing with Voya Investment Management
Voya IM has extensive expertise across fixed income markets to help investors achieve their objectives.
Investments guided by collaboration among 250+ fixed income investment professionals
A strong leadership group headed by Matt Toms, Global Chief Investment Officer
Portfolio management decisions supported by deep fundamental research from experienced sector specialists plus macro and quantitative group
 To learn more about our investment solutions, contact your Voya IM representative or visit https://advisors.voya.com/backintobonds