We continue to believe the economies of China, Europe and Japan are in the process of reaccelerating. Although the coronavirus alters the near-term outlook for Asia, underlying market fundamentals historically have prevailed once an outbreak subsides.
January was shaping up as another strong month for equities before the coronavirus outbreak dashed hopes for a smooth advance. The S&P 500 index ended January flat, but as of early February has staged a quick recovery. Judging by market price action, investors believe the virus will be contained mostly to China and the impacts on U.S. and global growth will be minimal or at worst temporary. Emerging market (EM) prices reflect deeper concerns: EM stocks sold off more in January U.S. stocks and have recovered less in February (Figure 1).
EAFE equities have followed a similar pattern but have lagged less. Early in January, European stocks shrugged off worries that the U.S. assassination of a top Iranian general would have destabilizing consequences. By contrast, the potential for the coronavirus to spread to Japan and Europe prompted investors to tread carefully. Determining how much the virus will hamper economic activity in China is a difficult and imprecise exercise at this stage, as the number of confirmed cases accelerates. In the meantime, EM currencies are getting walloped. What appeared Voya Multi-Asset Perspectives | February 2020 to be early signs of much needed EM currency strength with the U.S. dollar weakening into year-end, has given way to a sharp shift back to the safety of dollar-based assets.
As expected in a risk-off period, the ten-year U.S. Treasury yield declined in January from 1.88% to 1.50%, propelling long-duration, fixed income asset classes to big gains for the month. The Bloomberg Barclays U.S. and Global Aggregate Bond indexes were also up on the month, returning 2.34% and 1.28%, respectively, while U.S. high yield was essentially even. With long-end yields moving lower and the Federal Open Market Committee keeping the fed funds target rate unchanged for the third straight month, the U.S. yield curve has flattened substantially (Figure 2), and in some places has reinverted. Although such inversions have historically been associated with impending recessions, other indicators of economic health — such as purchasing managers' indexes (PMIs), nonfarm payrolls and consumer sentiment — continue to signal that growth will remain positive.
Tactical Indicators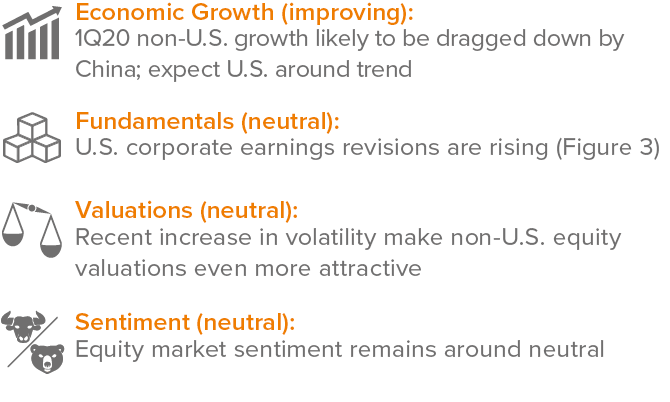 Figure 1. U.S. stocks have recovered, while emerging market stocks languish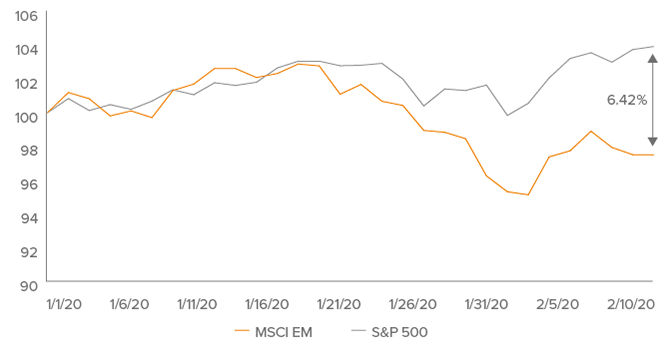 Source: Bloomberg, Voya Investment Management, as of 2/11/2020.
Figure 2. The U.S. yield curve has flattened since the start of the year
Ten-year minus three-month U.S. Treasury yield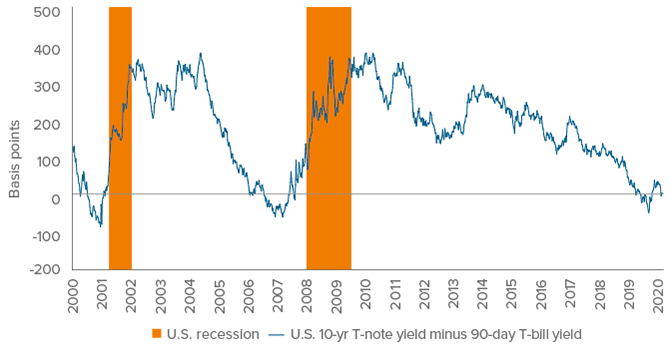 Source: Bloomberg, Voya Investment Management, as of 2/11/2020.
Figure 3. U.S. earnings revisions have been hooking up since October
Citi U.S. earnings revisions index, four-week moving average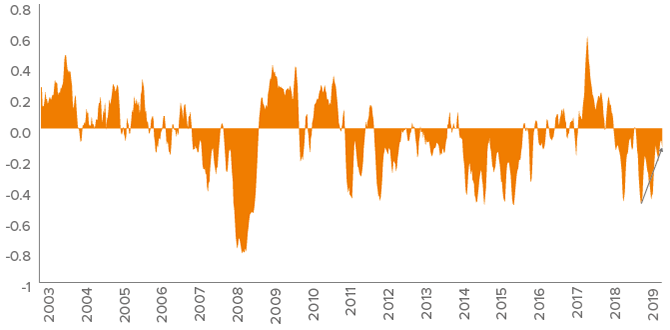 Source: Bloomberg, Voya Investment Management, as of 2/7/2020.
Portfolio Positioning
Investment Outlook
We continue to believe that non-U.S. economies — China, Europe and Japan — made an important bottom in 4Q19 and are in the process of reaccelerating. Yet, much will depend on severity of the coronavirus contagion, which is difficult to gauge at this point. The number of reported cases and deaths related to coronavirus have already exceeded the 2003 SARS outbreak, which lasted about nine months. Should the virus spread more than currently expected, the ramifications could seep into 2Q20 or later data.
If other recent epidemics are comparable, which is a big assumption, the brunt of the economic impact will be borne in the first quarter of this year. Some of the market froth from the strong gains in December and early January has already been visibly reduced. Historically, market fundamentals in place prior to an outbreak eventually prevail once a treatment is found and the number of cases declines.
Fundamental data from the United States continue have a positive look: for example, strong recent employment data, including a big gain in private payrolls, higher average hourly earnings and labor force participation. With trade wars abating, ISM manufacturing PMI jumped above 50, signaling expansion for the first time since July. ISM new orders moved above 50 as well, to the highest level since May 2019. Nonfarm productivity — the key to medium-term growth — continues to rise albeit still at a low level. Also, U.S. consumers are holding up well, which is helping to keep the housing market firm. This backdrop supports our base case outlook for U.S. growth around trend, which should enable earnings to reset higher after a modest decline in 3Q20. Equities U.S. Large Cap Scale brings competitive advantages that allows large caps to sustain superior free cash flow and justifies valuations U.S. Mid Cap Extended earnings expectations, uninspiring valuations and better opportunities in large cap U.S. Small Cap Earnings growth could be challenged by rising wages; susceptible to increasing operating costs because of high leverage International Despite improving global growth, recent foreign data are lagging the U.S., and Brexit uncertainty and EU trade frictions could pose headwinds Emerging Markets Easy financial conditions in China and U.S., improving growth outlook and expectations for range-bound U.S. dollar REITs Attractive yields, but valuations are expensive and could face pressure if rates rise Fixed Income U.S. Core We maintain a neutral duration posture and favor quality investment grade bonds over high yield given the late stage of the credit cycle Non-Investment Grade Favor high quality fixed income; tight spreads, illiquidity concerns and limited yield advantage make loans more attractive than high yield International Low absolute and relative yields lead us to favor U.S. bonds So far, this view is corroborated by corporate earnings, which are climbing in the U.S. (Figure 3) but recently have moved lower in other major regions of the world.
Generally accommodative monetary policy in the second half of 2019 has pulled global short rates lower and eased financial conditions. This has been, and we believe will continue to be, a positive for risk assets. Because the bulk of the evidence suggests that business cycle dynamics have not changed, we remain largely risk-on, but have balanced our equity overweight with tilts toward lower-beta assets — i.e., assets with less a market-like risk profile — within other areas of our multi-asset portfolios.
For example, we favor larger companies within U.S. equities. We see an increasingly disproportionate share of gains accruing to firms that can benefit from economies of scale by capping cost through technological efficiencies and transforming outsized portions of revenue into free cash flow. Our "barbell" allocation strategy of high-quality credit and modest allocations to U.S. government bonds also helps counteract some of the downside volatility. We believe this positioning has helped buttress portfolios against some of the losses sustained from our overweight to emerging market stocks.
Although the coronavirus has materially altered the near-term outlook for China and other parts of Asia, we believe asset prices already have adjusted accordingly. Given the aggressive response from the Chinese government to limit the fallout, the pre-existing global policy support and willingness to add more if needed, we are optimistic that the epidemic will subside, and a robust recovery will follow. In the meantime, we closely monitor the situation for confirming or contradictory evidence.
IM1090369
Past performance does not guarantee future results.
This commentary has been prepared by Voya Investment Management for informational purposes. Nothing contained herein should be construed as (i) an offer to sell or solicitation of an offer to buy any security or (ii) a recommendation as to the advisability of investing in, purchasing or selling any security. Any opinions expressed herein reflect our judgment and are subject to change. Certain of the statements contained herein are statements of future expectations and other forwardlooking statements that are based on management's current views and assumptions and involve known and unknown risks and uncertainties that could cause actual results, performance or events to differ materially from those expressed or implied in such statements. Actual results, performance or events may differ materially from those in such statements due to, without limitation, (1) general economic conditions, (2) performance of financial markets, (3) interest rate levels, (4) increasing levels of loan defaults, (5) changes in laws and regulations, and (6) changes in the policies of governments and/or regulatory authorities. The opinions, views and information expressed in this commentary regarding holdings are subject to change without notice. The information provided regarding holdings is not a recommendation to buy or sell any security. Fund holdings are fluid and are subject to daily change based on market conditions and other factors.
Voya Investment Management Co. LLC ("Voya") is exempt from the requirement to hold an Australian financial services license under the Corporations Act 2001 (Cth) ("Act") in respect of the financial services it provides in Australia. Voya is regulated by the SEC under U.S. laws, which differ from Australian laws. This document or communication is being provided to you on the basis of your representation that you are a wholesale client (within the meaning of section 761G of the Act), and must not be provided to any other person without the written consent of Voya, which may be withheld in its absolute discretion.