Headlines about soaring credit card debt overlook several important points – learn how recent developments affect our outlook
January was shaping up as another strong month for financial markets until the coronavirus outbreak disrupted expectations. Although the virus has materially altered the near-term outlook for China and other parts of Asia, we believe China's recovery will be sidetracked, not derailed. Nonetheless, as developments related to the virus make headlines, there are sure to be periods of elevated volatility.
U.S. consumers also grabbed recent headlines as credit card debt continued to surge. For the last 18 months we have touted U.S. consumer strength, expressing this view as a preference for securitized credit over corporate credit and emerging markets. Credit card debt recently surpassed its peak before the 2008 crisis, which would seem to contradict our investment thesis, but pundits may be overlooking an important point: total credit card debt is roughly $900 billion.
At the height of the 2008 crisis, mortgage credit totaled more than $11 trillion and remains the biggest item on consumer balance sheets. While we are closely monitoring rising credit card debt, it comprises only 9% of overall consumer debt. Credit card delinquencies, and more specifically, severe 90-plus-day delinquency rates, remain well below their peak in 2009.
From this perspective, the strength of U.S. consumers remains intact: as a percentage of GDP, total mortgage debt remains significantly lower than corporate debt. Accordingly, we maintain our bias towards U.S. securitized credit given the sector's greater exposure to the resilient U.S. economy. Investors tend to view the investment-grade and AAA-rated securitized markets as "safe havens" in times of volatility (versus first buying Treasurys and eventually diversifying into higher yielding options). Since we expect volatility to persist for multiple quarters, portfolios have a greater emphasis on these higher quality spread sectors.
Returns, Spreads and Yields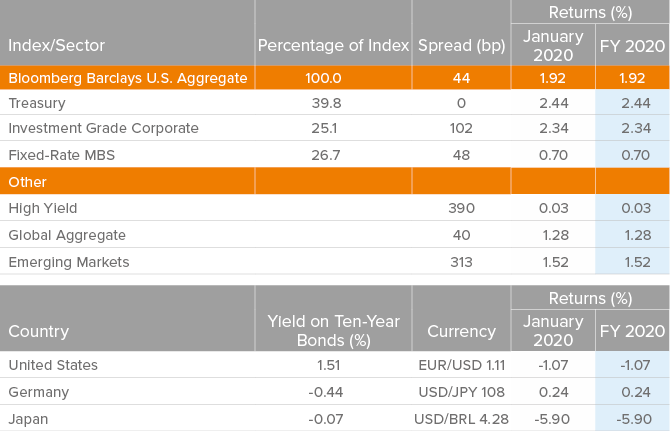 Source: Bloomberg, JPMorgan, Standard & Poor's. All spreads are to U.S. Treasurys and are option-adjusted except for emerging markets, which are nominal. All returns are total returns including dividends, expressed as percentages, in U.S. dollars.
Bond Market Outlook
Global Rates: U.S. rates to stay range-bound, Eurozone rates remain accommodative
Global Currencies: U.S. dollar strengthens in coronavirus-induced "flight to safety"
Investment Grade: Spreads do not adequately compensate current risks, but market volatility will create opportunities; guidance for 2020 earnings shows rebound expected
High Yield: Spreads are more attractive after January widening; careful security selection remains key
Securitized: Securitized credit sectors still offer attractive opportunities given continued strength of U.S. consumer, housing market
Emerging Markets: Economic growth in EM will accelerate in 2020 but the coronavirus will delay recovery
Sector Outlooks
Global Rates and Currencies
The bar to FOMC action is relatively high, with the odds still favoring cuts rather than hikes. We think the yield curve is biased to steepen, with a patient FOMC as global growth firms and as virus fears abate. Easy monetary policy and the weight of low bond yields globally will keep the 10-year U.S. Treasury yield in the 1.60–2.00% range over the medium term.
European Central Bank President Christine Lagarde reaffirmed the bank's dovish stance while acknowledging signs of economic stabilization and noting that staff inflation forecasts still fall short of the ECB's goal. The recent drop in German factory orders throws Eurozone growth into question and may prompt the ECB to consider further accommodative policy actions.
Investment Grade (IG) Corporates
IG spreads widened 10 basis points (bp) in January as fear of the coronavirus spread through the markets. Technical factors remain strong, however, with positive flows and solid foreign demand. Spreads have backed off but still don't appear to be compensating for current market risks. Investors tend to view the IG market as a "safe haven" in times of volatility; this view is likely to persist for multiple quarters and should be supportive of tighter high-quality spreads. We look for trading opportunities around bouts of volatility. We view security selection as more important than industry weights, as idiosyncratic management decisions are bigger drivers of return than threats of broad, cyclical downgrades or recession.
High Yield (HY) Corporates
The general risk-off tone that developed in mid-January carried U.S. Treasury yields lower and left HY bond prices unchanged to weaker, causing decent spread widening. Energy prices tanked on oversupply concerns, taking HY energy bond prices along for the fall. We expected new themes to develop after the trade talks; the election and the coronavirus have moved to center stage. Heavy issuance is getting absorbed but soaking up some cushion, leaving the market more susceptible to a pullback. Spreads are more attractive, but it is important to select securities carefully.
Securitized Assets
In January, agency residential mortgage-backed securities (RMBS) posted their worst performance relative to Treasurys since August 2019. The outbreak of the coronavirus took its toll with lower interest rates and higher volatility, the primary risks to RMBS. Prepayment fears flared as mortgage rates approached historic lows. Mortgage performance remains susceptible to swings in rate volatility and directionality. While continuation of these trends could cause further underperformance, a reversal could undo much of the damage done in January.
Non-agency residential mortgage-backed securities (RMBS) remain attractive on a risk-adjusted basis, in our view. Over the near term, expectations for elevated transaction deleveraging via faster prepays will foster spread tightening pressure for much of the universe. Over the longer term, strong job growth, easing credit standards and low rates should continue to expand the market for housing.
Commercial mortgage-backed securities (CMBS) was the best performing fixed income sector in January. As a result, CMBS relative value has declined; low rates, negative swap spreads and a relatively flat credit curve will act as headwinds over the near term. Longer term, we expect supply/demand balance and strong fundamentals to provide uncorrelated sources of positive returns from carefully selected subordinate credits and new issue tranches.
The outlook for asset-backed securities (ABS) has generally remained a function of broader risk sentiment. ABS will remain well bid and offer outperformance opportunities when market beta is negative, and vice versa. While fundamental questions loom about subprime borrowers, U.S. consumers overall are strong. Volatility in swap spreads remains a wildcard for excess returns, irrespective of credit spread dynamics. Following a strong January augmented by swap spread tightening, we expect ABS performance to moderate as broader risk markets stabilize.
Emerging Market (EM) Debt
We expect EM GDP growth to accelerate in 2020 versus 2019, though the economic impact of the coronavirus will delay the recovery. The viral outbreak will pressure commodity and Asian consumer credits; elsewhere, EM corporates will maintain stable credit metrics thanks to proactive liability management and prudent financial policy. January PMIs are showing weakness in Asia, improvement in Latin America and a mixed picture in Central and Eastern Europe, the Middle East and Africa (CEEMEA). EM central bank monetary policy will remain cautious and loose; China will intervene to minimize downside risk. Fiscal policy and spending in response to social unrest and the coronavirus will stimulate growth and consumption.
IM1097609
Past performance does not guarantee future results.
This commentary has been prepared by Voya Investment Management for informational purposes. Nothing contained herein should be construed as (i) an offer to sell or solicitation of an offer to buy any security or (ii) a recommendation as to the advisability of investing in, purchasing or selling any security. Any opinions expressed herein reflect our judgment and are subject to change. Certain of the statements contained herein are statements of future expectations and other forward-looking statements that are based on management's current views and assumptions and involve known and unknown risks and uncertainties that could cause actual results, performance or events to differ materially from those expressed or implied in such statements. Actual results, performance or events may differ materially from those in such statements due to, without limitation, (1) general economic conditions, (2) performance of financial markets, (3) interest rate levels, (4) increasing levels of loan defaults, (5) changes in laws and regulations, and (6) changes in the policies of governments and/or regulatory authorities.
The opinions, views and information expressed in this commentary regarding holdings are subject to change without notice. The information provided regarding holdings is not a recommendation to buy or sell any security. Fund holdings are fluid and are subject to daily change based on market conditions and other factors.
©2020 Voya Investments Distributor, LLC · 230 Park Ave, New York, NY 10169 · All rights reserved.