Investors are asking why rates are so low and how much lower they might fall; better to ask whether low rates are still effective.
The yield curve regained the limelight in August when yields on ten-year Treasury notes dipped below yields on two-year notes, the dreaded "inversion" that caused markets to sell off. Remember, an inverted yield curve represents fear of a recession; it does not cause a recession. This is easy to forget amid headlines reminding us that a yield curve inversion has preceded every U.S. recession since 1950, which is true. However, it is also true that it can take almost three years for a recession to take hold after the yield curve inverts. That's like telling a doctor you think you might be sick some time in the next three years. The doctor is likely to ignore you and simply proceed with the examination.
So how healthy is the U.S. economy? Fundamentals remain underpinned by continued strength from the U.S. consumer and the likelihood of accommodative policy from the Federal Reserve. Increasingly dovish Fed policy brings us to the next question on investors' minds: With rates so low, how much lower can they go? We think a better approach to the question is, are low interest rates still effective? Our view is that certain parts of the global economy have built up an immunity to low interest rates as a remedy for economic malaise, specifically those parts of the world such as Europe and Japan where their yields are decidedly negative. This means their central banks will have to keep rates lower for longer than historical averages.
Accordingly, we expect fiscal policy to play a role to stoke growth, lessening the probability of recession. We will be watching fiscal spending closely, as we believe growth projects that increase productive capacity, e.g. infrastructure spending, are more effective and should alleviate investor concerns about growing government budget deficits.
Returns, Spreads and Yields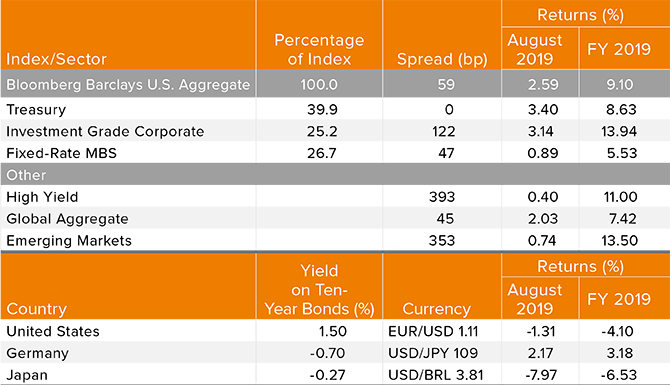 Source: Bloomberg, JPMorgan,. All spreads are to U.S. Treasurys and are option-adjusted except for emerging markets, which are nominal. All returns are total returns including dividends, expressed as percentages, in U.S. dollars.
Bond Market Outlook
Global Rates: U.S. rates remain lower, Federal Reserve likely to cut in September
Global Currencies: U.S. dollar gains against developed market currencies, hurts emerging market currencies
Investment Grade: Higher U.S. yields relative to global rate levels attracting non-U.S. investors
High Yield: Low nominal yields limit opportunities; further spread tightening to be driven by lower rated CCCs or energy sector
Securitized: Lower financing rates should provide a near-term tailwind for housing but not necessarily agency mortgage bonds
Emerging Markets: The EM-DM growth differential will increase as DM growth continues to soften
Sector Outlooks
Global Rates and Currencies
How low can rates go? The recent rally in U.S. Treasurys reflects foreign buying of U.S. assets, which still carry positive nominal yields; it also reflects the yield curve, which is telling us investors do not believe rate cuts will help the U.S. economy. We disagree; mortgage refinancing has the potential to support U.S. consumers. Nonetheless, many investors are beginning to take seriously the possibility of negative rates in the United States. We believe the probability of negative rates in the U.S. is low, predicated by the solid economic backdrop and by our expectations that the Fed will continue to cut rates modestly, taking the Fed Funds rate to 1.5%. We think the two-year yield will continue to decline modestly, while the ten-year yield will hover around 1.5%.
Holding the 10-year yield below 1.5% would require ongoing stress to the U.S. economy, a scenario we believe is unlikely. In our view, fiscal stimulus in Europe will be more impactful than additional monetary policy stimulus. While the European Central Bank (ECB) will likely cut rates again, another 10 basis points will not provide much benefit. Rumors of a €51 billion stimulus package from Germany could overturn the negative view that extends beyond the visible horizon.
Investment Grade (IG) Corporates
IG spreads sold off in August, as the trade war began to affect global economic growth and heighten the concerns of a U.S. recession. Yet IG-specific metrics continued to show strength, with 2Q19 earnings a touch better than expected and negative rates in overseas markets boosting demand for U.S. credit. With negative yields now on about $17 trillion of global bonds, U.S. IG should remain attractive to yield-seekers. New issue supply was a bit lower than expected, setting the stage for an active September. Given the current balance of risks in the market, we think spread upside potential is limited.
High Yield (HY) Corporates
August saw continued outperformance for higher rated tranches, with BB-rated credits adding to their lead and CCC-rated credits falling further behind. The rally in Treasurys continued to support BBs along as spreads held steady. At current levels, BB- and B-rated spreads seem tapped out but could grind tighter if rates decline and the economy does not falter. A turnaround in trade rhetoric seems the most obvious catalyst for risk appetites.
Securitized Assets
Agency residential mortgage-backed securities (RMBS) materially underperformed Treasurys as flight to quality emerged and interest-rate volatility surged. Nominal spread levels remain attractive versus rates and credit, and should soften the impact of elevated supply.
We retain our positive tactical outlook for non-agency residential mortgage-backed securities (RMBS), as spread levels still imply a risk-adjusted, relative-value advantage over alternatives. We believe expectations for faster prepays will foster spread tightening pressure for much of the universe.
We retain our positive outlook for commercial mortgage-backed securities (CMBS), as attractive yields likely will support continued demand following August outperformance. We do not think the new issue pipeline is daunting, particularly since CMBS continue to offer attractive spreads and riskadjusted yields.
The outlook for asset-backed securities (ABS) remains a function of broader risk sentiment, offering outperformance potential when market beta is negative and vice versa. While questions loom around subprime borrowers, U.S. consumers generally are on solid footing.
Emerging Market (EM) Debt
EM has been tethered to the fortunes (and misfortunes) of US-China trade talks. The sector was further disrupted by the unexpected election results in Argentina, underscoring the impact politics can have on idiosyncratic risk. While volatility is likely to persist, we expect the EM-DM growth differential will start to increase in 2H19 to 2020 as DM growth continues to soften.
IM947946
Past performance does not guarantee future results.
This commentary has been prepared by Voya Investment Management for informational purposes. Nothing contained herein should be construed as (i) an offer to sell or solicitation of an offer to buy any security or (ii) a recommendation as to the advisability of investing in, purchasing or selling any security. Any opinions expressed herein reflect our judgment and are subject to change. Certain of the statements contained herein are statements of future expectations and other forward-looking statements that are based on management's current views and assumptions and involve known and unknown risks and uncertainties that could cause actual results, performance or events to differ materially from those expressed or implied in such statements. Actual results, performance or events may differ materially from those in such statements due to, without limitation, (1) general economic conditions, (2) performance of financial markets, (3) interest rate levels, (4) increasing levels of loan defaults, (5) changes in laws and regulations, and (6) changes in the policies of governments and/or regulatory authorities.
Voya Investment Management Co. LLC ("Voya") is exempt from the requirement to hold an Australian financial services license under the Corporations Act 2001 (Cth) ("Act") in respect of the financial services it provides in Australia. Voya is regulated by the SEC under U.S. laws, which differ from Australian laws.
This document or communication is being provided to you on the basis of your representation that you are a wholesale client (within the meaning of section 761G of the Act), and must not be provided to any other person without the written consent of Voya, which may be withheld in its absolute discretion.
©2019 Voya Investments Distributor, LLC • 230 Park Ave, New York, NY 10169 • All rights reserved.