Recent market dislocation has created an opportunity to reposition portfolios to capitalize on the new business cycle.
The longest U.S. equity bull market in history has officially come to an end; extinguished by a viral pandemic that seemed unimaginable just three months ago. The velocity of the sell-off was also difficult to fathom. In just over one month, the S&P 500 declined by over 30% from its February 19th peak. Although some of the losses were recovered before month-end and stocks have continued to rise since, the damage was severe (Figure 1). Crude oil and energy stocks were especially beaten up after the combination of collapsing global demand and the escalating price war between Saudi Arabia and Russia. This adds to a lengthy period of dejecting underperformance in which energy has returned an annualized -0.17% over 15 years, underperforming tech by nearly 12% per year. Technology companies are among the businesses less affected by social distancing measures and have generally continued to perform better in the throes of the carnage. Larger companies with higherquality earnings have also held up better. Smaller and value-oriented stocks, whose businesses rely on leverage, have been hammered.
While the price action of traditional safe-haven investments has been unusual due to forced selling, long duration U.S. Treasuries have offered investors sanctuary, returning over 20% since the start of the year. However, debt instruments backed by assets with thin interest coverage margins or issued by entities whose cash flow production has been materially impaired, have not provided protection. Stresses have been exacerbated by poor liquidity conditions. Furthermore, sentiment has collapsed under the weight of a historically rapid deterioration of economic data. Over the last two weeks, initial jobless claims have exploded by over 3 and 6.6 million, respectively (Figure 2). As of April 16, more than 22 million people filed for unemployment in a span of just 4 weeks. We expect that the unemployment rate will exceed 10% in the next employment report.
Unlike in 2008, the Federal Reserve has acted swiftly and decisively to avoid a financial crisis. To bolster financial market liquidity, the Fed cut its target rate to a range of 0.00-0.25%, dropped required reserves to zero, increased U.S. dollar swap lines and initiated an unlimited asset purchase program with an expanded list of eligible securities. In addition, the U.S. government passed the CARES Act, a ~$2.2 trillion fiscal package aimed at supporting individuals, businesses and the healthcare system. These policy actions will not prevent a recession, but they should help reduce its depth and length.
Tactical Indicators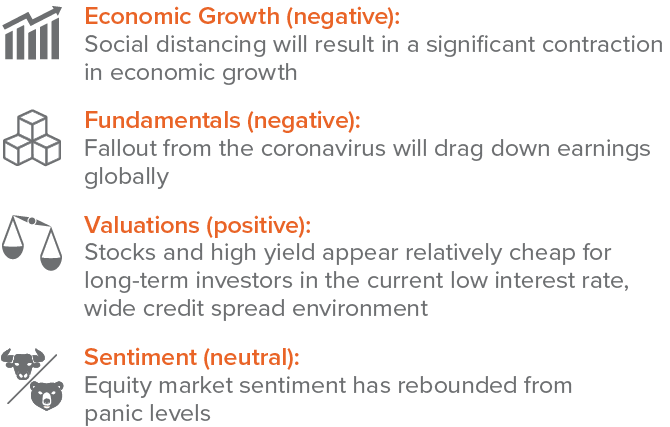 Figure 1. Stocks had their worst quarter since 2008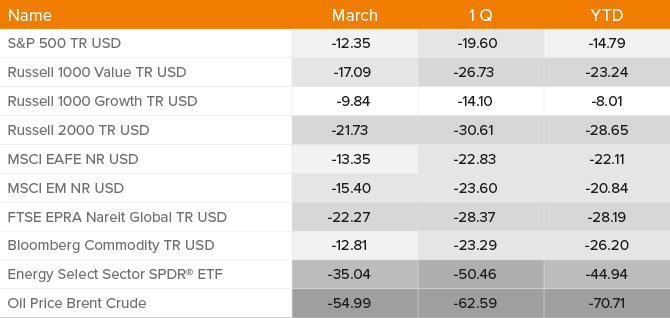 Source: Bloomberg, Voya Investment Management, as of April 21, 2020
Figure 2. The surge in job losses is unprecedented in modern times
U.S. Weekly Initial Unemployment Insurance Claims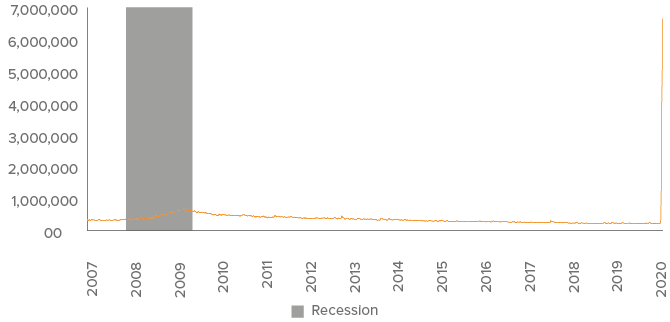 Source: Federal Reserve Bank of St. Louis, Voya Investment Management, as of April 8, 2020
Figure 3. Credit spreads had been signaling financial calamity
BbgBarc High Yield OAS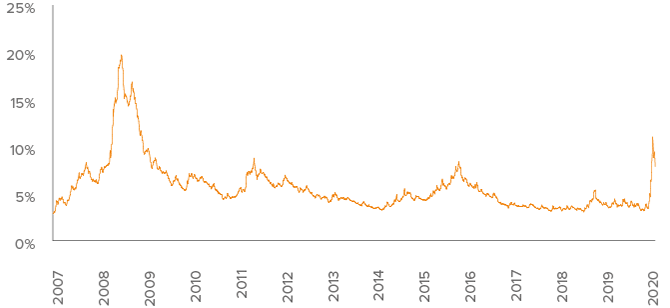 Source: Bloomberg, Voya Investment Management, as of April 9, 2020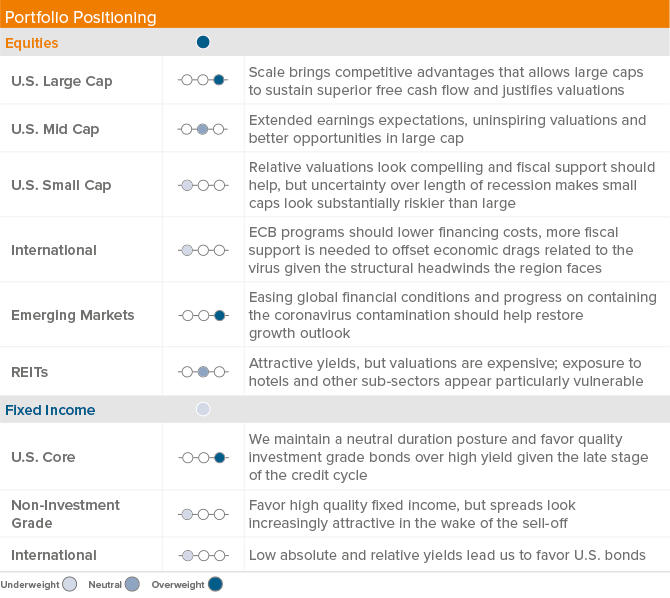 Investment Outlook
The unprecedented drop in global economic activity as a result of government-imposed measures to curtail the coronavirus spread certainly warrants a meaningful devaluation in riskassets. However, the magnitude of the drawdown in stocks and credit implied significant and sustained weakness in earnings. There is no doubt upcoming earnings reports will be terrible and sluggish growth could persist for a while, but we believe the really awful numbers are unlikely to extend beyond the first half of the year. Our view is based on two things. First, the response from global policy makers has been speedy and sizable. Central banks have unveiled a slew of quantitative easing, liquidity and lending programs that should minimize the risk of bankruptcies cascading across financial markets. The Fed has been particularly aggressive in its actions and thoughtful in its approach, reinforcing the foundation of the financial system and targeting those most vulnerable. For example, steps have been taken to support banks and other large financial institutions, but unlike the last recession, much of the aid has been directed toward small and mid-size businesses, as well as individuals. This should help alleviate some of the pain during the contraction and foster a vigorous recovery once the lockdowns are lifted. The timing of the virus containment, however, is still highly uncertain. Nevertheless, the balance of the data offers reasons for optimism. To start, preventative measures – quarantining, social distancing, wearing masks in public, etc. – have proven effective at flattening the curve while resources are funneled to supply constrained hot spots and healthcare infrastructure is reworked to accommodate current patient populations. Additionally, there is tremendous progress being made in understanding the virus and the characteristics that make certain people especially susceptible, as well as developing effective treatments for those infected and tests to identify immunity. In short, we believe that with the collective assets being deployed, human ingenuity and innovation will lead to a faster resolution than has been experienced in past pandemics. Still, we recognize that this situation is highly uncertain and expect progress will be gradual.
As a result, we maintain our overweight to stocks and have used the market dislocation as an opportunity to reposition portfolios to benefit from this new business cycle we have entered. We trimmed our underweight to U.S. small cap equity by selling some U.S. large cap, given the underperformance of small relative to large cap companies has been extraordinary. Based on our forecast for a short-lived downturn and the cyclical nature of small cap stocks, we added back to an asset class that should perform well coming out of recession. We also lessened our underweight to international developed stocks. Very low multiples combined with the stimulative effects from substantial monetary support and soft local currencies should help limit the downside. Additionally, since Japan and Europe have been fighting the pandemic longer than the U.S., it stands to reason those equity markets will start to recover sooner. Lastly, we added back high yield bonds to our portfolios when spreads widened to over 1000 bps (Figure 3), the first time since the 2008 crisis. Prices are now at distressed levels and far below intrinsic value. This has caused a situation where buyers benefit by providing liquidity to forced sellers. Still, we maintain a preference for high quality credit, as Fed liquidity injections should help corporate investment grade too and this fixed income positioning balances well against our overweight equity posture.
Past performance does not guarantee future results.
This commentary has been prepared by Voya Investment Management for informational purposes. Nothing contained herein should be construed as (i) an offer to sell or solicitation of an offer to buy any security or (ii) a recommendation as to the advisability of investing in, purchasing or selling any security. Any opinions expressed herein reflect our judgment and are subject to change. Certain of the statements contained herein are statements of future expectations and other forward-looking statements that are based on management's current views and assumptions and involve known and unknown risks and uncertainties that could cause actual results, performance or events to differ materially from those expressed or implied in such statements. Actual results, performance or events may differ materially from those in such statements due to, without limitation, (1) general economic conditions, (2) performance of financial markets, (3) interest rate levels, (4) increasing levels of loan defaults, (5) changes in laws and regulations, and (6) changes in the policies of governments and/or regulatory authorities.
The opinions, views and information expressed in this commentary regarding holdings are subject to change without notice. The information provided regarding holdings is not a recommendation to buy or sell any security. Fund holdings are fluid and are subject to daily change based on market conditions and other factors.
Voya Investment Management Co. LLC ("Voya") is exempt from the requirement to hold an Australian financial services license under the Corporations Act 2001 (Cth) ("Act") in respect of the financial services it provides in Australia.
Voya is regulated by the SEC under U.S. laws, which differ from Australian laws. This document or communication is being provided to you on the basis of your representation that you are a wholesale client (within the meaning of section 761G of the Act), and must not be provided to any other person without the written consent of Voya, which may be withheld in its absolute discretion.