Global monetary policy easing is beginning to revive manufacturing, lowering the risk of a U.S. recession within a year. We therefore retain a modest overweight to stocks.
Global equity returns were positive in October for the eighth of the last ten months. For the second straight month, non-U.S. assets outperformed U.S. assets. Emerging markets outperformed EAFE; within EAFE, Japan outperformed the UK and Europe. Advances in more cyclically geared regions of the world appear to be related to improving signs of economic growth, especially outside the United States. Recent manufacturing PMI data seem to show modest signs of stabilization, with several countries back above 50 and most off their lows; the JP Morgan Global PMI has risen for the third straight month and now stands at 49.8. U.S. manufacturing PMI ticked up to 48.3 from 47.8; the report highlighted contributions from the new orders index, a heartening development.
Stronger growth also was reflected in sharply rising global bond yields. Over the course of the month, the U.S. ten-year Treasury yield rose from 1.64% to 1.85%. Similarly, the yield on the ten-year German Bund has risen substantially, from -0.71% at the end of August to -0.24% in early November. The rise in long-end yields has resulted in pronounced curve steepening. The two-to-ten-year U.S. Treasury spread has steepened by over 32 basis points (bp) since troughing in early August (Figure 1).1 This is a welcome sign of better expectations from bond investors and a step back from recession fears, which were so prevalent during the summer.
October saw the third 25-bp cut in the Federal Reserve's target rate in as many Federal Open Market Committee meetings. With unemployment at decades-long lows, this was viewed by many as an insurance cut. Yet with the PCE deflator still below its 2% target (Figure 2), persistent deflationary pressures from abroad and a manufacturing sector that has been difficult to kick-start, the Fed is erring on the side of caution. Fed Chair Jerome Powell has stated, however, that "the stance of monetary policy is appropriate," so we do not anticipate further cuts this year.
Tactical Indicators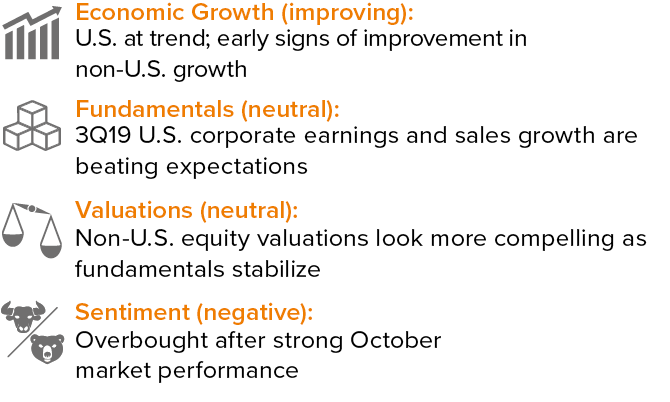 Figure 1. Bond yields reflect better economic growth expectations
Two-to-ten-year U.S. Treasury yield spread

Source: Bloomberg, Voya Investment Management, as of 11/12/2019
Figure 2. Lack of inflation pressure supported the October fed funds rate cut
Core and headline PCE versus Fed inflation target

Source: Bloomberg, Voya Investment Management, as of 10/31/19
Figure 3. Leading financial indicators suggest global economic slowdown has bottomed
Early signs of a pick-up in global manufacturing activity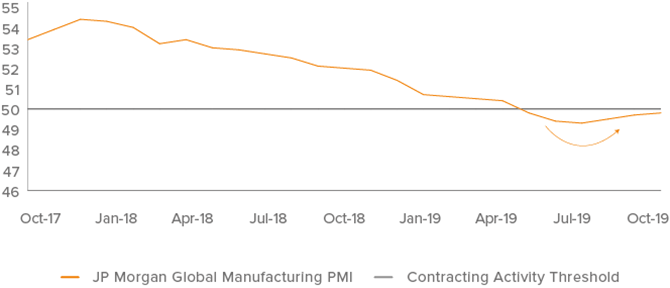 Source: JP Morgan, Bloomberg, Voya Investment Management, as of 10/31/19
Portfolio Positioning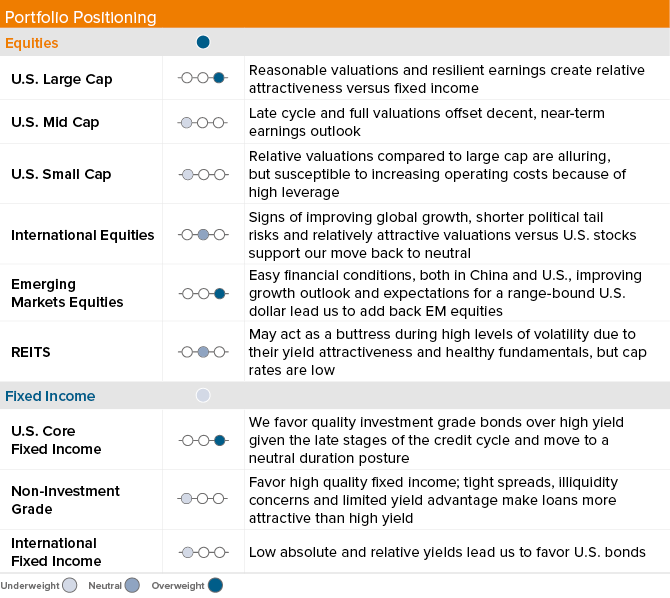 Investment Outlook
After several months of easing in monetary policy from global central banks, the effects are beginning to trickle through to the real economy: the manufacturing sector is showing signs of life, while consumer demand remains strong. We believe relaxed financial conditions and a robust labor market are likely to keep the marginal improvement trend in place. We view the likelihood of a U.S. recession over the next 12 months as low. Central banks appear willing to provide sufficient liquidity to prolong the cycle, inflation is tame and there are no materially worrisome signs of financial excess.
What's more, the probability of an exogenous shock has declined as U.S. and Chinese officials appear to be making progress on trade. Assuring us of this opinion are strong non-farm payrolls, contained high yield spreads and decent consumer confidence, which is corroborated by strong auto sales. Furthermore, although we have discounted the yield curve as a leading indicator of recession given the distortions arising from unconventional central bank asset buying and negative term premiums, the areas of the curve most closely correlated with future recessions have reverted to a more normal shape.
As a result, we retain our modest overweight to stocks. Third quarter U.S. corporate earnings reports are coming in better than expected, as 75% of S&P 500 companies have reported positive EPS surprises and 60% have beaten revenue estimates.2 With profit margins for U.S. large cap companies well above their long-term average, further gains in S&P 500 stocks will most likely need to come from revenue growth or earnings multiple expansion. We are reticent to rely much on top-line growth, given the lackluster, albeit improving, economic backdrop; yet we see scope for further tightening of the equity risk premium and higher valuations.
That said, the relative advantage U.S. large caps have held over smaller cap and foreign stocks is lessening. Multiple financial indicators suggest economic activity is gaining momentum, such as a move-up in global PMIs (Figure 3), strong performance from global semiconductor stocks and high copper prices. Following a long bout of underperformance, non-U.S. stocks are under-owned and relatively cheap. Therefore, we have increased non-U.S. equity beta by rotating our EAFE positioning back to neutral, funded by reducing our U.S. equity overweight. Additionally, supportive Chinese money and credit growth, easy global monetary policy and a range-bound U.S. dollar make us comfortable re-establishing our emerging market equity overweight. Bonds continue to look expensive compared to equities, though slightly less so following the recent sharp backup in rates. Despite our expectations for better growth, we think yields will be hard pressed to move much above 2% for a sustained period of time, given the global glut of negative yielding foreign paper and investor demand for income. We balance our pro-cyclical stance in equity portfolios with a higher quality bent in fixed income, as tight high yield bond spreads currently are not providing sufficient carry to compensate for their credit risks.
IM1019187
1 Source: Bloomberg, as of 11/12/2019
2 Source: FactSet, "Earnings insight," November 8, 2019 https://www.factset.com/hubfs/Resources%20Section/Research%20Desk/Earnings%20Insight/EarningsInsight_110819.pdf
Past performance does not guarantee future results.
This commentary has been prepared by Voya Investment Management for informational purposes. Nothing contained herein should be construed as (i) an offer to sell or solicitation of an offer to buy any security or (ii) a recommendation as to the advisability of investing in, purchasing or selling any security. Any opinions expressed herein reflect our judgment and are subject to change. Certain of the statements contained herein are statements of future expectations and other forward-looking statements that are based on management's current views and assumptions and involve known and unknown risks and uncertainties that could cause actual results, performance or events to differ materially from those expressed or implied in such statements. Actual results, performance or events may differ materially from those in such statements due to, without limitation, (1) general economic conditions, (2) performance of financial markets, (3) interest rate levels, (4) increasing levels of loan defaults, (5) changes in laws and regulations, and (6) changes in the policies of governments and/or regulatory authorities.
The opinions, views and information expressed in this commentary regarding holdings are subject to change without notice. The information provided regarding holdings is not a recommendation to buy or sell any security. Fund holdings are fluid and are subject to daily change based on market conditions and other factors.
Voya Investment Management Co. LLC ("Voya") is exempt from the requirement to hold an Australian financial services license under the Corporations Act 2001 (Cth) ("Act") in respect of the financial services it provides in Australia. Voya is regulated by the SEC under U.S. laws, which differ from Australian laws.
This document or communication is being provided to you on the basis of your representation that you are a wholesale client (within the meaning of section 761G of the Act), and must not be provided to any other person without the written consent of Voya, which may be withheld in its absolute discretion.