When Beta is Expensive, Tactical Decisions Make a World of Difference 
Global Growth Shows Signs of Life
Entering 2019, our view was that strength in U.S. consumption would sustain U.S. economic expansion. This investment thesis has largely played out (despite concerns about overleveraged corporations, weakening manufacturing, and the roller coaster ride of U.S.-China trade negotiations).
Over the last year, we have primarily implemented this view with a regional bias towards the U.S. and a preference for securitized credit because of the sector's exposure to the relative strength of the U.S. consumer.
Entering 2020, there are signs of steadying economic growth, especially outside the United States. Recent manufacturing PMI data seem to show modest signs of stabilization, with several countries back above 50 and most off their lows. Europe appears to be seeing the light at the end of the tunnel. Germany avoided a technical recession with its 3Q19 GDP print of 0.1%, while France and Spain supported broader Eurozone growth. Additionally, we believe the worst effects of Brexit largely have been factored in and expectations are for a clear path with Boris Johnson's recent landslide victory.
Going forward, we believe improving global growth dynamics will prove supportive to spread sectors. However, as we will explore, while we maintain a positive outlook for growth, we believe geopolitical and monetary policy uncertainty, coupled with somewhat rich valuations across many sectors, limit potential upside.
United in our Division: The Political "Uncertainty Tax" Takes the Global Stage
While the rising wave of populism in the U.S. has been well documented, the phenomenon has not been exclusive to the United States. All over the world, there is growing evidence that large segments of the global population have become increasingly dissatisfied with their political leaders and institutions. Examples of populism in Europe include "Brexit" in the U.K. and "gilets jaunes" or "yellow vests" protests in France where nearly one million people demonstrated against a high cost of living and the disproportionate burden of government tax reforms on the working and middle classes. In Chile, increased costs for public transportation sparked country-wide demonstrations, while Hong Kong continues to be engulfed by ongoing protests.
Bad news—when it becomes known—is easy to price. It's uncertainty that kills markets.
As political turmoil continues to take hold around the globe, we believe the resulting rise in populism across the political spectrum will give rise to policies that focus on more inclusive outcomes. From an investment perspective, we expect this environment will create uncertainty that will stifle near-term confidence and business investment. Increased uncertainty will also increase the frequency of market volatility, which portfolios need to be ready to both withstand and monetize.
It is also important to remember how we arrived at this point. The rise of populism was built in part by ten years of "extraordinary" central bank policies, which has contributed to the increasingly unequal distributions of income and wealth.
Monetary Policy: When the Extraordinary Becomes Ordinary
2019 marked the ten-year anniversary of the financial crisis market trough. While many pundits used this arbitrary anniversary to prognosticate the next great financial calamity, we think it is more important to monitor the ability of central banks to combat the next recession. The Fed and other central banks responded to the 2008 crisis with "extraordinary measures" that included asset purchase programs and negative interest rates. More than a decade later, most of these "extraordinary measures" are still in place.
Negative interest rates in the U.S. would not materially help our current economic trajectory—they would only limit the Fed's firepower when the next downturn eventually comes.
We recently published an article titled Negative Rates: Why We Don't Want or Need Them in the U.S. In this article, we pointed to the euro zone as a clear example of the unintended consequences that negative rates can have. Despite the European Central Bank's aggressive use of negative interest rates, their economy has not generated any meaningful amount of growth or inflation. Rather, the approach has resulted in suppression in its system: Already-high consumer savings rates are trending higher, the profitability of euro zone banks has suffered, and perhaps most importantly from an investment perspective, confidence in the ECB's ability to manage through another downturn continues to decrease.
Japan is another example of a country that has embraced "extraordinary measures" for a prolonged period. Not only are balance sheets of the ECB and BOJ high as a percentage of GDP, they own riskier assets like stocks and commodities. Given the risk profile of their balance sheets and current economic conditions, these central banks will have a very difficult time unwinding without significantly exacerbating market volatility.
At current levels, the Fed is in much better shape to combat the next recession, on a relative basis. That said, it is worth noting just how low rates would have to fall from their current levels to equal the Fed's response to the 2008 crisis (Figure 1). Negative interest rates in the U.S. would not materially help our current economic trajectory—they would only further limit the Fed's firepower when the next downturn eventually comes.
Figure 1. How Low Can You Go?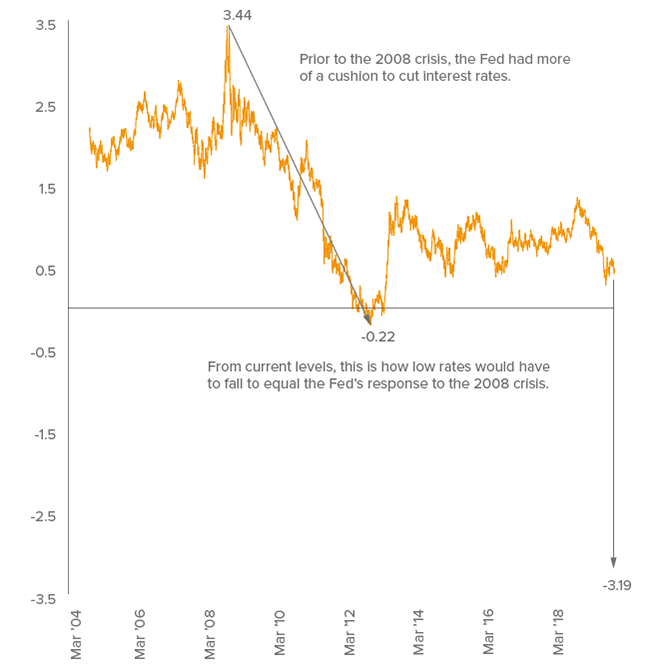 As of November 29, 2019. Source: Federal Reserve Economic Data and Voya Investment Management.
Separating the Winners from the Losers
The possibility that central banks will not have enough ammo to combat the next downturn represents our longer-term concern, and is something we are monitoring closely. Our more immediate concern heading into 2020 is that uncertainty surrounding short-term monetary policy decisions combined with ongoing geopolitical uncertainty will lead to bouts of market volatility.
While we believe current valuations are stretched across risk assets, we do not anticipate a broad-based sell off. However, given the relatively limited upside from current asset valuations, we believe the path to future investment success will be paved by security selection as this backdrop favors idiosyncratic opportunities over broad market risk taking. When volatility does strike, perceived "losers" will be excessively punished and avoiding these investments will be critical.
While we will apply the same rigor across sectors, below are three specific examples of how we expect this market dynamic to play out in 2020.
Emerging Markets: With Increased Fiscal Spending Comes Great Responsibility
While emerging markets (EM) are supported by an accommodative global central bank framework and a rebound in EM growth, this part of the world is no stranger to political upheaval that can cause disruption and create opportunities. For a reminder about the importance of selectivity in emerging markets, recall the debt crisis we recently witnessed in Argentina. In just one day of trading in early August 2019, Argentinian bond prices fell as low as 55 cents on the dollar and yields on shortermaturity notes soared past 35%.
Heading into 2020, fiscal responsiveness to social unrest needs to be closely monitored. From this perspective, separating winners from losers in emerging markets requires identifying countries that will use fiscal stimulus that is investment oriented rather than implementing consumption based government programs. In addition, the degree of stimulus cannot threaten a country's debt sustainability as well as the sovereign's credit profile.
Agency Mortgages: A Tale of Two Coupons
Fundamentally, we believe agency mortgage-backed securities (MBS) are attractive relative to Treasuries and other high-grade assets. However, not all MBS are equally valuable. Finding the right balance of "price" and "protection" will be critical in determining excess returns. Within MBS coupons we witnessed significant price compression in 2019 as premium coupons were exposed to fast prepayments. Prepayment speeds peaked in October 2019 and have slowed modestly since. Heading into 2020, we expect a further, albeit modest, slowdown in the speed of prepayments. We believe that this will cause investors to favor premium coupons, leading to the outperformance of higher coupon pools in 2020. For example, valuations for 30-year 4% coupon pools offer nearly 25 basis points of additional nominal spread and OAS compared to 30-year 3% pools.
Corporate Credit: Wait, What Party Are You Talking About?
After the sell-off to end 2018, investors in corporate credit experienced sizeable gains in 2019. However, the dispersion among rating category and industry performance was significant. In high yield, for example, the index is up 12% year to date (as of November 30, 2019). However, the lowest quality CCC tranche is only up 4.3%. This is a highly unusual pattern, as CCCs have never underperformed higher quality BB and single-B buckets in years in which the broad market returned over 10%. Within CCCs, issuer dispersion continues to increase, indicating investors are increasingly cognizant of issuers with balance sheets that can withstand prolonged levels of lower growth versus those that may cease to exist in years to come. Similarly, from a sector perspective, the energy industry is flat for the year, while most other sectors are up over 10%. A more granular look within the energy industry reinforces the importance of selectivity in corporate credit risk taking. For example, refiners returned more than 21%, while high yield debt issued by oil field services companies declined close to 10% during 2019.
Going forward, we expect this dynamic to continue. In addition, while corporate credit risk is undoubtedly elevated, we continue to believe risk is idiosyncratic, not systemic. For example, among corporations, the sharp spike in recent leverage is coming from companies that are levering from a very low base. Leverage trends for highly leveraged companies are sideways, meaning companies with a lot of leverage are not adding more. As we have over the past year, we will continue to view volatile credit markets as fertile ground for identifying oversold individual credits with strong fundamentals.
IM1037599
Past performance does not guarantee future results.
This commentary has been prepared by Voya Investment Management for informational purposes. Nothing contained herein should be construed as (i) an offer to sell or solicitation of an offer to buy any security or (ii) a recommendation as to the advisability of investing in, purchasing or selling any security. Any opinions expressed herein reflect our judgment and are subject to change. Certain of the statements contained herein are statements of future expectations and other forward-looking statements that are based on management's current views and assumptions and involve known and unknown risks and uncertainties that could cause actual results, performance or events to differ materially from those expressed or implied in such statements. Actual results, performance or events may differ materially from those in such statements due to, without limitation, (1) general economic conditions, (2) performance of financial markets, (3) interest rate levels, (4) increasing levels of loan defaults, (5) changes in laws and regulations, and (6) changes in the policies of governments and/or regulatory authorities.