We expect a big bounce in 3Q20 global growth, but because an effective COVID-19 vaccine is unlikely until mid- to late-2021, further gains in 4Q20 and 1H21 will prove more difficult.
Since its stunningly fast and sharp tumble in February and March, the S&P 500 has strung together four consecutive months of positive returns and is on track for another in August. Although the broad based U.S. large cap index is positive for the year, cross-sector return dispersion remains incredibly wide, with the Russell 1000 Growth index more than 30% ahead of its value counterpart.* Emerging market stocks are still underwater for the year, but are ahead of international developed equities and outpaced them again in July, with Brazil and India up more than 10%. Also delivering double-digit returns on the month and overtaking long-term U.S. Treasurys as the best performing major asset class YTD, gold has been a popular asset among investors looking to hedge inflation and diversify away from the U.S. dollar, which has steadily weakened since mid-March.
Recent U.S. dollar softness seems to have been due to a stubbornly high number of COVID-19 infections, Congress's delay in enacting a new round of stimulus and uncertainties related to the elections. Despite progress on the treatment and vaccine fronts, the United States unenviably leads the world in COVID-19 cases and deaths (Figure 1). Adding to concerns, public health officials anticipate challenges associated with simultaneous seasonal influenza (flu) and pandemic responses. America's inability to fully reopen the economy without reigniting the outbreak makes extending federal stimulus to struggling individuals and businesses critically important. Market participants therefore expect a bill to be signed shortly, but the size and details are still unknown. In an attempt to accelerate negotiations and take credit for whatever is ultimately agreed upon, President Trump signed memorandums and executive orders that would provide unemployment benefits, a payroll tax holiday and student loan relief; and called for direct payments to all Americans. Notwithstanding the doubtful legality of these maneuvers, they show the President is serious about providing government assistance and exemplify the type of political wrangling likely to continue into November.
*Source: Morningstar, as of 8/14/20
Tactical Indicators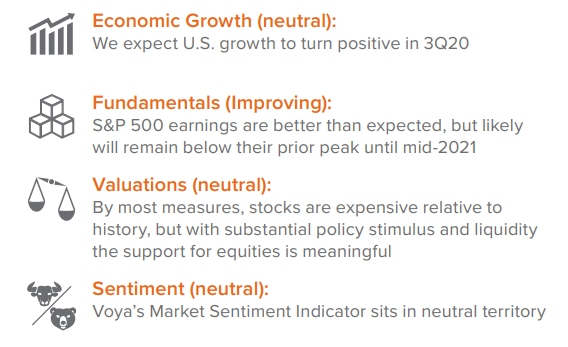 Figure 1. COVID-19 cumulative cases and deaths by country
Cumulative Cases and Deaths by Country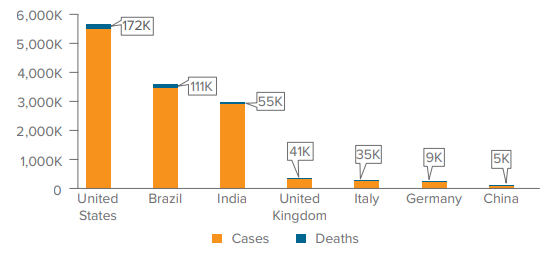 Source: World Health Organization, Voya Investment Management, as of August 21, 2020.
Figure 2. Initial jobless claims rose slightly during the week of August 15
U.S. Weekly Initial Unemployment Claims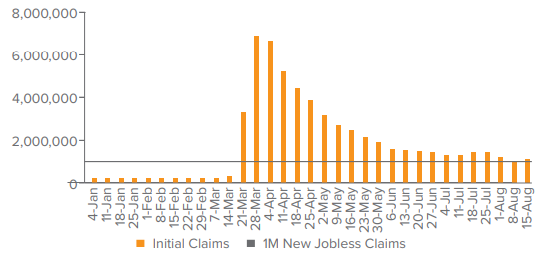 Source: Federal Reserve Bank of St. Louis, Voya Investment Management, as of August 20, 2020.
Figure 3. U.S. real yields have declined to record lows
U.S. Treasury Real Yield Curve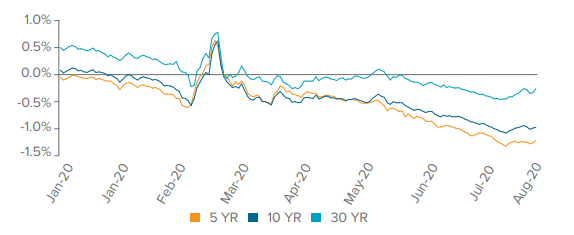 Source: U.S. Department of the Treasury, Voya Investment Management, as of August 20, 2020.
Portfolio Positioning
Investment Outlook
Following the worst quarterly output drop on record, economic activity in the U.S. and most of the rest of the world has begun picking up in the third quarter. Although the quarter is not complete, it seems clear that we are in the midst of an early recovery, based on the data: U.S. consumer spending increased for the second straight month in June, industrial production has reaccelerated and the unemployment rate continues to decline, dropping from its 14.7% April high to 10.2% in its most recent reading. Although initial jobless claims rose slightly last week (Figure 2) and lawmakers have yet to settle on the next relief package, we think support will come and be sufficient to avoid derailing recuperation efforts. There are similar signs of upswing in many European and Asian countries as lockdowns dissipate. Because COVID-19 is still with us, however, only so much progress can be made until an effective vaccine is developed and widely distributed. Most experts believe this won't happen until mid- to late-2021. Therefore, while we expect a big bounce in 3Q20 U.S. and international growth, further gains in 4Q20 and 1H21 will be more difficult to come by.
Nevertheless, we believe equities can continue to chug along in a decelerating, but still positive growth environment. Economic and market fundamentals are generally uninspiring, but they are improving and there are pockets of strength, such as the U.S. housing market. Home values have been supported by record low interest rates and government stimulus programs that have helped consumer incomes rise throughout the pandemic. Most recent readings show housing starts, building permits and home builder optimism all increasing more than expected. Perhaps more important, U.S. real yields have collapsed to record lows (Figure 3), following safe-haven, government issuers Japan and the UK into sub-zero territory. Effectively paying the government to lend it money has proven an irresistible incentive for investors to put their money elsewhere. Because of the still large output gap, it seems highly unlikely that the Federal Reserve will allow a significant tightening of financial conditions anytime soon. As a result, stocks and other risky assets remain more appealing at this point in the cycle.
Domestic equities, large and small, remain our favorite asset classes. The U.S. market's sector composition – heavily weighted with technology and healthcare companies – has helped buffer some of the hit to earnings experienced through the COVID recession. Because of business models that are relatively resilient to the steps being taken to combat the coronavirus spread, we think these firms, particularly the large caps, will continue to gain the upper hand throughout the pandemic and during the early post-COVID period. Our overweight to small cap also provides our portfolios with more cyclical exposure, which should perform well as the economy continues to heal and activity perks up. Our stance within fixed income is also rooted at home. U.S. fixed income's yield advantage over international has narrowed, but not enough to change our preference for domestic bonds. We think investment grade debt offers the best combination of opportunity and protection, especially in the consumer sectors.
IM1312809
Past performance does not guarantee future results.
This commentary has been prepared by Voya Investment Management for informational purposes. Nothing contained herein should be construed as (i) an offer to sell or solicitation of an offer to buy any security or (ii) a recommendation as to the advisability of investing in, purchasing or selling any security. Any opinions expressed herein reflect our judgment and are subject to change. Certain of the statements contained herein are statements of future expectations and other forward-looking statements that are based on management's current views and assumptions and involve known and unknown risks and uncertainties that could cause actual results, performance or events to differ materially from those expressed or implied in such statements. Actual results, performance or events may differ materially from those in such statements due to, without limitation, (1) general economic conditions, (2) performance of financial markets, (3) interest rate levels, (4) increasing levels of loan defaults, (5) changes in laws and regulations, and (6) changes in the policies of governments and/or regulatory authorities.
The opinions, views and information expressed in this commentary regarding holdings are subject to change without notice. The information provided regarding holdings is not a recommendation to buy or sell any security. Fund holdings are fluid and are subject to daily change based on market conditions and other factors.
Voya Investment Management Co. LLC ("Voya") is exempt from the requirement to hold an Australian financial services license under the Corporations Act 2001 (Cth) ("Act") in respect of the financial services it provides in Australia. Voya is regulated by the SEC under U.S. laws, which differ from Australian laws.
This document or communication is being provided to you on the basis of your representation that you are a wholesale client (within the meaning of section 761G of the Act), and must not be provided to any other person without the written consent of Voya, which may be withheld in its absolute discretion.