Never mind the recent uptick in inflation—we believe the Fed's zero interest rate policy is here to stay.
This is no ordinary recession. While every period of economic contraction has its idiosyncrasies, the velocity and magnitude of the COVID-19 drawdown has been unprecedented. As we have highlighted since April, the government's response has also been extraordinary. For context, while wage income is down $600bn due to the crisis, transfer income (which includes unemployment benefits) is up $1.7 trillion.
Given this rapid money growth, inflation is creeping back into the list of investor concerns. July inflation data significantly surprised on the upside and now many pundits and investors are beginning to question if rates will increase. Last month, we published our key investment themes for the second half of the year, which included the following outlook for inflation: The disinflationary impact of the severe demand shock will outweigh inflationary influences of rapid money growth and higher operating costs in a post-COVID environment. Unprecedented stimulus instead will manifest itself through higher asset prices. While inflation has since shown signs of life, in our view, upside surprises for inflation along the way to economic recovery do not necessarily foretell a sustained inflationary breakout above the pre-COVID trend. A full recovery of demand will likely be needed first.
Importantly, like every other data point, monitoring inflation risk requires context for the uniqueness of the economic environment created by the measures to contain the spread of COVID-19. For example, the recent strength in some areas like airfare is related to a recovery of demand from very depressed levels. In other areas like household and recreation items, the higher pricing is likely more permanent, as recent strength is due less to a recovery of demand and more from increased demand relative to pre-COVID levels. In addition, pricing power may be stronger than what is implied by weak capacity utilization because of artificial restraints. Consider a restaurant that is only allowed to operate at 50% capacity for social distancing reasons but sees demand recover to 75%. Conceptually, this restaurant should have pricing power that exceeds the level implied by its 50% capacity. While these are risks we are monitoring closely, we ultimately believe that these scenarios will prove to be temporary and/or limited to certain areas of the economy. Longer term, we do not believe inflation will force the Fed to deviate from what is likely to be a prolonged period of zero interest rate policy.
Rates, Spreads, and Yields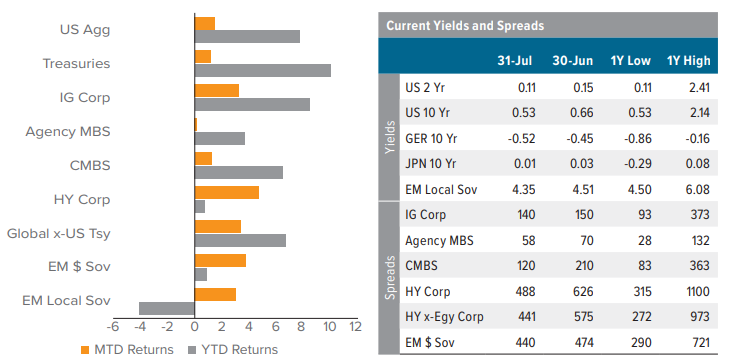 As of 7/31/2020. Past performance is no guarantee of future results. Source: Bloomberg, Bloomberg/Barclays, JP Morgan and Voya.
Bond Market Outlook
Global Rates: U.S. rates to trade range bound; 10-year yield to remain in the 0.50 – 1.00% range
Global Currencies: U.S. dollar to continue to weaken against DM, EM currencies
Investment Grade: the dramatic slowdown in new issuance and continued inflows are fueling a strong technical dynamic in the IG market
High Yield: with defaults largely priced in, a slowdown in new issuance and cash flowing in, valuations look attractive with positive implications going forward
Securitized: rally continues to aid fundamental repair, enhanced relative value perceptions; long-term risk drivers (U.S. consumer, real estate) are well positioned
Emerging Markets: Emerging Market GDP is expected to rebound in the second half of 2020, although the bounce back is not likely to happen uniformly across the cohort
Sector Outlooks
Global Rates and Currencies
The main Global Macro focus is now the U.S. dollar and reflation, as the rally across all markets is being driven by real interest rates (interest rates that do not include expected inflation) , even though fundamentals remain weak. That said, in China – which remains the global benchmark for activity as the first major economy to shut down and reopen – Manufacturing and Services have returned to expansion territory, although they've only barely done so. However, China is also center stage in the recent uptick in geopolitical risks.
In the U.S., the immediate macro focus is on three dynamics: fiscal stimulus, labor markets and consumption trends. However, come Labor Day, we fully expect the November U.S. elections to be the primary focus through the Fall. In the meantime, the fiscal debate is between the $1 trillion HEALS act and the $3.5 trillion HEROES act, with the main points of contention being the degree of aid for state and local municipalities and income tax cuts. We're expecting a compromise to land in a $1.5 trillion to $2 trillion middle-ground. Also, monetary policy has stabilized but remains very accommodative, having proven responsive to any sharp weakening in financial conditions.
European growth has also surprised to the upside, with the Eurozone posting its first expansion in PMIs in 25 months, driven by the strong rebound in both manufacturing and services. On a relative basis, Eurozone core inflation has been more resilient with a retracement to only the low end of the two- to three-year range, compared to U.S. core inflation which has rolled back almost 10 years. However, in the near term, pressure remains low and the German Value Added Tax cut that began in July should limit upward potential.
Investment Grade (IG) Corporates
Investment Grade bonds rallied again in July despite negative COVID-19 headlines and economic numbers that were less robust than June as re-opening activity waivered. The Fed purchasing of IG bonds continued, albeit at a slower pace as spreads tightened. It's worth noting that while the Fed's primary market facility has yet to be tapped, it remains an important backstop for the market.
New issues slowed dramatically from the record setting monthly volumes of March, April and May and robust flows in June, as markets normalized and 2Q20 earnings took center stage. Nonetheless, at $1.2 trillion year-to-date, IG new supply for the year has already hit the expected $1.2 trillion level. While those expectations have been revised up to $1.6 trillion, we believe that a meaningful slowdown in new supply is likely through year-end, leading to a robust technical environment in the secondary market. Elsewhere, the market continues to look through current fundamentals for now, and instead is focused on what appears to be a cautiously optimistic view of reopening from COVID-19 lockdowns. It is the sequential improvement in auto sales, credit card spending and air travel that appear to be the focus rather than the actual level of activity.
High Yield Corporates
The ebb-and-flow Spring rally that began at the end of March shifted its attention from the torrent of new issues to the secondary market in July, as another wave of yield-searching capital swept in. While fundamentals are generally improving, the main draw is spreads, which still look decent and have a backstop in the form of the Federal Reserve. With the rising default rate largely priced in, strong equities, and the Fed indicating low-for-long interest rates High Yield's technical environment is likely to remain stable over the short-term.
Securitized Assets
Despite lower volatility and modest underperformance versus Treasuries, RMBS spreads tightened significantly as Treasury yields drifted lower due to weaker than expected economic data and higher uncertainty around the global pandemic. Longer term, a prolonged low interest rate environment is likely to drive mortgage rates lower and collapse the primary-secondary market, which could possibly extend the refinancing wave into 2021. However, the market will be supported by steady Fed and bank demand, as the current refi wave gets priced into the market.
We hold our positive tactical outlook for the non-agency RMBS market as low rates, reasonable fundamentals, and improved relative value should support the asset through these choppy waters. Any correction on housing values in mortgage indices will be a second or third order impact of the current crisis, and not a challenge to the value proposition of housing.
We have updated our overall tactical assessment of CMBS to positive, as we expect more relative value driven catch-up in spreads for the beleaguered sector. While valuations in some parts of the CMBS sector appear attractive on a relative and historical basis, and longer-term CMBS performance is inextricably linked to the re-opening of the broader economy, the sector should continue to benefit from improved risk sentiment, technicals, and relative value in the near term. However, given the potential for the tactical relative value driven bounces, the current crisis nonetheless has undeniable, damaging implications for parts of the CRE universe, like student housing, hotel and retail, and potential longer-term implications for office and multifamily.
Elsewhere, ABS has led the recovery for securitized credit, with some benchmark subsectors completely retracing the sell-off while other higher spread subsectors still have further room to tighten. The key drivers (primarily TALF) are firmly in place and close to fruition and have been supported by the slow re-opening of the global economy. We expect the rally to spread, both outward in terms of sub-sectors and downward in terms of the capital structure of ABS deals. Consumer related sub-sectors will most directly benefit.
Emerging Market (EM) Debt
Emerging Market GDP is expected to rebound in the second half of 2020, although the bounce back is not likely to happen uniformly across the cohort. With EM Asia leading, Europe following and Latam rebounding from a low base, growth trajectories and momentum will nonetheless need to solidify as lower output may need longer than expected to be recovered in case of a severe second COVID-19 wave in some countries. We expect inflation to remain subdued, in line with domestic demand, and at the lower end of central bank targets. Going forward, while monetary policy is expected to remain supportive, some EM central banks are running out of space and we expect more unorthodox measures like asset purchases could be coming. On the fiscal front, massive support across EM to counter the economic slowdown has been a net positive, but concerns are growing among rating agencies if loosening is not curbed over the long-term.
IM1306878
Past performance does not guarantee future results. This commentary has been prepared by Voya Investment Management for informational purposes. Nothing contained herein should be construed as (i) an offer to sell or solicitation of an offer to buy any security or (ii) a recommendation as to the advisability of investing in, purchasing or selling any security. Any opinions expressed herein reflect our judgment and are subject to change. Certain of the statements contained herein are statements of future expectations and other forward-looking statements that are based on management's current views and assumptions, and involve known and unknown risks and uncertainties that could cause actual results, performance or events to differ materially from those expressed or implied in such statements. Actual results, performance or events may differ materially from those in such statements due to, without limitation, (1) general economic conditions, (2) performance of financial markets, (3) interest rate levels, (4) increasing levels of loan defaults, (5) changes in laws and regulations, and (6) changes in the policies of governments and/or regulatory authorities.