Massive intervention helped corporate credit stage a recovery in April and May—with summer approaching the Fed turns its attention to the securitized credit markets.
What letter shape is the economic recovery? This is the question on the mind of every investor. Certainly, our ability to reopen the U.S. economy without triggering an increase in infections will be critical. However, evaluating how effective we are in this pursuit will require time.
In the interim, economic data is heavily skewed and hard to forecast, as we saw in the May jobs report. While consensus estimates called for close to 20% unemployment, a record 2.5 million jobs were created and unemployment fell to approximately 13%. Of course, no one is pointing to the jobs report as evidence of a V-shaped recovery—too much uncertainty remains. In relation to the reopening of the economy, we continue to expect volatility on the path ahead.
What is far more certain is the Federal Reserve's continued efforts to do "whatever it takes" to support the economy and ensure the stability of capital markets. In April and May, the power of the Fed to move markets was on full display. To date, most of the policy response has been targeted at municipal and corporate credit markets. On top of direct purchases of corporate bond ETFs, corporate credit lending facilities have proven effective in fostering spread tightening and in keeping the capital markets flowing for corporate borrowers. The investment-grade corporate bond market has seen record issuance during the first five months of 2020 and already totals $1T in new issuance year-to-date.
While we pivoted our portfolios to capture what we viewed as a tactical opportunity in corporate credit, our bias remains skewed towards securitized credit and the U.S. consumer. From a recovery perspective, securitized credit has lagged as fiscal- and monetary-policy-driven spending and programs directed towards securitized credit markets have been slower to become active. In June, however, the Term Asset-Backed Securities Loan Facility or "TALF 2.0" is scheduled to go live. When the first iteration of TALF was implemented after the 2008 crisis, liquidity returned to the securitized markets and the asset class staged a dramatic recovery. Looking ahead, we expect TALF 2.0 to have a similar effect and potentially cause positive ripple effects into ancillary segments of the securitized markets not eligible for investment, but which stand to benefit from improved liquidity and relative value. Longer term, we continue to believe that securitized credit represents attractive exposure to the relatively strong fundamentals of the U.S. consumer.
Returns, Spreads and Yields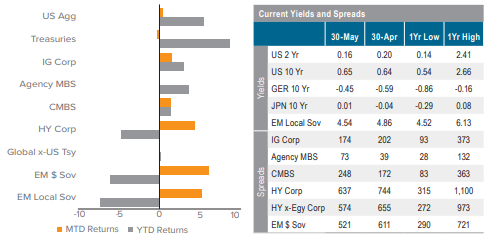 Past performance is no guarantee of future results. Source: Bloomberg, Bloomberg/Barclays, JP Morgan and Voya.
Bond Market Outlook
Global Rates: U.S. rates to trade range bound; 10-year yield to remain in the 0.50-1.00% range
Global Currencies: U.S. dollar to weaken against DM, EM currencies
Investment Grade: Despite recent rally, opportunities remain in the long end of credit curve, select BBBs
High Yield: Valuations remain attractive long term, particularly among BB- and B-rated issuers; CCCs more selective
Securitized: Recent rally starting to aid fundamental repair, enhance relative-value perceptions; long-term risk drivers (U.S. consumer, real estate) are well positioned
Emerging Markets: EM benefitting from stimulus measures coordinated by G20, IMF to minimize liquidity shortfalls and potential defaults
Sector Outlooks
Global Rates and Currencies
With uncertainty at such an extreme high globally, the primary focus for many investors now is the degree to which policymakers will continue to ease, including on the monetary front, but even more so on the fiscal side. With that said, the dollar continues to function as a safe haven. And while U.S.-China trade tensions have developed even more tentacles, the trade relationship remains the most important for the global economy, which both sides seem to recognize.
Going forward through the third quarter of 2020, we will continue to pay close attention to employment recovery (payrolls report) numbers and inflationary pressures. Come August and into September is when we believe the market focus on the U. S. Presidential election will begin to escalate.
Investment Grade (IG) Corporates
Following a strong comeback from mid-March through mid-April, IG spreads plateaued through the first half of May, only to rally again into month-end. The main factors driving spreads significantly tighter through the second half of May was positive momentum stemming from the reopening from COVID-19 shutdowns and the Fed's purchasing of IG bond ETFs. It's worth noting that while the Fed has yet to buy IG bonds directly, we expect to see this at some point, in some form. Indeed, the Fed's primary market facility has yet to be tapped, but remains an important backstop for the market.
New issues continued to flow in May, but slower than the record-setting months of March and April 2020. Nonetheless, at $1 trillion year-to-date, IG new supply for the year is already nearing the expected $1.2 trillion level. While those expectations have been revised up to $1.6 trillion, we believe that a meaningful slowdown in new supply is likely through year-end, leading to a robust technical environment in the secondary market. Elsewhere, the market continues to look through current fundamentals for now and instead, is focused on what appears to be an optimistic view of reopening from COVID-19 lockdowns. It is the sequential improvement in auto sales, credit card spending and air travel that appear to be the focus rather than the actual level of activity
High Yield Corporates
The rally that began at the end of March extended through April and well into June, as robust new supply was easily absorbed by strong demand. Not even a handful of newly fallen angels and defaults were enough to dampen the broad demand for high-yield bonds. That said, we still anticipate a material rise in defaults over the coming months, as default seems all too inevitable for those high-yield issuers who were already on shaky footing prior to the COVID-19 pandemic. From a technical standpoint, interest rates are low, equities are strong, cash is flowing into the market and the fallen angles continue to find buyers even as the new supply tap gushes. But all of that could change if supply – i.e., new deals and fallen angels – begins to overwhelm.
Securitized Assets
May Agency RMBS performance, while positive, was sluggish and only marginally outperformed Treasuries as heavy supply diluted the impact from lower volatility, stabilized rates and continued support from the Fed. However, in our view, Agency RMBS does have the potential to improve versus Treasuries due to three factors: favorable mortgage supply as Treasury net issuance is estimated to be approximately $3 trillion due to fiscal stimulus; attractive spreads and reduced convexity; and improved mortgage-carry due to the Fed's cleansing effect on the dollar-roll market.
We hold onto our positive tactical outlook for the non-agency RMBS market as low rates, reasonable fundamentals and improved relative value should support the asset through these choppy waters. Any correction on housing values in mortgage indices will be a second or third order impact of the current crisis, and not a challenge to the value proposition of housing.
Meanwhile, we remain cautious on select pockets of CMBS over the short term, as the economic impact of the COVID-19 pandemic keeps commercial real estate directly in the cross-hairs. While valuations in some parts of the CMBS sector appear attractive on a relative and historical basis, we expect that uncertainties regarding the duration and severity of the economic fallout, combined with greater idiosyncratic risks in commercial real estate, will impair risk taking in these segments. Although backward-looking fundamental metrics continue to register positive, dramatic change is forthcoming as the damaging implications from the pandemic for parts of the commercial real estate universe – such as student housing, hotel and retail, and potentially office and multifamily longer term – are undeniable.
We are cautiously positive on the ABS sector as key drivers (primarily TALF) are firmly in place and close to fruition, and have been supported by the slow reopening of the global economy. We expect the rally to spread, both outward in terms of subsectors and downward in terms of the capital structure of ABS deals. Consumer related subsectors will most directly benefit. Overall, the strength of the U.S. consumer heading into the pandemic, coupled with ABS structural dynamics, provide the sector with relatively solid footing to withstand the eroding fundamental backdrop.
Emerging Market (EM) Debt
Thus far in 2020, negative growth in EM is being exacerbated by a standstill in domestic activity and a slump of international trade related to the global economic recession. Over the short term, inflation will likely fall further across emerging markets with few exceptions due to collapsing domestic demand and lower commodity prices. Furthermore, food inflation will likely remain volatile. Longer term, we expect growth that will contract significantly in 2Q20, but there are some positive signs from high-frequency indicators for the second half of 2020, coupled with support measures put in place by the IMF and many G20 nations. We expect to see a wide divergence in growth across EM economies due to stark differences in COVID-19 measures, fiscal and monetary support, and political and institutional stability.
IM1217451
Past performance does not guarantee future results.
This commentary has been prepared by Voya Investment Management for informational purposes. Nothing contained herein should be construed as (i) an offer to sell or solicitation of an offer to buy any security or (ii) a recommendation as to the advisability of investing in, purchasing or selling any security. Any opinions expressed herein reflect our judgment and are subject to change. Certain of the statements contained herein are statements of future expectations and other forward-looking statements that are based on management's current views and assumptions and involve known and unknown risks and uncertainties that could cause actual results, performance or events to differ materially from those expressed or implied in such statements. Actual results, performance or events may differ materially from those in such statements due to, without limitation, (1) general economic conditions, (2) performance of financial markets, (3) interest rate levels, (4) increasing levels of loan defaults, (5) changes in laws and regulations, and (6) changes in the policies of governments and/or regulatory authorities.