Despite our expectations for a dreadful drop in 2Q20 output, we believe a recovery will commence in 3Q20 and lead to a meaningful acceleration beginning in 2021. Accordingly, stocks still look more attractive to us than bonds.
Global stocks continued their climb back in May in one of the swiftest retracements from bear market territory on record. However, asset class performance has varied widely. The Russell 1000 Growth index has surpassed previous all-time highs, while its value counterpart and smaller capitalization indexes are still down double digits year-to-date (Figure 1). Non-U.S. assets generally have lagged. International developed and emerging equity returns have been about the same. Looking through to individual countries reveals starkly different experiences contending with the pandemic and the associated economic fallout. For example, Japan and China were off roughly 7% and 5% YTD, respectively, while Spain and Brazil were down around 27% and 43%, respectively, as of month-end.
The improvement in risk asset pricing reflects encouraging economic data and a clear commitment from policy makers to extend support as needed. The latest U.S. jobs reports was a big surprise to the upside, showing payrolls rose by 2.5 million compared to expectations of a 7.5 million decline. This pulled the unemployment rate down to 13.3% from 14.7% (Figure 2).
Although still in contractionary territory, both U.S. and global PMIs rose in May, suggesting that activity has bottomed. U.S. retail sales were up big month-over-month, but still well below levels a year ago. While early stages of the return to normalcy have gone well, risks remain and the need for extraordinary policy support has not diminished.
With expectations of a 6.5% GDP decline for 2020 and inflation well below the 2% target, the Federal Reserve estimates that its target interest rate will remain unchanged through 2022. Its asset buying program will transition from fixed income ETFs to individual corporate bonds. Some have questioned the move, as yields are already near record lows and bond issuance near record highs; but the near-term implication for stock prices is undoubtedly a tailwind. Fiscal policy also is necessary to enable a vigorous economic recovery. The United States has mounted a colossal effort, enacting spending packages amounting to more than 12% of GDP, but more is needed and expected.
Tactical Indicators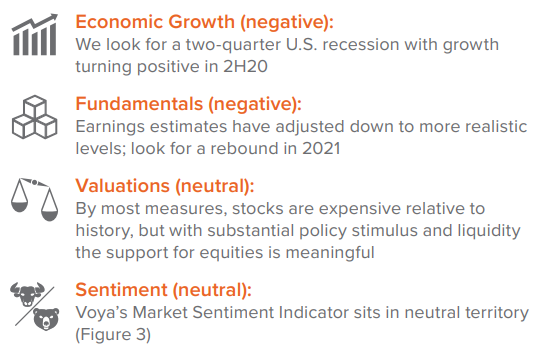 Figure 1. Large capitalization growth stocks continue to outpace value and small cap stocks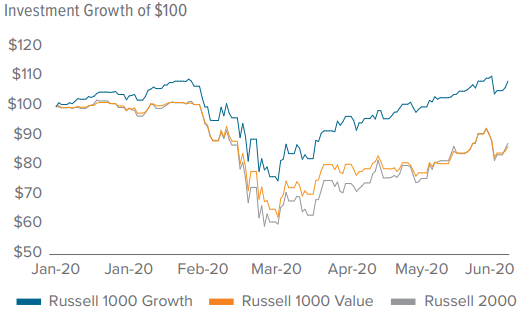 Source: Morningstar, Voya Investment Management, as of June 16, 2020. One cannot invest directly in an index. Past performance is no guarantee of future results.
Figure 2. The U.S. unemployment rate unexpectedly declined in May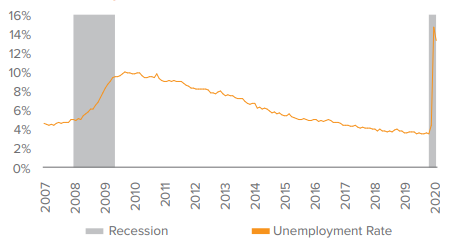 Source: St. Louis Federal Reserve, Voya Investment Management, as of June 17, 2020
Figure 3. Market sentiment is in neutral territory, heading toward overbought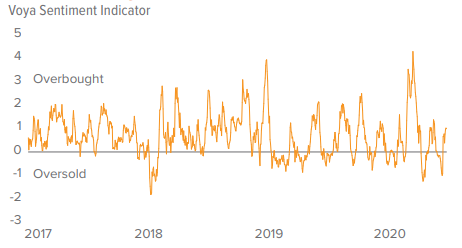 Source: Bloomberg, Factset, Voya Investment Management, as of June 12, 2020.
Portfolio Positioning

Investment Outlook
In an obvious turn in macro momentum, market participants are now focused on incremental data improvements and casting their gaze to the future; in which they expect the economy will resume its expansion at a pre-COVID pace. Despite our expectations for a dreadful drop in 2Q20 output of approximately 40%, we believe a recovery will commence in 3Q20 and lead to a meaningful acceleration beginning in 2021. Our view assumes that progress on COVID treatment will continue, a vaccine will be widely available in the first half of 2021 and that policy will remain generous until the U.S. is back on firm footing. With this outlook, the backdrop of ultra-low rates tethered near zero and notwithstanding the sharp rebound, stocks still look more attractive than bonds.
Across equities and fixed income, we maintain a home country preference. U.S. consumers' financial positions going into the crisis was solid, our healthcare infrastructure is among the most robust in the world and the support delivered by policy makers is unparalleled. Should stocks continue to outperform as we expect, more cyclically sensitive sectors could take over a leadership role during the early upswing of the recovery. Several asset classes could benefit from this, but we have been adding to U.S. small cap stocks, which in our view appear poised to close some of their performance gap with large caps, as market breadth picks up in a broadening rally. Developed and emerging market equities have room to catch up too. Japan's growth going into the recession was weak, however, and its potential remains low. Europe faces obstacles that will make breaking out of its sluggish state difficult. While the region has made progress toward issuing debt as a unified block, we are skeptical of the European Union's ability to achieve the reforms necessary to enact fiscal policy, which comes close to matching that of the U.S. There are some emerging market countries that look appealing, but others' attempts to quell the COVID outbreak have been ineffective, and many are in a vulnerable financial position given the characteristics of their debt and their balance of payments between countries such as the U.S.
The Fed's buying of corporate bonds neutralizes much of the leverage concerns and has kept us long investment grade and high yield corporate fixed income. In both of these asset classes we favor quality issues and view these positions as a suitable complement to our "risk-on" equity posture, as there are numerous risks of which we are mindful. A ramp-up of U.S.-China trade tensions heading into the election seems likely, but we think it will be more saber rattling than economically destructive actions. A second wave of coronavirus infections is top of everyone's mind following mass protests and the summer season in the northern hemisphere. However, we expect most flare-ups will be met with city- or state-specific strategies that are not as commercially restrictive as the initial lockdowns.
IM1223683
Past performance does not guarantee future results.
This commentary has been prepared by Voya Investment Management for informational purposes. Nothing contained herein should be construed as (i) an offer to sell or solicitation of an offer to buy any security or (ii) a recommendation as to the advisability of investing in, purchasing or selling any security. Any opinions expressed herein reflect our judgment and are subject to change. Certain of the statements contained herein are statements of future expectations and other forward-looking statements that are based on management's current views and assumptions and involve known and unknown risks and uncertainties that could cause actual results, performance or events to differ materially from those expressed or implied in such statements. Actual results, performance or events may differ materially from those in such statements due to, without limitation, (1) general economic conditions, (2) performance of financial markets, (3) interest rate levels, (4) increasing levels of loan defaults, (5) changes in laws and regulations, and (6) changes in the policies of governments and/or regulatory authorities.
The opinions, views and information expressed in this commentary regarding holdings are subject to change without notice. The information provided regarding holdings is not a recommendation to buy or sell any security. Fund holdings are fluid and are subject to daily change based on market conditions and other factors.
Voya Investment Management Co. LLC ("Voya") is exempt from the requirement to hold an Australian financial services license under the Corporations Act 2001 (Cth) ("Act") in respect of the financial services it provides in Australia. Voya is regulated by the SEC under U.S. laws, which differ from Australian laws.
This document or communication is being provided to you on the basis of your representation that you are a wholesale client (within the meaning of section 761G of the Act), and must not be provided to any other person without the written consent of Voya, which may be withheld in its absolute discretion.