Market sentiment is looking ahead to the end of the coronavirus pandemic, probably in the first half of 2021, when an effective vaccine is widely distributed. An end date on the horizon is certainly a good thing for stocks.
U.S. mega cap tech stocks continued to assert their market dominance in August, as the Russell 1000 Growth index outperformed its value counterpart for the eleventh consecutive month. The difference in year-to-date returns between the two indexes reached nearly 40%. The performance disparity reflects the uneven impact this recession is having on sectors. While the 2Q20 earnings growth rate for the S&P 500 index fell by more than 30%, the healthcare, utilities and technology sectors posted positive, low single-digit growth rates (Figure 1). When profit growth is scarce, investors flock to companies able to improve their bottom line, and the early stages of this cycle have proven no different in that regard.
Since September, however, negative news on individual stocks and moderating economic data have triggered declines in technology shares, which in turn have led to broader market consolidation and higher volatility. Although the unemployment rate dropped to 8.4% from 10.2% in July, higher than expected recent initial jobless claims and continuing claims under the Pandemic Unemployment Assistance (PUA) program suggest that labor market improvements are beginning to sputter. What's more, while August retail sales rose for the fourth straight month, increasing by 0.6%, credit and debit card transaction data show that retail may be losing steam. Without additional government unemployment support and uncertain reopening timelines, further retail gains will be challenging.
Despite several failed attempts by Congress to reach agreement on a new round of fiscal stimulus and fading hopes for an accord before the November election, markets have remained relatively relaxed. It is difficult to believe this will remain the case indefinitely without added support, as the economic recovery almost certainly will be slower and more painful than it otherwise would. Nevertheless, the Federal Reserve is doing what it can to foster a vigorous revival in growth. Its recently announced new policy approach seeks to achieve an average 2% inflation and evaluates labor markets by looking at shortfalls rather than deviations from full employment. In our view, this shift makes monetary policy even more likely to stay accommodative for a very long time.
Tactical Indicators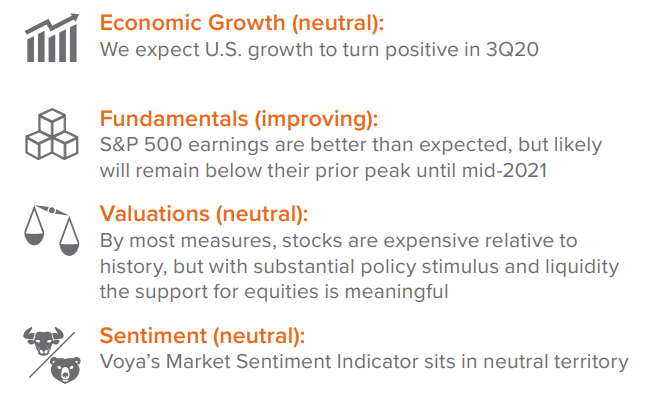 Figure 1. Year-over-year earnings growth on the S&P 500 declined by 30.2% in 2Q20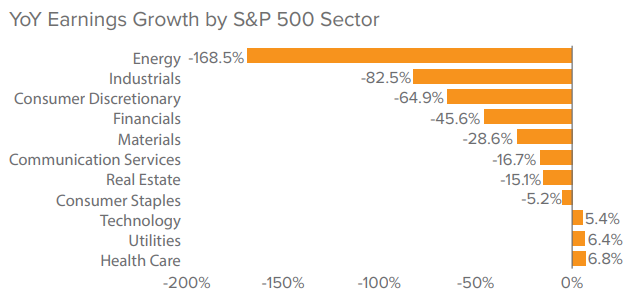 Source: Bloomberg, Voya Investment Management, as of September 18, 2020.
Figure 2. COVID-19 global confirmed deaths as a percentage of confirmed cases
Total Global Confirmed Deaths/Total Global Confirmed Cases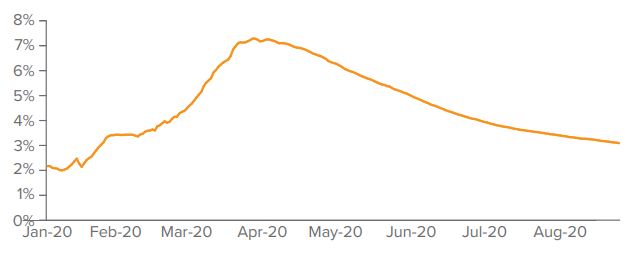 Source: Our World In Data, Voya Investment Management, as of September 18, 2020.
Figure 3. Inflation breakevens remain at or below pre-pandemic levels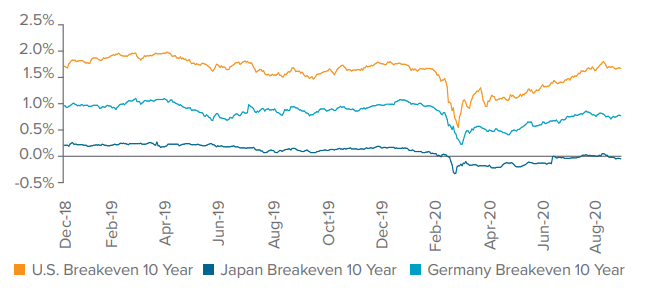 Source: Bloomberg, Voya Investment Management, as of September 18, 2020.
Portfolio Positioning

Investment Outlook
For over six months, the world has anxiously awaited the time when coronavirus is no longer a significant threat to population health and people can resume their normal way of life. With worst case scenarios averted, infections somewhat contained, expanded testing and improved treatments, markets are fast forwarding to the end, which is almost sure to be sometime next year when an effective vaccine(s) is expected to be widely distributed. While there have been several recent roadblocks among the leading candidate vaccines, we still interpret the balance of data as promising. There is also a revitalized narrative around "herd immunity" that seems a lot more plausible than it did the first time around with a clear decline in the global death rate (Figure 2), and successful avoidance of secondary surges following initial hotspot outbreaks and a declining case count in Sweden, which elected to pursue an unconventional strategy from the start. Undoubtably, there are flare-up risks associated with increased mobility as kids get back to school and potential seasonal elements to the virus, but the pandemic is widely expected to end in 2021, probably sometime in the first half. An end date on the horizon is certainly a good thing for stocks. What's more, easy money policies from global central banks are likely to extend several years beyond that.
The ultra-dovish path laid out by the Federal Reserve is likely to be followed by other major central banks, including the European Central Bank and Bank of Japan, whose economies also are grappling with structural deflationary headwinds. Although breakeven inflation rates have hooked up recently (Figure 3), they remain at or below pre-pandemic levels, even after some of the most aggressive government intervention in history. What we saw throughout the last cycle is that central bank action alone may not be sufficient to pull inflation higher. As Fed Chairman Jerome Powell has repeatedly implied, fiscal stimulus will be needed to sustain the recovery and elevate inflation to the Fed's target. In the current U.S. political climate, passing the next stimulus bill has proven difficult. Therefore, in the near term, we don't anticipate an increase in government spending to a level that would incite a swift rise in inflation. As a result, we continue to hold an underweight to U.S. Treasury inflation-protected securities (TIPS) and commodities.
The government's appetite for spending could change depending on the results of the elections. Of course, polls should be looked at very skeptically after the 2016 predictions and outcome, but as of this writing most project the democrats will win the house, senate and executive branches. Most betting markets have Biden in the lead too, yet stocks seem unphased. The general consensus, with which we agree, is that the market would prefer Trump and his pro-business attitude, but would make do with Biden, given that his stated polices aren't terribly progressive and stocks did fine under the last two Democrat Presidents. Either way, results seem destined to be contested, which won't be well received by investors, but hopefully the uncertainty won't last for long.
IM1340769
Past performance does not guarantee future results.
This commentary has been prepared by Voya Investment Management for informational purposes. Nothing contained herein should be construed as (i) an offer to sell or solicitation of an offer to buy any security or (ii) a recommendation as to the advisability of investing in, purchasing or selling any security. Any opinions expressed herein reflect our judgment and are subject to change. Certain of the statements contained herein are statements of future expectations and other forward-looking statements that are based on management's current views and assumptions and involve known and unknown risks and uncertainties that could cause actual results, performance or events to differ materially from those expressed or implied in such statements. Actual results, performance or events may differ materially from those in such statements due to, without limitation, (1) general economic conditions, (2) performance of financial markets, (3) interest rate levels, (4) increasing levels of loan defaults, (5) changes in laws and regulations, and (6) changes in the policies of governments and/or regulatory authorities.
The opinions, views and information expressed in this commentary regarding holdings are subject to change without notice. The information provided regarding holdings is not a recommendation to buy or sell any security. Fund holdings are fluid and are subject to daily change based on market conditions and other factors.
Voya Investment Management Co. LLC ("Voya") is exempt from the requirement to hold an Australian financial services license under the Corporations Act 2001 (Cth) ("Act") in respect of the financial services it provides in Australia. Voya is regulated by the SEC under U.S. laws, which differ from Australian laws.
This document or communication is being provided to you on the basis of your representation that you are a wholesale client (within the meaning of section 761G of the Act), and must not be provided to any other person without the written consent of Voya, which may be withheld in its absolute discretion.
©2020 Voya Investments Distributor, LLC • 230 Park Ave, New York, NY 10169 • All rights reserved.