We are still overweight U.S. large caps, believing winners will win until a broad-based economic recovery takes hold. Our preference for investment grade U.S. bonds remains; also, we now see opportunities among high yield bonds.
Stocks rallied in April as investors focused more on the global policy response and improving virus infection rates than the abysmal economic data and broad-based pessimism. All major U.S. equity indexes posted double-digit returns. The S&P 500 index clawed back to being down less than 10% year-to-date. Much of the market's thrust continues to come from big-tech companies — whose internet-based products and services have experienced limited impact due to the pandemic.
International equities produced more modest but still solid returns for April, with MSCI EM outperforming MSCI EAFE for the month and year. Bonds were up across the board too, with rates moving marginally lower and spreads tightening. U.S. investment grade credit outperformed high yield. This reflects the Federal Reserve's focus on buying investment grade corporates and the growing threat that many companies with junk level credit ratings will be slow to recover from the pandemic.
The upturn in asset prices has occurred in the face of dire economic data. Initial jobless claims show that more than 33 million U.S. workers have lost their job since the coronavirus outbreak (Figure 1). The March 8 jobs report printed an eye-popping 14.7% unemployment rate, which nonetheless significantly understates the actual number of unemployed by incorrectly classifying many people as absent from work; and not counting those who stopped looking for a job, which appears in the plummeting labor force participation rate (Figure 1).
Adjusting for these factors would push the unemployment rate to roughly 23%, just south of the 25% peak during the Great Depression.1 Many of the layoffs are considered temporary, meaning employers expect to recall workers within six months. Some layoffs will become permanent: retail, hospitality and leisure will take longer to recover than other sectors. But we believe the majority of workers will find jobs waiting for them once economic normalcy is restored. How long that will take is the trillion dollar question.
Tactical Indicators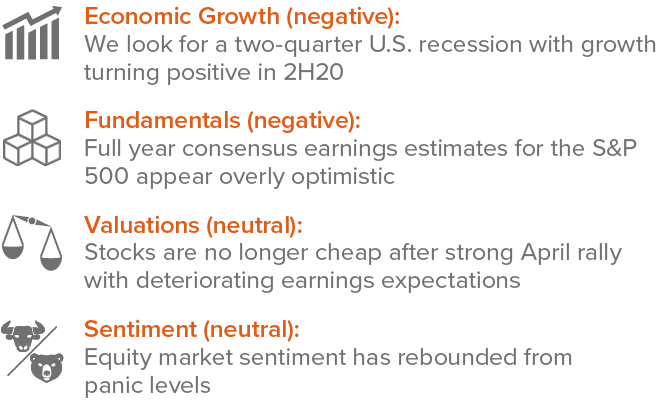 Figure 1. High initial jobless claims and sharply falling labor force participation rate suggest unemployment rate understates job market stress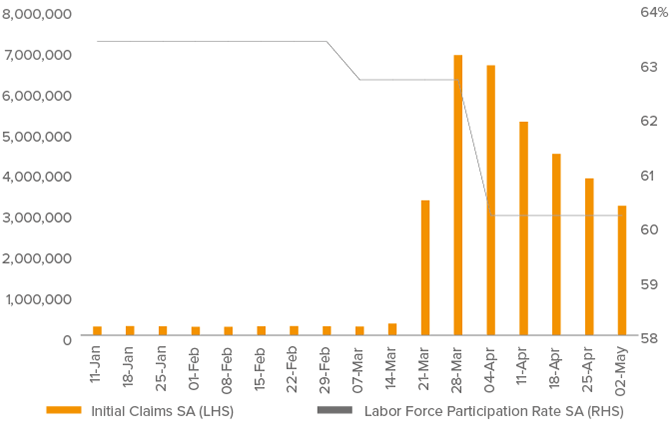 Source: Federal Reserve Bank of St. Louis, Voya Investment Management, as of May 7, 2020.
Figure 2. Confirmed infections have declined even as testing has increased
COVID-19 Daily Tests and Results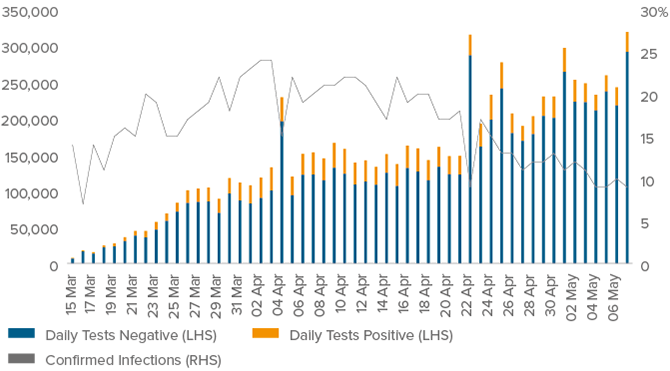 Source: www.covidtracking.com, Voya Investment Management, as of May 7, 2020.
Figure 3. COVID Fiscal Response as Percent of GDP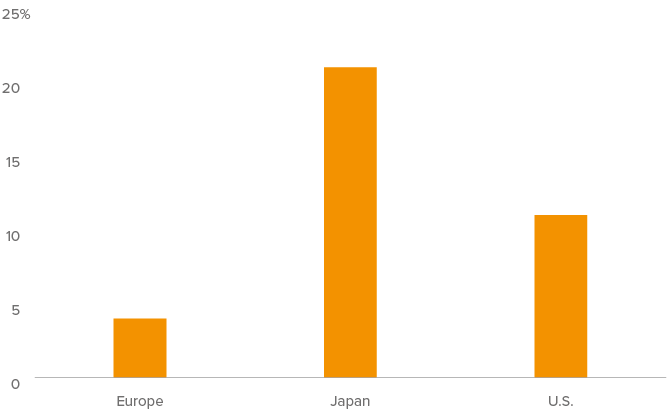 Source: IMF Policy Tracker, Voya Investment Management, as of May 8, 2020.
Portfolio Positioning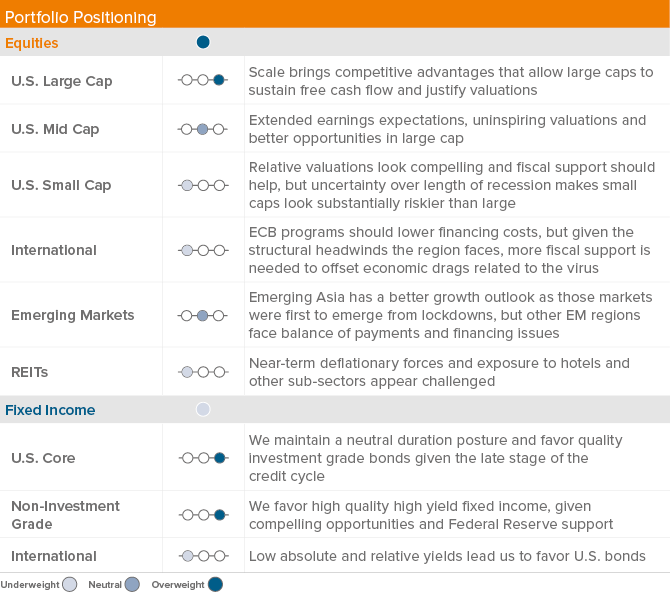 Investment Outlook
Our investment outlook for the next six- to twelve-months is predicated on two central views: (1) the U.S. economy will be able to slowly reopen without setting off a catastrophic increase of infections and (2) government initiatives will sufficiently backstop economic growth while the country heals on its way to a new post-COVID normal.
Reopening efforts hinge on the country's ability to make progress on the three Ts: testing, tracing and treatment. As the daily number of tests performed has ramped up, the percentage of positive test results has declined (Figure 2) along with daily new infections reported. In total, the U.S. has tested more than eight million people or about 2.5% of the population, the fifth highest proportion of any country in the world.2 These are positive trends, but we need to see daily testing capacity continue to increase. We also need to see more headway on the tracing front before hotspot areas can reopen confidently. The necessary guidance, training and digital tools appear to be available.3
The next step is to roll out a sweeping contact monitoring program across states and convince people to follow the rules. Most encouragingly, headway is being made on the treatment front. There are currently 99 vaccines and 182 treatments under development.4 Gilead's antiviral, Remdesivir, has garnered a lot of attention as recent results show improvements in patients' time to discharge, declining from 15 days to 11 days, and mortality rate falling from 11% to 8%.5 In addition, there are a host of antibody, antiviral, cell-based and other treatments working their way through the pipeline that make us optimistic that a gradual reopening will be sustainable.
There is no doubt that the large divergence between asset prices and the real economy has been created by the incredible Equities U.S. Large Cap Scale brings competitive advantages that allow large caps to sustain free cash flow and justify valuations U.S. Mid Cap Extended earnings expectations, uninspiring valuations and better opportunities in large cap U.S. Small Cap Relative valuations look compelling and fiscal support should help, but uncertainty over length of recession makes small caps look substantially riskier than large International ECB programs should lower financing costs, but given the structural headwinds the region faces, more fiscal support is needed to offset economic drags related to the virus Emerging Markets Emerging Asia has a better growth outlook as those markets were first to emerge from lockdowns, but other EM regions face balance of payments and financing issues REITs Near-term deflationary forces and exposure to hotels and other sub-sectors appear challenged Fixed Income U.S. Core We maintain a neutral duration posture and favor quality investment grade bonds given the late stage of the credit cycle Non-Investment Grade We favor high quality high yield fixed income, given compelling opportunities and Federal Reserve support International Low absolute and relative yields lead us to favor U.S. bonds global policy response to this crisis. We realize policy alone is not sufficient, but it is creating the conditions necessary for a robust recovery and markets have been quick to discount such a scenario playing out. On the monetary front, the Fed has proven its commitment to maintaining sufficient liquidity to ensure well-functioning financial markets.
The European and Japanese central banks have also been actively involved, with the Bank of Japan expanding its balance sheet to over 100% of GDP. Japanese and U.S. fiscal policies have been more aggressive than in the European Union (Figure 3). Europe's lawmakers are struggling to reach consensus on a plan that appropriately balances the costs and benefits among Eurozone countries. As a result, Italian bond spreads have widened due to the higher solvency risks in that country's banking sector. In theory, Japan's fiscal flexibility is somewhat constrained by its already enormous debt load. Meanwhile, the U.S. House of Representatives is in the process of constructing another round of stimulus; this supports our continued preference for U.S. assets.
Despite the outperformance of mega-cap U.S. technology stocks pushing the growth/value spread to its widest level on record, we are still overweight U.S. large caps — we think winners will win until we see evidence of a broad-based economic recovery. Recently we reduced our emerging market equity overweight and reallocated the proceeds into U.S. large cap. We think many developing countries face painful adjustments, given below-trend growth, higher borrowing costs and balance of payments issues that will make it difficult to fund current-account deficits. While Asia is in a better position than other emerging regions, China could experience headwinds — it has become the target of political backlash around the world for being the source of the outbreak.
IM1187215
1 Source: IHS Markit, "US Data Commentary, Employment Situation," May 8, 2020.
2 Source: www.OurWorldInData.org, accessed 5/7/2020
3 Source: https://www.cdc.gov/coronavirus/2019-ncov/php/open-america/contact-tracing.html, accessed 5/7/2020
4 Source: https://milkeninstitute.org/covid-19-tracker, accessed 5/7/2020
5 Details of the study and patient population can be found here: https://clinicaltrials.gov/ct2/show/NCT04280705
Past performance does not guarantee future results.
This commentary has been prepared by Voya Investment Management for informational purposes. Nothing contained herein should be construed as (i) an offer to sell or solicitation of an offer to buy any security or (ii) a recommendation as to the advisability of investing in, purchasing or selling any security. Any opinions expressed herein reflect our judgment and are subject to change. Certain of the statements contained herein are statements of future expectations and other forward-looking statements that are based on management's current views and assumptions and involve known and unknown risks and uncertainties that could cause actual results, performance or events to differ materially from those expressed or implied in such statements. Actual results, performance or events may differ materially from those in such statements due to, without limitation, (1) general economic conditions, (2) performance of financial markets, (3) interest rate levels, (4) increasing levels of loan defaults, (5) changes in laws and regulations, and (6) changes in the policies of governments and/or regulatory authorities.
The opinions, views and information expressed in this commentary regarding holdings are subject to change without notice. The information provided regarding holdings is not a recommendation to buy or sell any security. Fund holdings are fluid and are subject to daily change based on market conditions and other factors.
Voya Investment Management Co. LLC ("Voya") is exempt from the requirement to hold an Australian financial services license under the Corporations Act 2001 (Cth) ("Act") in respect of the financial services it provides in Australia. Voya is regulated by the SEC under U.S. laws, which differ from Australian laws.
This document or communication is being provided to you on the basis of your representation that you are a wholesale client (within the meaning of section 761G of the Act), and must not be provided to any other person without the written consent of Voya, which may be withheld in its absolute discretion.