As U.S. COVID-19 cases increase, so does the risk that economic recovery decelerates. We think policy makers will do what it takes to sustain the recovery, and therefore continue to prefer U.S. equities over bonds.
June saw the best quarterly returns from global stocks in decades, as the S&P 500 and MSCI ACWI rose by roughly 20%. Thus far, U.S. investors seem to expect the country to continue reopening, despite rising COVID infections in the South. Although some states have had to step back from their initial reopening plans, medical professionals seem to better understand the virus and the measures needed to pull R0 below 1.* The economic data have been better than many expected (Figure 1).
The incredible drop in output and rise of jobless claims have made it more difficult than normal to forecast economic data in these early stages of the recovery; and in certain sectors of the economy there have been meaningful improvements. At the same time, the U.S. economy continues to be upheld by bountiful quantities of monetary and fiscal support, which has created a nice cushion for stocks.
Non-U.S. equities also have been aided by accommodative government policies, and by a weaker U.S. dollar. Their recent outperformance over the United States has been driven largely by European stocks in developed markets and Chinese stocks in emerging markets. European investors have gained more thanks to the sizable expansion of the European Central Bank's (ECB) balance sheet, enormous amounts of government loans and guarantees in some European countries and progress toward more coordinated fiscal actions. There is also an air of optimism among investors in China, which has been more successful than most other countries at suppressing viral contagion. Chinese firms are ramping up business activity with manufacturing growth moving to a six-month high in June (Figure 2). Witnessing the recent run-up, local investors have scrambled to participate, opening brokerage accounts and drawing on lines of credit that have pushed margin debt to its highest level since 2015.
Tactical Indicators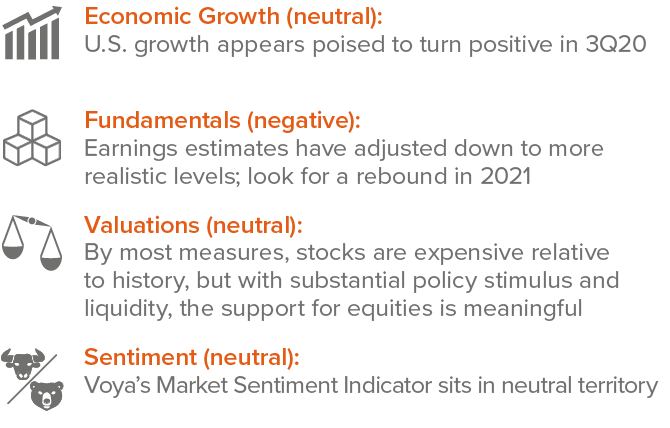 Figure 1. Economic data have been better than expected
Source: Morningstar, Voya Investment Management, as of July 13, 2020.
Figure 2. Manufacturing and non-manufacturing PMIs suggest China's recovery is well underway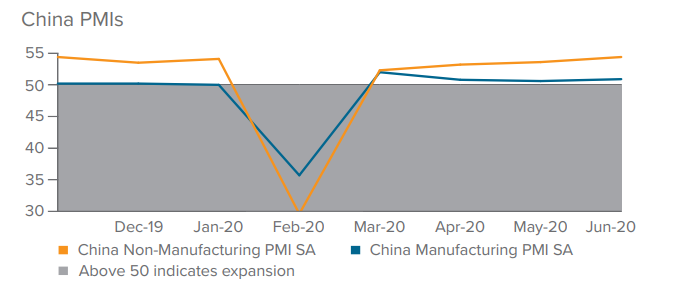 Source: Bloomberg, Voya Investment Management, as of July 10, 2020.
Figure 3. Inflation has been muted with headline and core personal consumption expenditures (PCE) below the Federal Reserve target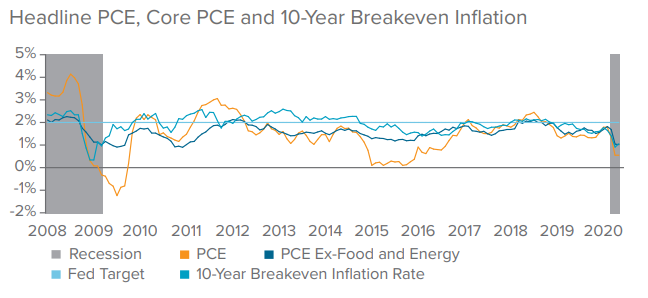 Source: Federal Reserve Bank of St. Louis, Voya Investment Management, as of July 13, 2020.
*R0 (The reproductive rate) indicates the number of people who would have been infected, on average, by a single infected person. An R0 < 1 means the spread is declining and, assuming it remains below 1, will eventually fade away.
Portfolio Positioning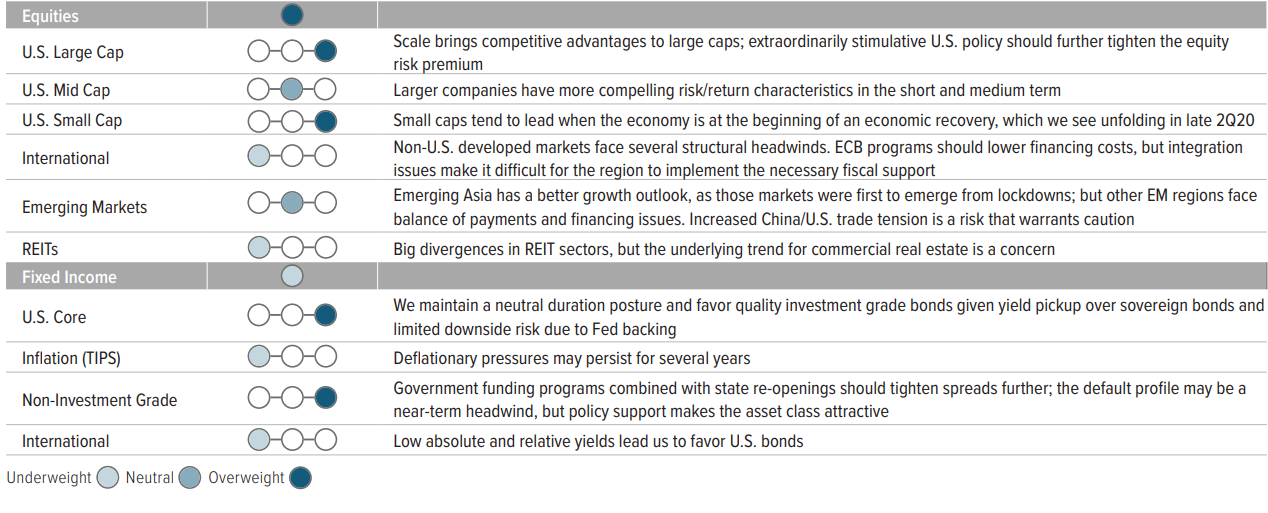 Investment Outlook
As the number of COVID-19 cases in the U.S. increases, so too does the risk that a swift economic recovery does not take place. In our view, this scenario is not currently being priced into financial markets. Nevertheless, we believe that the U.S. will contain the virus enough to avoid another widespread lockdown and double-dip recession. Current economic data are improving and given how high unemployment is, U.S. consumers look fairly resilient with payrolls, auto sales and new home sales all rising. Should the phased re-openings proceed mostly as planned, we expect these trends to continue. If there is another shock, virus related or otherwise, we think the Fed and Congress will put sufficiently dovish policies in place to promote economic and asset price growth. The pandemic induced collapse in demand left an enormous void that has been filled by government interventions, which have helped avert an outright catastrophe. While government support cannot last indefinitely and history suggests that the efficacy of such benevolent policies diminishes over time, the government is capable of doing more. Inflation is muted (Figure 3), and consequences of the mind-boggling debt build-up and Fed balance sheet expansion will only become apparent longer term. Therefore, we think policy makers, because of their mandate or just self-preservation, will do what it takes to sustain the economy.
As a result, we continue to prefer U.S. equities over bonds. While acknowledging the rapid rise in prices has pushed many major equity indexes into historically overvalued territory and second-quarter earnings are likely to be dismal, fixed income looks even less compelling. We guess investors will write off the current period as a one-time event and focus much more on guidance, which is sure to be better for 2021 than today. The degree to which current earnings decay and future earnings bounce back will vary by industry. We think business models that are relatively insulated from the coronavirus fallout will continue to command premium pricing. The technology and healthcare heavy U.S. equity markets have a relatively large proportion of these firms. Moreover, the generally bearish positioning, high levels of cash held by institutional investors and their desire to deploy it should help protect against meaningful weakness over the medium term.
Recent U.S. dollar weakness has helped emerging market equities. However, emerging markets stocks are a disparate group. Although many Asian countries have done a good job of combating the virus and restarting their economies, other developing countries, particularly those in Latin America, face grim prospects. With COVID cases surging, healthcare resources strained and limited financial flexibility, Asia's achievements are not enough to offset troubles elsewhere in the emerging world. Furthermore, U.S.–China tensions, U.S. elections and numerous other risks could arouse a flight back to perceived U.S. dollar safety. In a similar vein, we retain overweights to U.S. fixed income and prefer higher quality investment and non-investment grade corporate credit. Despite our overweight to equities, we see the investing landscape still features many hazards and thus seek to balance our bets.
IM1253273
Past performance does not guarantee future results.
This commentary has been prepared by Voya Investment Management for informational purposes. Nothing contained herein should be construed as (i) an offer to sell or solicitation of an offer to buy any security or (ii) a recommendation as to the advisability of investing in, purchasing or selling any security. Any opinions expressed herein reflect our judgment and are subject to change. Certain of the statements contained herein are statements of future expectations and other forward-looking statements that are based on management's current views and assumptions and involve known and unknown risks and uncertainties that could cause actual results, performance or events to differ materially from those expressed or implied in such statements. Actual results, performance or events may differ materially from those in such statements due to, without limitation, (1) general economic conditions, (2) performance of financial markets, (3) interest rate levels, (4) increasing levels of loan defaults, (5) changes in laws and regulations, and (6) changes in the policies of governments and/or regulatory authorities.
The opinions, views and information expressed in this commentary regarding holdings are subject to change without notice. The information provided regarding holdings is not a recommendation to buy or sell any security. Fund holdings are fluid and are subject to daily change based on market conditions and other factors.
Voya Investment Management Co. LLC ("Voya") is exempt from the requirement to hold an Australian financial services license under the Corporations Act 2001 (Cth) ("Act") in respect of the financial services it provides in Australia. Voya is regulated by the SEC under U.S. laws, which differ from Australian laws.
This document or communication is being provided to you on the basis of your representation that you are a wholesale client (within the meaning of section 761G of the Act), and must not be provided to any other person without the written consent of Voya, which may be withheld in its absolute discretion.