While much uncertainty remains, one aspect of the COVID-19 market shock is clear: The Fed will not stand in the way of the economic recovery.
By the end of March, the COVID-19 global pandemic had a deep and profound effect on virtually every economy across the world. The impact on growth is very real, albeit acute, and will pull economic activity down significantly even with the active and widespread government intervention currently underway. While April is shaping up to be one of the "longest" months in recent memory, we are looking forward to May and June when the focus will be how quickly various economic areas can begin to migrate back toward some form of normality.
Overall, we believe the second quarter will be more transitional from the COVID-19 fallout, setting up the third quarter when growth should begin to accelerate aggressively, through to the end of the fourth quarter when we believe we will see a more normal employment and economic growth rates of 2-3%. While this time line may be longer than many expected, it is certainly short enough so as not to impair the ability for a relative short-order rebound. While much uncertainty remains, one aspect of the COVID-19 market shock is clear: The Fed will not stand in the way of the economic recovery. This means the world is headed for a prolonged period of zero interest rate policy also known as "ZIRP". In this zero interest rate world ahead, less distressed and more rational markets will begin to highly value the yield and income opportunities currently available.
We believe demand will remain focused at the higher end of the credit quality spectrum across corporate and securitized asset classes, albeit selectively among issues and issuers. Accordingly, caution is likely to prevail among the more risky segments, including high yield and certain segments of the securitized market, as investors wait to see how the recovery progresses. We are preparing our portfolios for this zero interest rate world through high-quality investments across consumer finance and non-agency RMBS, while also looking at select areas of CMBS, where market dislocations have created attractive entry points in areas we believe will exhibit resiliency through the economic downturn.
Returns, Spreads and Yields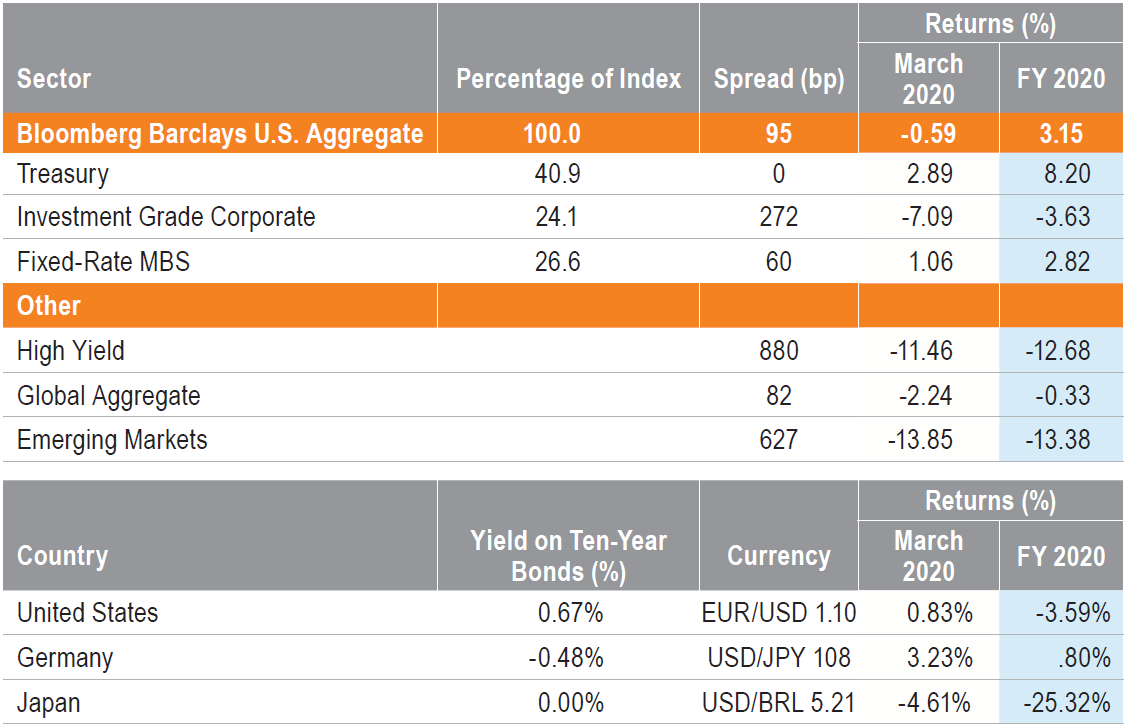 Source: Bloomberg, JPMorgan, Standard & Poor's. All spreads are to U.S. Treasuries and are option-adjusted except for emerging markets, which are nominal. All returns are total returns including dividends, expressed as percentages, in U.S. dollars.
Bond Market Outlook
Global Rates: We expect the 10-year yield to remain in the 0.50 – 1.00% range, and the Fed to refrain from moving to a negative Fed funds rate territory
Global Currencies: We expect the U.S. dollar to weaken against both developed markets and emerging market currencies over the medium term
Investment Grade: Market operating in a near vacuum of fundamental news; Q1 earnings guidance mostly pulled and 2Q guidance likely to be sparse, higher credit quality issues seeing most of the demand
High Yield: Fundamentals are cloudy, but valuations are attractive and longer-term prospects are encouraging
Securitized: Agency and non-agency RMBS stable relative to other securitized sectors; select CMBS carrying real concerns over the short and long term
Emerging Markets: EM to continue to be supported by accommodative global central banks, while EM GDP growth expected to slow through second and third quarters of 2020
Sector Outlooks
Global Rates and Currencies
While many very dark tail scenarios can be feared, our central case as we emerge into the post COVID-19 world sees economic fundamentals defined by a sharp global recession followed by a W-shaped recovery in the United States marked by a quick rebound with some drawbacks on the road to a more sustainable recovery, punctuated with episodes of volatility along the way. After a short recession, consumer activity will pick up globally as coronavirus fears fade and pent up demand makes up for a portion of the lost economic activity of prior months. Growth will ultimately stabilize around trend as fiscal stimulus fades and focus turns back to uncertainties such as US/China trade and upcoming elections later in the year.
The Fed has no intentions of being a headwind to the recovery and we expect to remain in a Zero Interest Rate Policy (ZIRP) world for quite some time. More importantly, in our opinion, the Fed will not move to a negative rate stance. In maintaining ZIRP for the foreseeable future will anchor the front end of the curve. We expect the 10-year yield to tread in the 0.50% - 1.00% range, with a bias towards the higher end of the range as investors gain more clarity over the economic impact of the virus.
Investment Grade (IG) Corporates
While overall credit fundamentals going into the COVID-19 crisis were in reasonable shape, especially the banks when compared to the run-up to the 2008 crisis, companies that recently levered up have been struggling, and vulnerable business models are likely to be pushed over the downgrade edge. The investment grade market is effectively operating in a near vacuum of fundamental news. Most companies have pulled first quarter guidance and we expect second quarter guidance to be sparse. While we do expect some negative outlier headlines for Q1, analysis of the earnings will be difficult given the timing of when COVID-19 had its dramatic impact. Meanwhile, the M&A pipeline has come to a halt for new deals, although some previously announced transactions have managed to close.
We have been using recent volatility to selectively capitalize on opportunities. The key areas where we see potential are in the long end of the credit curve — particularly among the AA rated and A rated issuers — and select subordinated securities, such as preferreds, of larger U.S. money center banks. Both areas have underperformed the broader market during the recent sell-off, and as a result offer attractive value at current levels. Overall, we continue to prefer more domestic- and consumer-oriented issuers in our portfolios. For example, U.S. financial companies are well positioned due to their strong liquidity and robust capitalization, which allows them to support both their own credit downside as well as the downside in the broader economy.
High Yield (HY) Corporates
Many companies were experiencing a strong start to the year in the run up to the COVID-19 outbreak. However, not only do we fully expect first quarter earnings to be a disaster, we believe most of the legacy high yield energy issuers will effectively disappear and be replaced with some larger entities formerly known as investment grade companies. More broadly, downgrades will be rampant and defaults will surge. Our focus will be on liquidity, i.e. which issuers can survive the next few months, and then the shape of the recovery going forward. That said, one positive aspect to note is that leverage and ratings instability weren't too aggressive going into the pandemic crisis. Furthermore, with equities showing signs of renewed strength, flows in high yield mutual funds and ETFs are positive and new issuance is picking up, albeit in the form of mostly secured deals selling at discounts.
Securitized Assets
The COVID-19-driven turmoil followed by the subsequent reintroduction of quantitative easing combined to bifurcate March 2020 nearly evenly into two extreme agency RMBS market environments. The first half was dominated by a risk-off sentiment, spread widening, forced selling and general apathy for fundamentals, while the second half was stabilized by massive buying from the Federal Reserve. With the Fed's commitment to stabilizing markets and agency RMBS being at the epicenter, spreads completely reversed and are tighter now than before the COVID-19 outbreak. Going forward, we believe that the Fed's constant policy calibration to relive stress and reduce volatility is likely to provide stability to the asset class.
We hold on to our positive tactical outlook for the non-agency RMBS market as low rates, reasonable fundamentals, and improved relative value should support the asset through these choppy waters. Any correction on housing values in mortgage indices will be a secondary or tertiary factor of the current crisis, and not challenge the value proposition of housing.
Meanwhile, we are cautious on CMBS in the short term. While valuations in some parts of the CMBS sector appear attractive on a relative and historical basis, we expect that uncertainties regarding the duration and severity of the economic fallout will reduce risk taking in many segments. Although backward looking fundamental metrics continue to register positive, change is forthcoming, as the pandemic certainly represents a fundamental threat to commercial real estate, particularly select hotel and retail segments of the market. Amid the fallout in CMBS, however, the higher quality segments of the market represent fertile ground to prepare for the ZIRP world ahead, especially AAA rated conduit CMBS.
While the outlook for asset-backed securities (ABS) has generally remained a function of broader risk sentiment, a new and overpowering actor has entered the market in the form of the Federal Reserve. We therefore expect ABS to offer potential outperformance as TALF 2.0 operational details emerge in the coming weeks, fueling investors to "follow the Fed." Consumer related sub-sectors will most directly benefit. Overall, the strength of the U.S. consumer heading into the pandemic coupled with ABS structural dynamics provide the sector with relatively solid footing to withstand the eroding fundamental backdrop.
Emerging Market (EM) Debt
We expect EM GDP growth to slow in the second and third quarters of 2020, after the first quarter proved to be the worst in living memory, due to the combined global recession and oil price war between Russia and Saud Arabia, both of which created a dilemma in many EM economies. Longer term, the shape and magnitude of economic rebound will depend on the duration of the lockdowns, public policy approaches to curb the pandemic as well as impact of fiscal and monetary responses. So far, EM central banks are using their entire arsenal of tools to guarantee financial markets stability and lower volatility, while fiscal policies are likely to loosen significantly as well.
IM1117601
Past performance does not guarantee future results. This commentary has been prepared by Voya Investment Management for informational purposes. Nothing contained herein should be construed as (i) an offer to sell or solicitation of an offer to buy any security or (ii) a recommendation as to the advisability of investing in, purchasing or selling any security. Any opinions expressed herein reflect our judgment and are subject to change. Certain of the statements contained herein are statements of future expectations and other forward-looking statements that are based on management's current views and assumptions and involve known and unknown risks and uncertainties that could cause actual results, performance or events to differ materially from those expressed or implied in such statements. Actual results, performance or events may differ materially from those in such statements due to, without limitation, (1) general economic conditions, (2) performance of financial markets, (3) interest rate levels, (4) increasing levels of loan defaults, (5) changes in laws and regulations, and (6) changes in the policies of governments and/or regulatory authorities.