Will slowing industrial activity derail consumers? The answer hinges on the health of 3 key economic drivers.
Divergence between Industrial and Services Activity Becomes Extreme
The word "recession" pervades the media: headlines often point to a slowdown in manufacturing PMIs — a proxy for global industrial activity — as an indicator of trouble on the horizon. Approximately 80% of the global manufacturing PMIs that we monitor have been reading below 50, a level indicating economic contraction. By contrast, services PMIs — a proxy for the health of consumers — only briefly have slipped below 50, suggesting slower but continued expansion potential within the services sector.
Explanations of the global industrial slowdown focus most acutely on the U.S. trade disputes with China and Europe; however, the slowdown actually began with China in 2017. China embarked on a self-managed economic slowdown tied to efforts to crack down on corruption, reign in housing excesses and facilitate a longer-term rebalancing towards a more consumption-oriented economy. The trade dispute, which began in earnest in 2018, only exacerbated the slowing that already was underway. Similarly, trade was not the only factor impacting European growth. Weakness in China hurt European trade but so did Brexit-related uncertainty and the recession in Turkey. Other exogenous factors also played a role, including the "gilets jaunes" or "yellow vests" protests in France, a change in European auto emissions rules, a Rhine river drought and political discord in Italy.
Within the United States, the divergence between industrial and services activity has now reached extremes last witnessed during the commodity downturn in 2015. Our view has been that strength in U.S. consumption will sustain economic expansion. The key question we face now is: Will a slowdown of industrial activity spill over into services and derail consumers? The short answer is no. Like the commodity downturn four years ago, macroeconomic and geopolitical conditions have led to a sharp industrial slowdown, but currently we expect only modest slowing within the consumer sector, and do not foresee a full-blown recession in 2020. Our outlook hinges on the health of three key drivers of the global economy.
Growth Outlook Hinges on Three Key Drivers
Employment Trends
Figure 1. Labor income remains resilient but hours worked reflects manufacturing uncertainty
Professional Services Growth in Hours versus Payrolls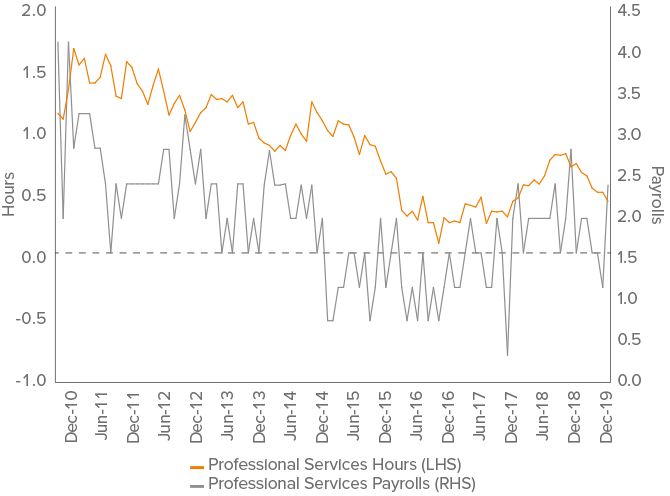 Source: Bloomberg, Voya Investment Management
Why it matters: Reductions in hours worked tend to precede weakness in payroll growth, as companies reduce employees' hours first before moving to cut employees.
Current state: Labor income remains resilient but hours worked reflects manufacturing uncertainty. A slowdown in goods-related payroll growth has mostly been offset by continued strength within the services sector. Evidence of slowing within the labor market has been more acute within the U.S., which tends to have a more dynamic and flexible labor market. In the U.S., goods-related payroll growth has pulled back from roughly 3.5% to less than 2.0%, while the growth in hours worked has turned negative. Within services, payroll growth has slowed modestly but growth in hours worked also has turned negative, albeit just recently.
Voya's view: Industrial weakness has yet to have much effect on overall employment within the developed markets. The decline in hours worked currently matches the contraction seen during the commodity crisis. The weakness in hours worked also has not been severe or protracted enough to suggest payroll contraction, although further slowing in payroll growth is likely.
Equity Market Performance Drives Personal Income Growth
Figure 2. Industrial activity drives equity performance, thus impacts personal income
S&P 500 Total Return versus Business and Investment Contribution to Personal Income Growth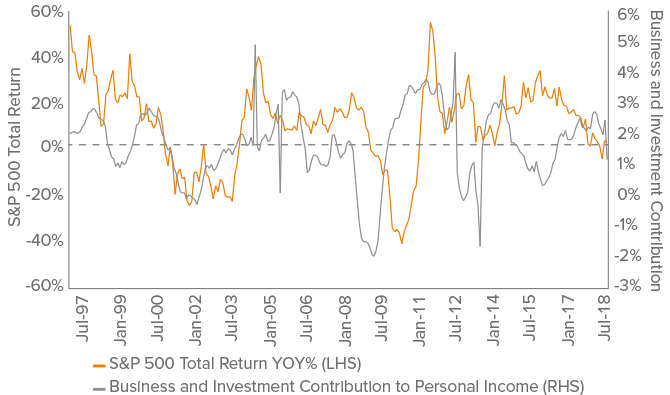 Source: Bloomberg, Voya Investment Management
Why it matters: Consumer spending growth within the U.S. correlates more strongly with personal income growth than with labor income growth.
Current state: Industrial activity is a leading indicator and a swing factor for global growth; consequently, it tends to drive equity market performance. The performance of the S&P 500 index closely tracks changes in manufacturing new orders. Growth in the non-labor income components of personal income has slowed meaningfully and ties with the weakness in retail sales growth experienced earlier in the year. The sideways year-over-year trends in equity market performance and lower interest rates have contributed to the weakness in the non-labor components of income, which account for roughly 30% of total personal income.
Voya's view: As the swing factor for growth, developments in industrial activity strongly influence equity market performance and, in essence, enable industrial activity to disproportionately influence personal income and overall economic growth. Hence, the financial markets provide an important transmission mechanism for industrial weakness to filter into the services sector. We expect this transmission mechanism to act as a near-term constraint on growth.
Consumers Confident in Today, Less So in Tomorrow
Figure 3. Present and future confidence remain high despite their divergence
Conference Board: Future versus Present Confidence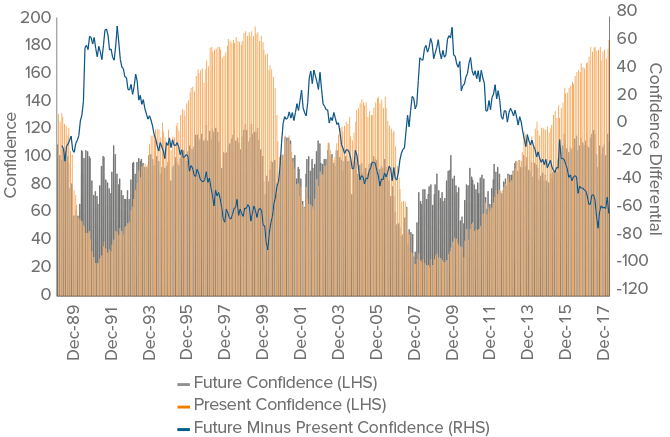 Source: Bloomberg, Voya Investment Management
Why it matters: The dispersion in consumer confidence between current and future conditions has declined toward levels that often precede a recession.
Current state: Despite the influence of trade wars and a broad array of uncertainties, consumer confidence in the U.S. and Europe remains near historically high levels regarding current conditions. However, consumers are less optimistic about the future.
Voya's view: Growing confidence around the current situation is usually what drives divergence in confidence as the economic cycle progresses. Therefore, it is the shock to current confidence that usually creates the recessionary tipping point. Despite the divergence in confidence between present and future conditions, confidence levels for both indicators remain relatively high, which lessens the risk of a sharp slowdown in activity.
Nonetheless, any persistence in consumers' uncertainty regarding the future is a warning sign that we will closely monitor, as it could morph into an abrupt halt of economic activity. While all three of these factors remain stable, if emerging signs of weakness persist, they could derail consumers. We believe, however, there are reasons to be cautiously optimistic. As we explore in the next section, help is on the way.
The Path to Sustaining Economic Expansion
Continued Resilience in Services Payrolls
Payroll losses within the broader goods and services sector have accompanied recent U.S. recessions. The professional and business sub-sector, however, has proven to be more effective as a leading indicator of economic contraction. There is good news: payroll growth in the professional and business sub-sector has slowed but we still expect growth to remain comfortably positive.
Elevated Savings Rates
Savings provide a potential buffer for consumer spending. In contrast to the period preceding the 2008 crisis, the savings rate within the U.S. is high, as consumers have generally resisted the temptation to increase leverage and draw down on savings. Within the U.S., the elevated savings rate will continue to provide a buffer to mild income weakness — although it will not provide much protection in the event of job losses. Savings rates have always been higher within Europe. In Europe, the current cushioning potential is better than before the commodity downturn and similar to before the financial crisis.
Resolution of the Trade War
The trade war has negatively impacted business confidence and has hindered global investment. Despite certainty regarding the "safety" of capital investments in the U.S., a domestic investment boom has not materialized. Reconfiguration of supply chains takes time and some companies may be deferring investment until the rules of the game are better defined. Similarly, within Europe and Asia, companies also may be exhibiting caution with respect to investments due to trade uncertainty, although other hindering factors within those economies also exist. Within financial markets, optimism is currently high regarding the prospect of a truce in the trade war and perhaps something better. So far, however, the trade war has lasted over a year and has only escalated. Trade uncertainty remains a key risk to global economic growth, with tariffs on consumer goods being the latest threat. These tariffs, if implemented, would undoubtedly have a negative impact on the services sector. By contrast, any truce or resolution to the trade disputes would surely provide a renewed boost to global growth.
Monetary Policy Support
Central banks around the world have begun to ease in earnest with over 20 central banks, including the Federal Reserve, cutting rates during the month of August. The European Central Bank (ECB) joined the fray in September and the Bank of Japan (BOJ) is also considering easing. Outside the developed markets, China has continued to implement an array of targeted stimulus measures, with an easing of bank reserve requirements being the latest addition. Importantly, China's credit impulse has recently intensified. It tends to lead global economic activity and provides hope that monetary policy can still be effective, even if it has become less efficient. Recently, the combined effect of central bank actions has led to improvement in global money supply growth. Money supply growth tends to lead economic activity and should aid global growth in the absence of an escalation in the trade war.
Fiscal Support
Fiscal support has waned somewhat in the U.S. with the effects of tax reform and increased government spending fading. Proposals for infrastructure spending and additional tax cuts have been floated, although these seem unlikely to come to fruition. Fiscal support seems more likely outside the U.S. Within Europe, Italy has pushed for some leeway and its new, more European Union-friendly government may get some of the leeway it seeks. Germany is also facing internal pressure to relax its purse strings, particularly its balanced budget requirement. More pain probably will be needed before Germany is willing to relinquish this requirement. With respect to fiscal stimulus, China remains the elephant in the room, having already undertaken and shown ongoing willingness to stimulate its domestic demand through tax cuts and infrastructure spending, among other measures.
Conclusion
The global industrial growth slowdown is not yet over. But assuming no further escalation of trade tensions, it is likely near a bottom. Nonetheless, impacts from Brexit and other idiosyncratic developments have the potential to constrain the recovery. The services sector has remained highly resilient but has already incurred some damage from the various sources of industrial weakness. The duration and severity of ongoing industrial weakness ultimately hold the key to determining how much the services sector will slow. Our assessment is that a further slowing of global growth is far more likely than a recession in the U.S. or Europe. We believe the proactive steps taken by central banks, the prospect of fiscal support and the potential for self-interest to cap the magnitude of the trade dispute all suggest that industrial weakness will not spread deeply enough into the services sector to lead to payroll losses, and ultimately to a recession.
IM962289
The Standard & Poor's 500 index is an unmanaged index that measures the performance of securities of approximately 500 of the largest companies in the United States. The Index does not reflect fees, brokerage commissions, taxes or other expenses of investing. Investors cannot invest directly in an index.
Index performance is shown for illustrative purposes only. Indexes are unmanaged. They do not reflect any management, custody, transaction or other expenses, and generally assume reinvestment of dividends, income and capital gains. You cannot invest directly in an index. Performance of indexes may be more or less volatile than any investment strategy.
Voya Investment Management has prepared this commentary for informational purposes. Nothing contained herein should be construed as (i) an offer to sell or solicitation of an offer to buy any security or (ii) a recommendation as to the advisability of investing in, purchasing or selling any security. Any opinions expressed herein reflect our judgment and are subject to change. Certain of the statements contained herein are statements of future expectations and other forward-looking statements that are based on management's current views and assumptions and involve known and unknown risks and uncertainties that could cause actual results, performance or events to differ materially from those expressed or implied in such statements. Actual results, performance or events may differ materially from those in such statements due to, without limitation, (1) general economic conditions, (2) performance of financial markets, (3) interest rate levels, (4) increasing levels of loan defaults (5) changes in laws and regulations and (6) changes in the policies of governments and/or regulatory authorities. Past performance is no guarantee of future returns.
The opinions, views and information expressed in this commentary regarding holdings are subject to change without notice. The information provided regarding holdings is not a recommendation to buy or sell any security. Fund holdings are fluid and are subject to daily change based on market conditions and other factors.
©2019 Voya Investments Distributor, LLC • 230 Park Ave, New York, NY 10169 • All rights reserved.