We consider the coronavirus outbreak a temporary shock, inducing a technical recession but not fundamentally impairing productive capacity. Considering this and an expanded equity risk premium, we see stocks as more attractive than bonds.
As SARS-CoV-2, better known as the coronavirus, has spread outside China, much of the world has struggled to comprehend what is unfolding. Until mid-February, the contagion was largely confined to China; but Italy, Iran and Spain have since witnessed dramatic spikes in the number of infections. The number of countries with at least one infection also has skyrocketed. The Center for Disease Control declared the outbreak a global pandemic and, as of March 17, had confirmed nearly 5,900 cases in the United States. Most of the cases have appeared in California, New York and Washington, with most deaths so far in the latter.
The path of the virus and countries' ability to contain it are still unclear. The data suggest that infections will rise substantially in the United States before we see a plateau and decline. This reality and the potential for very bad outcomes is causing panic to grip the markets. Making matters worse, on March 7 Saudi Arabia removed its oil price controls, sending the price of crude plummeting. Wall Street's "fear gauge," the VIX Volatility index (Figure 1), has spiked to levels last seen in the depths of the financial crisis.
The downtrend of new infections in China and Korea is encouraging, as stringent quarantines and other measures have begun to take effect. While these countries are not out of the woods yet, their experience provides a playbook for others to combat the virus. Italy's heartbreaking experience — forced to ration limited healthcare resources — shows that slowing the influx of patients into the hospital system, "flattening the curve," is critical. To do this, governments must take aggressive preventative actions, including rapidly quarantining populations with a high risk of carrying the virus. Clearly, one result of such steps will be dramatically reduced economic activity; the longevity of the slowdown, however, is still highly uncertain.
Tactical Indicators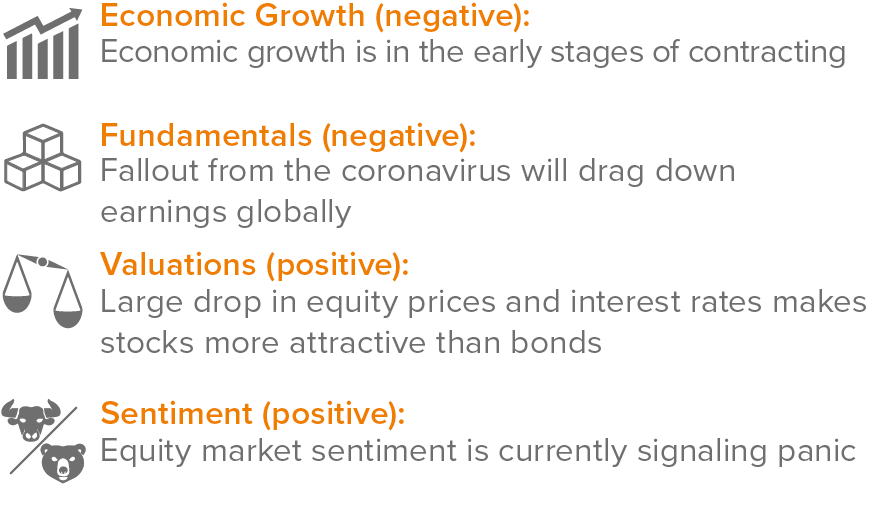 Figure 1. VIX volatility index has spiked to levels last seen in the depths of the financial crisis
CBOE VIX volatility index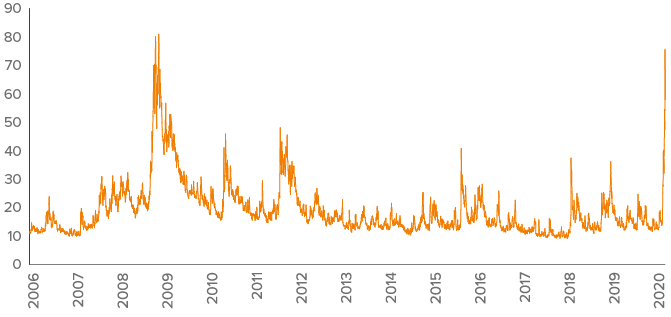 Source: Bloomberg, Voya Investment Management, as of March 13, 2020
Figure 2. Monetary policy has become looser in response to virus-driven demand shock
Fed funds effective rate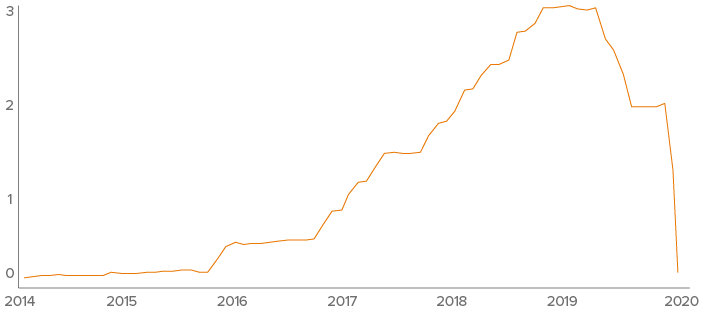 Source: Federal Reserve Bank of St. Louis, Voya Investment Management, as of March 15, 2020
Figure 3. Keeping the financial plumbing working to provide liquidity is a must
Goldman Sachs U.S. financial conditions index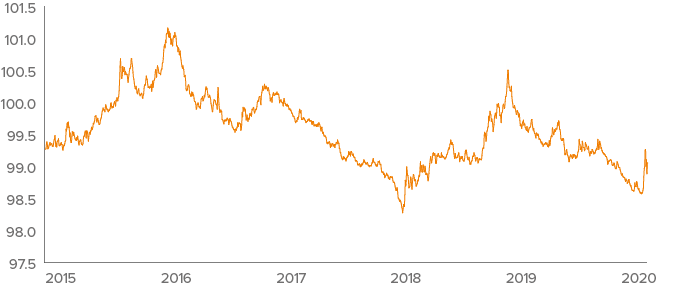 Source: Bloomberg, Voya Investment Management, as of March 9, 2020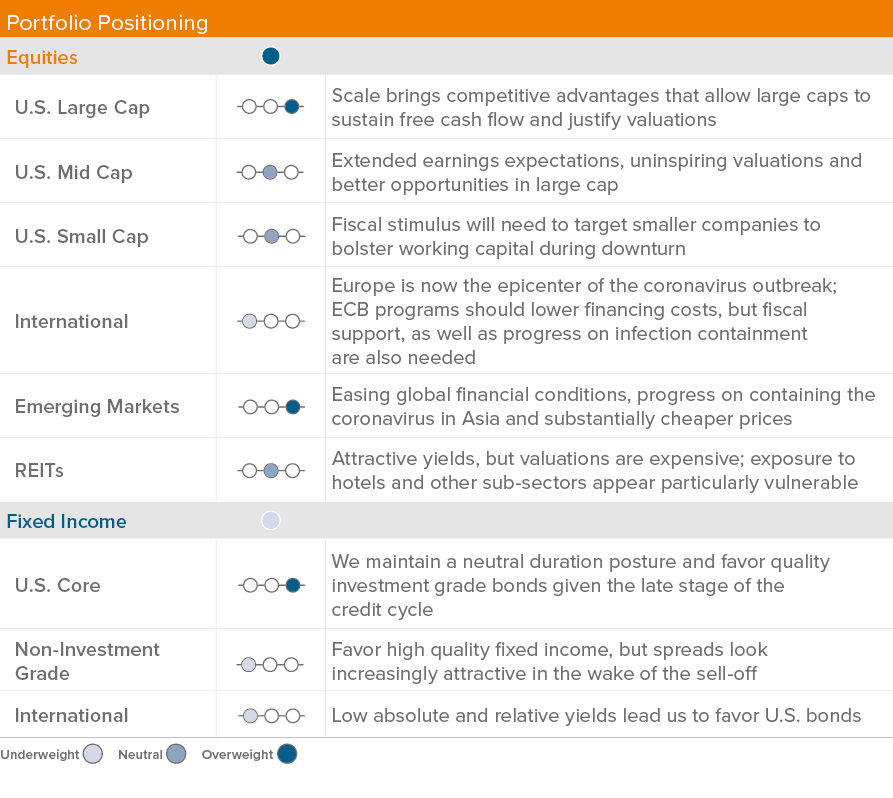 Investment Outlook
With the social and economic consequences of the coronavirus outbreak still highly uncertain, abnormally high volatility will persist for the foreseeable future. Nonetheless, we view the outbreak as a temporary, exogenous shock to both the demand and supply sides of the global economic system, culminating in what we anticipate will be a relatively shallow, technical recession. Our research suggests that once the virus is contained, output and growth should resume at its previous levels. Although the coronavirus is both more deadly and contagious, and thus potentially more disruptive, than other viruses, evidence from Asia appears to show that if we take proper preventive steps, we should be able to get the spread under control within the next few months.
It is way too early for any country to claim victory and many concerns have been raised about the U.S. healthcare system's preparedness, so confidence bands around our base case are wide. While the knock-on effects of the viral outbreak will take time to work their way through the economy, productive capacity should not be fundamentally impaired, in our opinion.
It is also important to remember the starting point from which the outbreak occurred. Following the global slowdown in 2018 and early 2019, the Federal Reserve provided a couple doses of stimulus that appeared to be laying the groundwork for a pickup in growth. There was a lot of momentum heading into year-end: trade concerns had subsided, manufacturing activity was accelerating, and the U.S. stock market was setting all-time highs. Additionally, consumers have been in a fortified position for several years with labor markets tight and household balance sheets strong, which was not the case during the last bear market in 2007–2008. Although spending will certainly dip, we expect that most of the job market will hold up; as a result, consumers should remain more resilient than in other recessionary periods.
Much of this view is based on our expectations for supportive federal policy responses. The Federal Reserve has demonstrated its willingness to counter the demand drop with an off-cycle, 50-basis-point (bp) rate cut at the beginning of March and another 100-bp cut on March 15, taking its target rate to a range of 0.00–0.25% (Figure 2). These actions, the accompanying guidance and lack of inflation signal to us that the Fed stands ready to deliver more stimulus to limit the tightening of financial conditions (Figure 3). We also anticipate the government will unveil a fiscal package that we hope will be targeted at the most vulnerable segments of the economy.
Against this backdrop and alongside violent, multiple de-ratings in stocks that have expanded the equity risk premium, we believe stocks are currently more attractive than bonds. Within asset classes we maintain our preference for lower beta large cap U.S. equities and higher quality fixed income. We watch for signs of confidence restored before entering or adding to the most beaten down asset classes.
IM1123523
Disclaimer
Voya Investment Management has prepared this commentary for informational purposes. Nothing contained herein should be construed as (i) an offer to sell or solicitation of an offer to buy any security or (ii) a recommendation as to the advisability of investing in, purchasing or selling any security. Any opinions expressed herein reflect our judgment and are subject to change. Certain of the statements contained herein are statements of future expectations and other forward-looking statements that are based on management's current views and assumptions and involve known and unknown risks and uncertainties that could cause actual results, performance or events to differ materially from those expressed or implied in such statements. Actual results, performance or events may differ materially from those in such statements due to, without limitation, (1) general economic conditions, (2) performance of financial markets, (3) interest rate levels, (4) increasing levels of loan defaults (5) changes in laws and regulations and (6) changes in the policies of governments and/or regulatory authorities. Past performance is no guarantee of future returns.
The opinions, views and information expressed in this commentary regarding holdings are subject to change without notice. The information provided regarding holdings is not a recommendation to buy or sell any security. Strategy holdings are fluid and are subject to daily change based on market conditions and other factors.