Weekly Notables
Performance in the US loan market continued to firm during the week ended November 17, as the Morningstar ® LSTA ® US Leveraged Loan Index (Index) returned 0.40% for the seven-day period. The average Index bid price moved higher by 21 bp, closing out the period at 92.93.
In the primary market, a handful of LBO-related deals launched during the week, while the forward calendar indicated an excess of repayments over new supply of about $2.7 billion, versus net supply of $247 million at the previous reading.
Secondary trading levels continued to recover from the declines experienced in September. Double-B, Single-B and CCC loan performance firmed, posting a positive return of 0.31%, 0.49% and 0.12%, respectively.
CLO managers priced six new deals, bringing YTD levels to $118.99 billion. On the other hand, retail loan funds posted an outflow of $373.7 million for the week ended November 16. On a YTD basis, there have been roughly $4.09 billion of outflows versus last year's record $34.9 billion inflow for the comparable period (Lipper weekly data).
There were no defaults in the Index during the week.
Average Bid
November 1, 2017 to November 17, 2022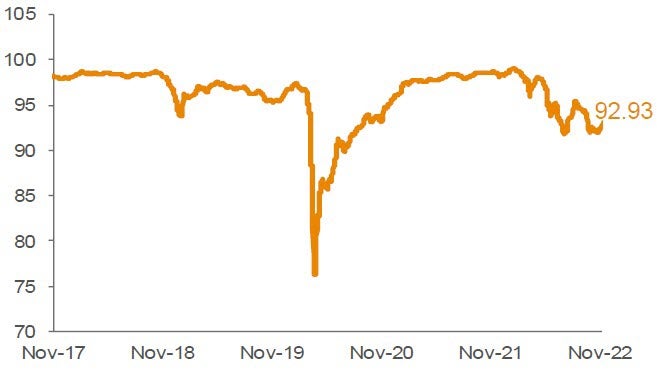 Average 3-YR Call Secondary Spreads(1,2)
November 1, 2017 to November 11, 2022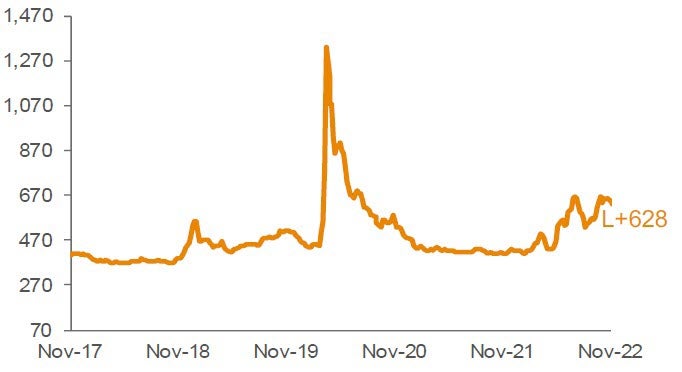 Lagging 12 Month Default Rate(3)
November 1, 2017 to November 17, 2022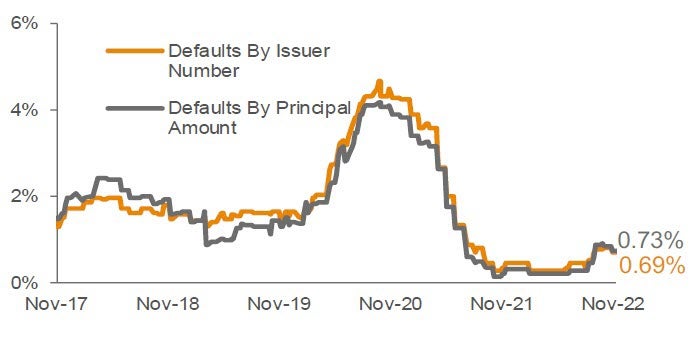 Index Status

Source:  Pitchbook Data, Inc./LCD, Morningstar ® LSTA ® Leveraged Loan Index. Additional footnotes and disclosures on back page. Past performance is no guarantee of future results.   Investors cannot invest directly in the Index. *The Index's average nominal spread calculation includes the benefit of LIBOR floors (where applicable).