Despite the headline worries and higher volatility, we view the macro backdrop as sturdy enough to extend the economic expansion.
Economic growth is slowing; the question now is whether it will stabilize near trend. Global manufacturing has declined for 15 months and is still contracting; inventories are building and business confidence has diminished. Adding on to these challenges, President Trump's threat to impose new tariffs on Chinese imports — effectively taxing all Chinese goods imported into the United States — intensified investors' concerns about the risks facing the global economy, and led to declining global bond yields.
As of August 7, 2019, the ten-year U.S. Treasury yielded 1.65% while the ten-year Japanese government bond yield was -0.20% and the ten-year German Bund yielded -0.59% (Figure 1). Some 43% of the global ex-U.S. investment grade index is currently trading at negative yields, up from 20% late last year.1 As a result of this downward pressure on yields, long duration U.S. bonds were the best performing major asset class over the last three months, returning 8.28%.2 There are concerns that the bond market might signal the economy is not well. Still, U.S. unemployment, one of the best measures of economic wellbeing, remains exceptionally low.
This confluence of circumstances put the Federal Reserve in a precarious position at its July policy meeting: investors and the Trump administration were demanding more monetary accommodation, yet other voices noted that in the midst of the longest expansion on record, rate cuts seem unnecessary and might reduce the ammunition available to combat future economic shocks. Ultimately, the Fed did cut rates by 25 basis points (bp), citing as its reasons downwardly revised estimates of the "neutral" interest rate and "natural" rate of unemployment, sub-target inflation and rate-cutting as "insurance" against downside risks to global growth. Another rate reduction in September appears likely; beyond that, there is too much uncertainty to make confident predictions. What is more important to us, however, is the market sentiment Fed officials engender when communicating future policy direction.
Tactical Indicators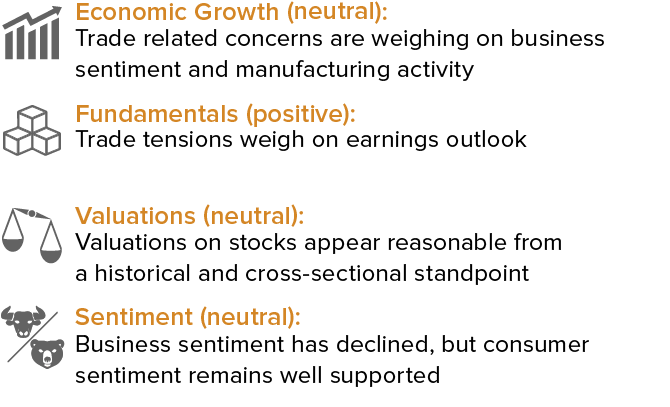 Figure 1. Ten-year German Bunds are leading sovereign bond yields lower
Ten-Year Government Yields

Source: Bloomberg, Voya Investment Management, as of 8/07/19
Figure 2. Global earnings revisions are beginning to decline
MSCI ACWI Earnings Estimate Revision Ratio

Source: Bloomberg, Voya Investment Management, as of 8/4/19
Figure 3. CNY/USD has broken above 7
2019 CNY/USD Exchange Rate History

Source: Goldman Sachs, Bloomberg, Voya Investment Management, as of 8/07/19
Portfolio Positioning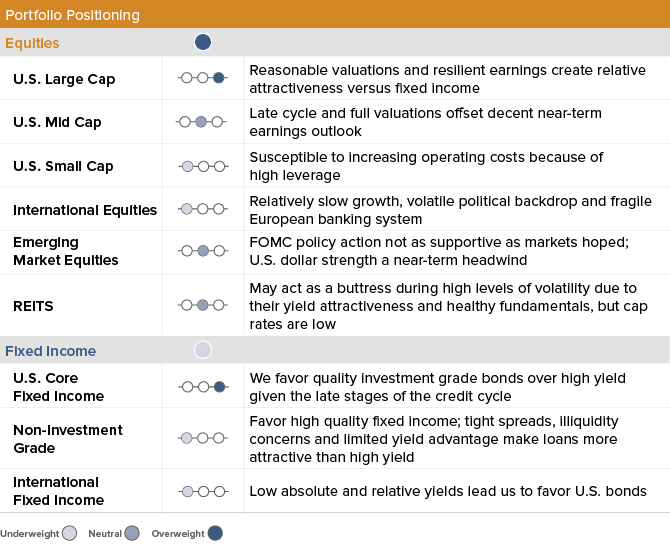 Investment Outlook
Second quarter earnings season is upon us and as of August 9, most S&P 500 firms have reported. As usual, the majority of companies are reporting numbers that exceed analyst expectations, both on the top and bottom line. However, the blended YoY earnings growth for the S&P 500 is -0.7%. What's more, earnings revisions, which are an indicator of future stock market performance, are beginning to decline (Figure 2). After several months of improvement and a trajectory headed back to positive territory, this reversal is disappointing and could be a reason why earnings beats are not being rewarded. The major cause of this digression in expected future profits is the reigniting of United States-China trade tensions.
Up until a month ago, the prospects for reaching a trade deal, or at least not escalating tensions, seemed promising. Now — after President Trump unexpectedly announced the U.S. will implement another round of China tariffs if no progress is made on future trade negotiations, followed by tweets that future talks might be suspended — tail risks are increasing and therefore markets are repricing risk. Currency markets also have adjusted in a way that is harmful to U.S. interests. Since April 2018, the yuan (CNY) has depreciated against the U.S. dollar (USD) by more than 12%. For the first time since 2008, the CNY/USD has been trading above seven yuan per dollar (Figure 3), a level markets often have viewed as a line in the sand. Recent dollar strength has hurt emerging market currencies, commodities and risk assets generally. The combination of trade turmoil and mixed messages from the Fed increases the risk that the dollar remains firm and leaves emerging market stocks particularly vulnerable. As a result, we have decreased our allocation to the asset class. Given the less rosy global growth outlook and higher effective foreign borrowing costs, our preference for U.S. assets rises as the economy is fortified through resilient domestic demand driven by still healthy consumers.
Despite the headline worries and higher volatility, we view the macro backdrop as sturdy enough to extend the economic expansion. Labor markets are tight, wages are rising at a manageable clip, corporate balance sheets are strong and global central bank guidance suggests policy will become more accommodative over the short-to-medium term, which gives us some degree of comfort in the face of a yield curve shape that historically has been an ominous sign. With negative real yields on cash and limited carry on bonds, we continue to prefer equities and emphasize diversification as a means of managing risk.
IM925378
1 Source: "43% of global bonds ex-US trade at negative yields," email from Torsten Slok, Deutsche Bank Research, July 31, 2019.
2 Source: Morningstar, 7/31/2019. Index = Bloomberg Barclays U.S. 20+ Year Total Return index.
Past performance does not guarantee future results.
This commentary has been prepared by Voya Investment Management for informational purposes. Nothing contained herein should be construed as (i) an offer to sell or solicitation of an offer to buy any security or (ii) a recommendation as to the advisability of investing in, purchasing or selling any security. Any opinions expressed herein reflect our judgment and are subject to change. Certain of the statements contained herein are statements of future expectations and other forward-looking statements that are based on management's current views and assumptions and involve known and unknown risks and uncertainties that could cause actual results, performance or events to differ materially from those expressed or implied in such statements. Actual results, performance or events may differ materially from those in such statements due to, without limitation, (1) general economic conditions, (2) performance of financial markets, (3) interest rate levels, (4) increasing levels of loan defaults, (5) changes in laws and regulations, and (6) changes in the policies of governments and/or regulatory authorities.
The opinions, views and information expressed in this commentary regarding holdings are subject to change without notice. The information provided regarding holdings is not a recommendation to buy or sell any security. Fund holdings are fluid and are subject to daily change based on market conditions and other factors.
Voya Investment Management Co. LLC ("Voya") is exempt from the requirement to hold an Australian financial services license under the Corporations Act 2001 (Cth) ("Act") in respect of the financial services it provides in Australia. Voya is regulated by the SEC under U.S. laws, which differ from Australian laws.
This document or communication is being provided to you on the basis of your representation that you are a wholesale client (within the meaning of section 761G of the Act), and must not be provided to any other person without the written consent of Voya, which may be withheld in its absolute discretion.