Recently, we asked which had more clout with investors, the FOMC or President Trump's tweets. Now we know: tweet trumps Fed.
In June we asked which had more clout with investors, the Federal Open Market Committee (FOMC) or President Trump's tweets. This month we got the answer: tweet trumps Fed.
At its July policy meeting, the FOMC cut the fed funds target rate by 25 basis points (bp) and stopped its balance sheet reduction ("quantitative tightening") two months early, citing as reasons global developments, growth uncertainties and muted inflationary pressures. Though some investors had hoped for 50 bp, most had come around to expecting 25, so no real surprise; but the hawkish tone of the presser disappointed, an outcome we started preparing for early in July when Chairman Powell hinted that the Fed was gearing up for its first rate cut in more than a decade. Of course, investors' disappointment with the Fed was overshadowed almost immediately as President Trump tweeted he would impose 10% tariffs on the final $300 billion tranche of Chinese imports; this reignited fears of recession, driving stock prices and bond yields down across the globe.
It seems markets can cope with not getting exactly what they want from the Fed, maybe because investors can see what's coming. The balance of macro risks remains tenuous; heightened uncertainty surrounding United States-China trade negotiations makes it likely that the sentiment swings we've seen in the past 12 months will persist. From a long-term perspective, we believe markets are overreacting to the negative trade headlines. Tactically, we are using sell-offs resulting from trade rhetoric to selectively capitalize on buying opportunities.
We are generally positive on risk assets as we expect U.S. consumer strength to prolong the economic expansion. While we believe fears of a downgrade cycle are overblown, at this stage in the cycle we are mindful of volatility and prefer higher-quality investments that are less exposed to cyclicality. For this reason we maintain our preference for securitized credit, which provides access to the U.S. consumer and the relative attractiveness of the mortgage debt cycle.
Returns, Spreads and Yields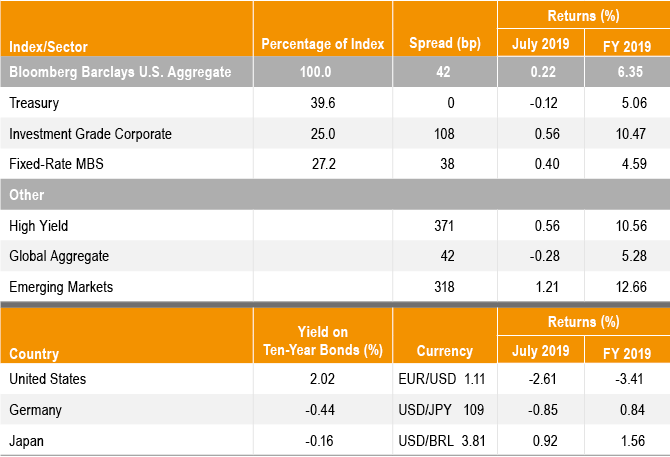 Source: Bloomberg, JPMorgan, Standard & Poor's. All spreads are to U.S. Treasurys and are option-adjusted except for emerging markets, which are nominal. All returns are total returns including dividends, expressed as percentages, in U.S. dollars.
Bond Market Outlook
Global Rates: U.S. rates remain lower, pressured by slowing global growth and lower global rates
Global Currencies: U.S. dollar rangebound against developed markets, weaker versus emerging markets except China
Investment Grade: 2Q19 earnings and revenue growth remain supportive but trade disputes could pressure 2H19 results
High Yield: trade tensions, weaker global PMIs demand caution; further spread tightening has to come from energy or CCC-rated bonds
Securitized: Lower financing rates should provide a near-term tailwind for housing but not necessarily agency mortgage bonds
Emerging Markets: The EM-DM growth differential will increase as DM growth continues to soften
Sector Outlooks
Global Rates and Currencies
The probability of another Fed cut in September shifted from 86% to 60% after the Fed's "hawkish" cut in July, and subsequently increased after the equity market sell-off following the additional Chinese tariff announcement. After the meeting, Trump criticized the lack of action by the Fed and reignited tariffs with China, sending market expectations for a September cut to 100%. The market now expects 75 bp worth of cuts by year-end, a number we believe is likely overdone; we see room for one more 25 bp reduction. This, coupled with negative yields in Europe and Japan, will cap how high U.S. Treasury yields can move, as U.S. rates continue to provide a relative cushion in risk-off environments.
Markets expect 18 bp of cuts in the Eurozone by year-end and 22 bp one year from now; the outlook is not for a large cutting cycle. The European Central Bank has revived expectations of quantitative easing (QE), which are pushing Eurozone yields lower; ten-year German Bunds continue to touch historic lows.
Investment Grade (IG) Corporates
IG spreads continued to rally in July as prospects of Fed easing overwhelmed trade concerns but have since widened with the renewed spark in tensions. Second-quarter earnings have surprised to the upside, but second-half guidance has been revised lower amid the impact of global trade disputes. Domestically focused issuers are carrying the torch; issuers with more than 50% of foreign revenues are posting negative earnings growth and flattish sales, while domestic issuers with less than 25% foreign revenues are seeing modest earnings growth and strong sales. Technical factors remain supportive as July saw strong foreign inflows, while new supply remains lower year-over-year, particularly among BBB-rated credits. Valuations remain fair, but continued trade disputes will likely cap significant spread compression.
High Yield (HY) Corporates
July saw continued outperformance from the higher rated tranches. The new issue market remained robust, with warmer receptions for mid-tier and higher-quality issues. At current levels, we believe BB- and B-rated bonds are tapped out but could grind higher if the "goldilocks" scenario persists. The same pockets of weakness — autos and technology — remain but energy has joined their ranks. Energy and CCC-rated bonds have lagged and need watching. These spots could drive a last leg of outperformance if we see a capitulation toward the upside.
Securitized Assets
Agency residential mortgage-backed securities (RMBS) outperformed Treasurys as interest-rate volatility moved lower throughout July. In a reversal from June, G2s lagged conventional mortgages due to "less aggressive" overseas and Fed demand. Interest rates remained rangebound, allowing cheaper bonds to outperform. Lower financing rates should provide a near-term tailwind for housing but not necessarily agency mortgage bond performance.
We retain our positive tactical outlook for non-agency residential mortgagebacked securities (RMBS), as spread levels still imply a risk-adjusted, relative-value advantage over alternatives. We believe expectations for faster prepays will foster spread tightening pressure for much of the universe. Credit risk transfer securities should benefit as well, but will continue to be correlated with high yield and prone to broader changes in market sentiment.
In our view, relative value continues to improve for commercial mortgage-backed securities (CMBS) following July's underperformance. While the new issue pipeline remains substantial, consistent demand and relatively attractive spreads leave us positive on balance. We maintain our neutral strategic outlook: we believe that fundamentals, while strong, have broadly plateaued.
With an expectation that volatility will persist through August, our tactical and strategic outlook for asset-backed securities (ABS) remains a function of broader risk sentiment, offering outperformance potential when market beta is negative and vice versa. While questions loom around the prospects for subprime borrowers, U.S. consumers generally are strong.
Emerging Market (EM) Debt
EM growth was less buoyant in 1H19, but we think it is poised to improve in 2H19 as financial conditions ease and investment rebounds. Moderation in Central and Eastern Europe, Middle East and Africa (CEEMEA) will be offset by a pickup in EM Asia, while Latin America is subject to numerous idiosyncratic issues. The list of trade tensions is expanding beyond U.S.-China to U.S.-Mexico and U.S.-India, impacting sentiment; how much longer can this play out before the real global economy is affected? We expect the EM-DM growth differential will start to increase from 2H19 to 2020 as DM growth continues to soften.
IM922986
Past performance does not guarantee future results.
This commentary has been prepared by Voya Investment Management for informational purposes. Nothing contained herein should be construed as (i) an offer to sell or solicitation of an offer to buy any security or (ii) a recommendation as to the advisability of investing in, purchasing or selling any security. Any opinions expressed herein reflect our judgment and are subject to change. Certain of the statements contained herein are statements of future expectations and other forward-looking statements that are based on management's current views and assumptions and involve known and unknown risks and uncertainties that could cause actual results, performance or events to differ materially from those expressed or implied in such statements. Actual results, performance or events may differ materially from those in such statements due to, without limitation, (1) general economic conditions, (2) performance of financial markets, (3) interest rate levels, (4) increasing levels of loan defaults, (5) changes in laws and regulations, and (6) changes in the policies of governments and/or regulatory authorities.
Voya Investment Management Co. LLC ("Voya") is exempt from the requirement to hold an Australian financial services license under the Corporations Act 2001 (Cth) ("Act") in respect of the financial services it provides in Australia. Voya is regulated by the SEC under U.S. laws, which differ from Australian laws.
This document or communication is being provided to you on the basis of your representation that you are a wholesale client (within the meaning of section 761G of the Act), and must not be provided to any other person without the written consent of Voya, which may be withheld in its absolute discretion.
©2019 Voya Investments Distributor, LLC • 230 Park Ave, New York, NY 10169 • All rights reserved.