We believe the growth slowdown outside the U.S., which began in 2018, is abating; economic growth is reaccelerating and global equities are at an inflection point.
The U.S. economy continues to do well: 3Q19 real GDP grew at 2.1% and the Atlanta Federal Reserve GDPNow is forecasting 2.3% 4Q19 growth. This would mark another above-trend quarter and three consecutive above-trend years. Consumers continue to drive the U.S. economy. With a strong November jobs report and the unemployment rate near a 50-year low (Figure 1), labor supply is becoming constrained. At some point this will put upward pressure on real wages, but for now has helped buoy confidence during the holiday spending season. Strength in the housing sector is another reflection of consumers' optimism. While the macro backdrop is supportive of households, we expect more growth impulse to emanate from the manufacturing sector. With the trade situation settling down we see capital expenditures picking up in 2020, which would enhance productivity.
The better growth outlook contributed to modestly higher bond yields in December and 4Q19, hampering rate sensitive assets such as real estate investment trusts and long duration bonds. Bonds generally experienced strong returns in 2019, with the Voya Multi-Asset Perspectives | January 2020 Bloomberg Barclays U.S. Aggregate index up nearly 9%. Returns over 4Q19 were essentially flat, however; rising rates offset tighter credit spreads, and high yield outperformed investment grade debt. This pattern is normal when equities rally, but it didn't hold for most of the year.
Cyclical areas of the market also bucked the trend which prevailed in the first nine months of the year, outperforming growth and defensive assets. Emerging market equities performed well in December as the U.S. dollar fell. The dollar weakness and the impressive year-end advance in global equities seemed to be at least partially attributable to the "Phase One" trade deal between the United States and China. Although not comprehensive, the deal has reassured investors that tensions between the two superpowers are unlikely to escalate in the near term, and it has reduced a major risk overhanging the market. The results of the recent UK election were also welcome relief for investors, ending the prolonged uncertainty over Brexit and allowing stakeholders to chart a path forward.
Tactical Indicators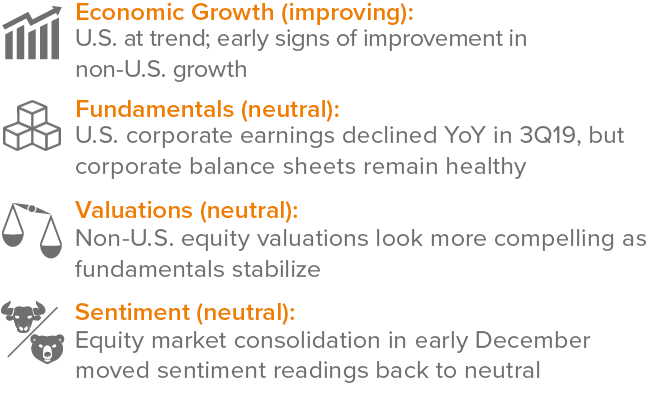 Figure 1. The U.S. labor market remains historically tight
U3 Unemployment Rate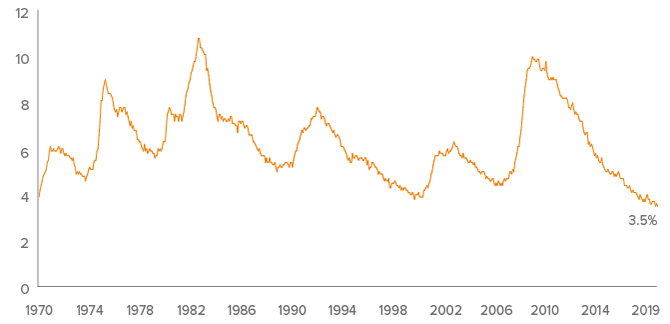 Source: Bloomberg, Voya Investment Management, as of 12/31/2019.
Figure 2. Fixed income mutual fund flows outstripped equity flows in every quarter of 2019
Mutual Fund Net Cash Flows ($ Billions)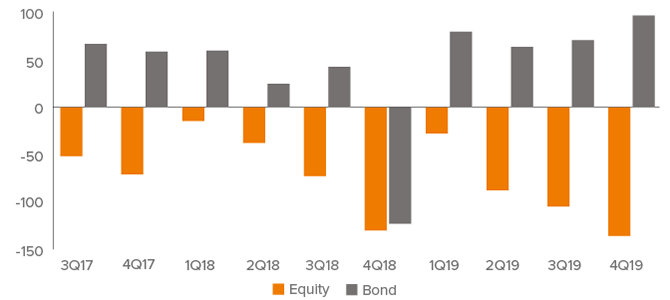 Source: Investment Company Institute, Voya Investment Management, as of 12/31/19.
Figure 3. Rising raw industrial commodity prices signal global economic health
Commodity Research Bureau Index (CRB) RIND Index: 2019 Price History

Source: Bloomberg, Voya Investment Management, as of 12/31/19.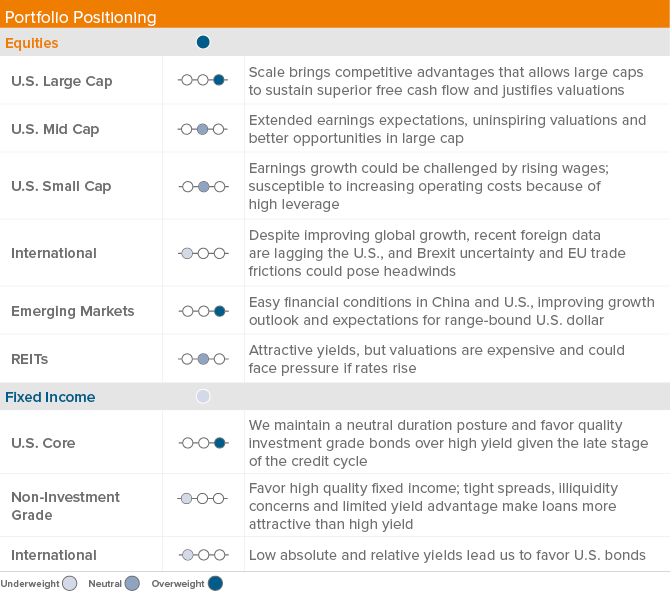 Investment Outlook
Our overarching investment thesis continues to be that the global growth slowdown ex-U.S., which began in 2018, is abating. Policy responses from the Federal Reserve and other central banks around the world are starting to feed through to the real economy. Dubbed as "insurance" cuts, the Fed moves are bearing fruit: inflation is ticking up towards the Fed's 2% target, confidence has been revived and economic activity is increasing. Although the effects from fiscal stimulus are dwindling, U.S. policy is still priced for growth, in our view.
Reaccelerating economic growth is a global phenomenon and we think global equities are at an inflection point. Growth is turning, but our research suggests that it has not been fully incorporated into asset prices. We see light institutional equity positioning and relatively weak mutual fund flows (Figure 2). Market breadth is encouraging, with approximately 80% of all industry groups in uptrends. Additionally, liquidity is abundant and is flowing through raw materials prices (Figure 3), which are rising.
Even with the exceptional returns produced by stocks in 2019, we maintain our overweight to equity with a preference for U.S. large caps, where promising fundamentals outweigh valuations above historical averages. We expect U.S. stocks, which are dominated by technology companies, to outperform EAFE stocks, which are Equities U.S. Large Cap Scale brings competitive advantages that allows large caps to sustain superior free cash flow and justifies valuations U.S. Mid Cap Extended earnings expectations, uninspiring valuations and better opportunities in large cap U.S. Small Cap Earnings growth could be challenged by rising wages; susceptible to increasing operating costs because of high leverage International Despite improving global growth, recent foreign data are lagging the U.S., and Brexit uncertainty and EU trade frictions could pose headwinds Emerging Markets Easy financial conditions in China and U.S., improving growth outlook and expectations for range-bound U.S. dollar REITs Attractive yields, but valuations are expensive and could face pressure if rates rise Fixed Income U.S. Core We maintain a neutral duration posture and favor quality investment grade bonds over high yield given the late stage of the credit cycle Non-Investment Grade Favor high quality fixed income; tight spreads, illiquidity concerns and limited yield advantage make loans more attractive than high yield International Low absolute and relative yields lead us to favor U.S. bonds heavily weighted in financials. We have become more sanguine on international stocks overall, but prefer emerging to developed market equities. The quieting of trade tensions is helping developing countries. China Manufacturing PMIs are hooking up, as modest stimulus measures initiated at the beginning of 2019 start to take effect. In a sign of commitment to keep the momentum of industrial improvement going, the People's Bank of China announced it will cut banks' reserve requirement ratio by 50 basis points. Barring an abrupt, significant and sustained change in the economic data, we think U.S. monetary policy is unlikely to change any time soon. Therefore, a stable to slightly weaker U.S. dollar should serve as an additional tailwind for China and other export oriented or dollar debt leveraged EM countries.
As always, risks to our outlook are manifold. Perhaps the most concerning are those of a geopolitical nature. In recognition of our limited visibility on that front, we remain overweight investment grade bonds within our multi-asset portfolios. While geopolitically induced volatility could derail our forecast, such events and their impacts on the markets are nearly impossible to predict. We think there is a higher probability that markets will be driven by fundamentals, which are solid.
IM1052099
Past performance does not guarantee future results.
This commentary has been prepared by Voya Investment Management for informational purposes. Nothing contained herein should be construed as (i) an offer to sell or solicitation of an offer to buy any security or (ii) a recommendation as to the advisability of investing in, purchasing or selling any security. Any opinions expressed herein reflect our judgment and are subject to change. Certain of the statements contained herein are statements of future expectations and other forwardlooking statements that are based on management's current views and assumptions and involve known and unknown risks and uncertainties that could cause actual results, performance or events to differ materially from those expressed or implied in such statements. Actual results, performance or events may differ materially from those in such statements due to, without limitation, (1) general economic conditions, (2) performance of financial markets, (3) interest rate levels, (4) increasing levels of loan defaults, (5) changes in laws and regulations, and (6) changes in the policies of governments and/or regulatory authorities.
The opinions, views and information expressed in this commentary regarding holdings are subject to change without notice. The information provided regarding holdings is not a recommendation to buy or sell any security. Fund holdings are fluid and are subject to daily change based on market conditions and other factors.
Voya Investment Management Co. LLC ("Voya") is exempt from the requirement to hold an Australian financial services license under the Corporations Act 2001 (Cth) ("Act") in respect of the financial services it provides in Australia. Voya is regulated by the SEC under U.S. laws, which differ from Australian laws.
This document or communication is being provided to you on the basis of your representation that you are a wholesale client (within the meaning of section 761G of the Act), and must not be provided to any other person without the written consent of Voya, which may be withheld in its absolute discretion.