Covenant Lite: An Overview
At the outset, it is important to note that covenant-lite ("cov-lite") loans, i.e., senior secured loans that do not incorporate traditional performance-based maintenance covenants, are not a new or separate type of asset class. Cov-lite loans still reside at the senior-most position in a borrower's capital structure and benefit from a legal pledge of the borrower's assets.
In our view, the quality of an issuer's covenant package is but one of many factors to be considered when evaluating an investment in a particular senior loan. The number one consideration must always be the underlying credit quality of the borrower. Our philosophy is to invest in senior loans that exhibit the highest relative value (i.e., return for risk) within the asset class. We also target larger, relatively liquid loans to enhance our ability to actively manage our portfolios, since more actively traded loans typically provide better execution in times of technical and fundamental challenges. We believe this long-standing investment strategy, one grounded in fundamental credit analysis and rigorous on-going monitoring, is well attuned to mitigate in large part the potential risks presented by cov-lite loans.
History of Cov-lite Loans
Cov-lite loans are not a new phenomenon. However, the level of cov-lite issuance has varied over the years, depending upon economic conditions and, importantly, the supply/demand balance within the loan market. In 2007, on the heels of an historic increase in M&A activity, cov-lite issuance rose to 25% of total new loan volume, representing, at the time, approximately 17% of Index outstandings. Not surprisingly, this figure tapered off during the global financial crisis, but increased during the liquidityinfused ensuing recovery. As a result of the increase in the pace of new cov-lite issuance, the number of cov-lite loans as a percentage of the senior loan asset class has also grown, representing 79% of the Index at the end of 2018.
New Issue Volume of Cov-Lite Loans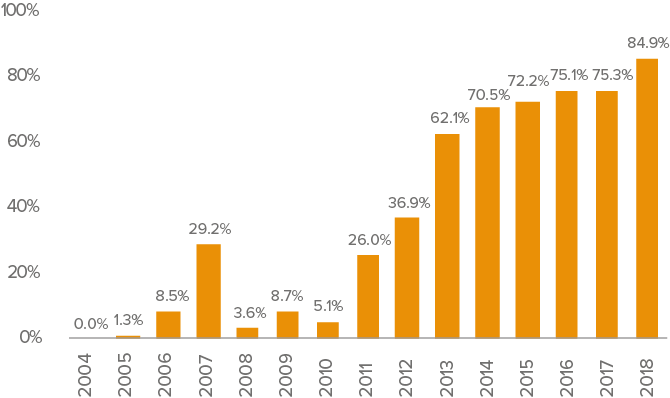 December 2004 – December 2018. Source: S&P LCD
Cov-lite as a Percentage of the S&P/LSTA Leveraged Loan Index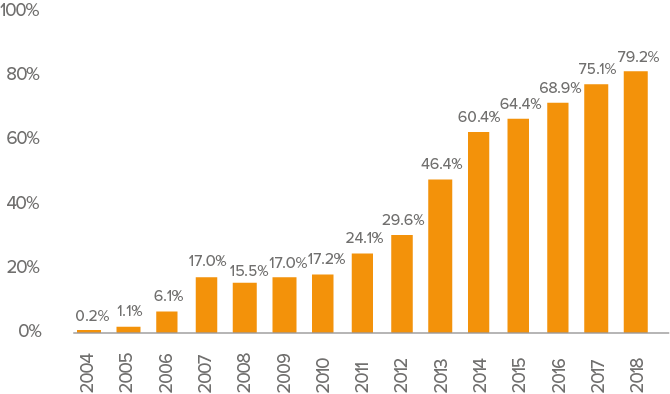 December 2004 – December 2018. Source: S&P LCD
Cov-Lite: What it isn't
It goes without saying that any borrower would prefer to issue a loan with few or no maintenance covenants, and as indicated by the previous charts, a large percentage of issuers in today's market are able to do so. Initially, the issuance of a cov-lite structure was preserved for the strongest issuers, and weaker borrowers typically had to include traditional financial maintenance covenants within their loan documentation. However, given strong demand for the asset class since the recovery took hold, that divide has generally diminished over the last year or so.
So, in today's market, cov-lite is not necessarily a binary indicator of the inherent weakness or strength of an underlying credit. Nor is it a harbinger of heightened payment default risk. In fact, for a loan with covenants, a covenant breach may automatically trigger an event of default for a loan, even absent a payment default. A cov-lite loan in the same financial position would not be subject to the restrictions that are imposed on a covenant defaulted borrower, giving the corporate management team the flexibility to manage their business when they need it most – during a financial crisis or recession.
On the investor side of the equation, the primary benefit of a traditional maintenance covenant is the ability of the loan investor to be the first to negotiate with the issuer in the event of a breach. That protection has worth, certainly, but the value proposition has been somewhat distorted in our view. While a covenant breach allows investors to reset the yield higher on the loan, which typically has a positive effect on secondary trading levels, the value of a maintenance covenant should never be confused with the protection that comes from having a pledge on the issuer's collateral. Put another way, the substantially greater historical average recovery after default of senior loans, which is a hallmark of the asset class, is a direct by-product of being secured, not necessarily of having a set of maintenance covenants.
In addition, a less than comprehensive understanding of cov-lite often drives a view that there are no formal restrictions on the borrower whatsoever. In truth, there remains a battery of prohibitions embedded within a credit agreement that restrict actions that could prove detrimental to the value of the senior secured loan. Moreover, most cov-lite term loans are part of a larger credit facility that includes a revolving line of credit. Many of these revolving lines of credit do have maintenance covenants, and in most cases these maintenance covenants are cross-defaulted to the term loans. This means that these maintenance covenants can kick-in and apply to the term loan, typically after the passage of time.
Further, the recovery risk does not differ significantly between covenant and cov-lite loans. Cov-lite senior secured loans typically have the same type of collateral with the same priority as other senior loans, meaning that potential recoveries from collateral are not directly affected by the presence or absence of covenants. More covenants does not equal higher credit quality or higher recovery potential. Even S&P cautions that it is "not recommending trading off credit quality for stronger covenants."
Monitoring is Key
When a cov-lite senior secured loan does not include financial maintenance covenants, lenders must monitor their credits independently. Investment managers who excel at fundamental credit analysis and apply effective risk management practices are the ones who will typically outperform in a market with a higher percentage of cov-lite loans.
Our process of investing in senior loans has always included rigorous ongoing monitoring as an essential element. We have coupled this monitoring with a willingness and ability to act quickly to avert losses. These qualities are critical when investing in cov-lite loans. Our track record in this area is clear. Since its inception in 2001, the Voya Senior Loan Unleveraged Composite has consistently had fewer defaults than the S&P/LSTA Leveraged Loan Index, a result, we believe, of not only of superior asset selection, but also of our focus on risk management.
IM921141
Disclosures
This commentary has been prepared by Voya Investment Management for informational purposes. Nothing contained herein should be construed as (i) an offer to sell or solicitation of an offer to buy any security or (ii) a recommendation as to the advisability of investing in, purchasing or selling any security. Any opinions expressed herein reflect our judgment and are subject to change. Certain of the statements contained herein are statements of future expectations and other forward-looking statements that are based on management's current views and assumptions and involve known and unknown risks and uncertainties that could cause actual results, performance or events to differ materially from those expressed or implied in such statements. Actual results, performance or events may differ materially from those in such statements due to, without limitation, (1) general economic conditions, (2) performance of financial markets, (3) interest rate levels, (4) increasing levels of loan defaults (5) changes in laws and regulations and (6) changes in the policies of governments and/or regulatory authorities.
The opinions, views and information expressed in this commentary regarding holdings are subject to change without notice. The information provided regarding holdings is not a recommendation to buy or sell any security. Fund holdings are fluid and are subject to daily change based on market conditions and other factors.