Review of 2021
The prevailing themes in 2021 were economies reopening, corporate balance sheet repair and strong capital market activity. These trends contributed to a general reversal of the myriad headwinds that marked a tumultuous 2020. While a global rollout of COVID-19 vaccines coupled with more effective treatment methods improved the trajectory of the pandemic from a medical perspective, the efforts of central banks and policy makers gave the economy its own "shot in the arm." The extraordinary monetary and fiscal support that originated from the depths of the severe pandemic-driven economic contraction largely continued into 2021, setting the stage for a solid year of performance in leveraged credit. 
Even so, we would be remiss to color everything with a rosy hue, as a number of new developments crept into the spotlight of evolving investor concerns. Global financial markets, to a large degree, were subject to a tug-of-war between conflicting economic forces. Easily, inflation was the most pressing of those forces. A combination of strong consumer demand springing from the macro recovery and constrained supply chains related to pandemic effects, created an inflationary pulse in almost all global economies. The "transitory inflation" narrative was a popular debate among market participants due to inflation prints not seen since the 1980s. Ultimately, the market and even the U.S. Federal Reserve (the "Fed") largely came to a consensus which pointed to elevated inflationary pressures for a longer period of time than originally anticipated. 
Underlying the inflation story, we continue to see global supply chain disruptions, bottlenecks and labor shortages. Understandably, those industries most exposed to supply chain challenges, such as autos, semiconductors and retail, continue to feel margin pressures. However, most companies have thus far been able to navigate around these constraints successfully, as strong earnings momentum has buoyed corporate credit health. Across the Pacific, credit concerns related to Chinese property developer Evergrande and a deceleration in China's economic recovery also contributed to the unease, but the volatility was mostly limited to Asian equity markets. Lastly, taper fears, albeit still quite topical, were mostly kept in check as the Fed continued its policy framework and de-coupled the slowing of asset purchases from rate lift-off, calming financial markets in the process.
The combination of the noted headwinds led to episodic volatility and spread widening in below-investment grade corporate credit markets, but the recovery tailwinds ultimately carried the day in terms of investment sentiment. As a result, 2021 delivered a solid return year for both senior loans and high yield bonds (Figure 1). Starting with the former, the asset class ushered in an above-coupon return of 5.20% as represented by the S&P/LSTA Leveraged Loan Index ("LLI"), outpacing 2020's full-year return of 3.12%. Meanwhile, high yield bonds, as represented by the Bloomberg U.S. Corporate High Yield index posted a total return of 5.28% for the comparable period, well short of the 2020 annual return of 7.11%. While the two asset classes performed in similar fashion for much of the year, deeper analysis uncovers distinct catalysts driving performance for each.
Figure 1. Total returns for loans and high yield bonds by ratings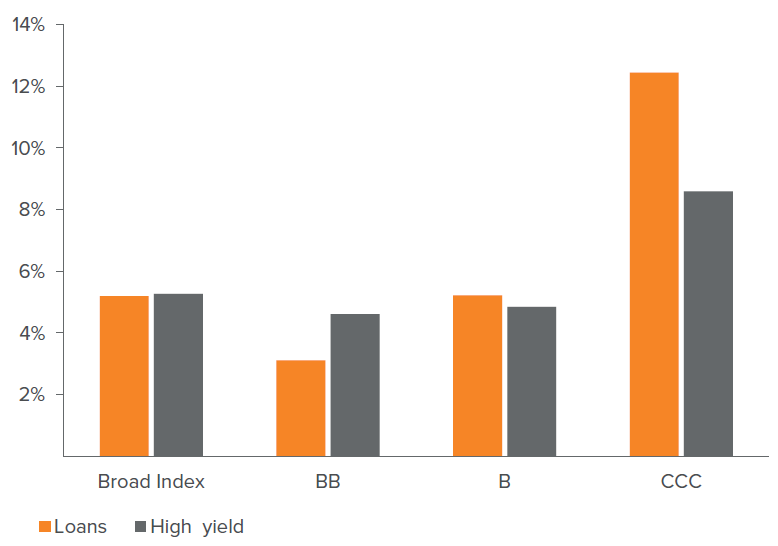 Source: S&P/LCD, Barclays, Bloomberg; data as of 12/31/21.
To provide context among senior loans, the starting point for the average bid within the LLI of 96.19 was positioned for healthy price upside, particularly given the supportive macro and technical backdrop. Among high yield bonds, while modest spread compression benefited returns amidst a relatively low-volatility environment, valuations started closer to historical tights. Unsurprisingly, the asset class was more sensitive to any heightened focus on rates, as compared to ultra-short duration loans. The resilience of the global economy and corporate credit health disproportionately benefited certain pockets of risk, as clearly evidenced when observing performance across below-investment grade ratings cohorts. 
The "risk-on" trade manifested itself in both markets, with a strong bias for higher-yielding credits and higher-beta securities. Starting with loans, total returns for BB-rated, B-rated and CCC-rated loans were 3.12%, 5.22% and 12.45%, respectively. The outperformance of riskier credits was largely expected, given the continued economic recovery. The recovery provided a boost especially to those credits which saw downgrades in 2020 due to COVID-induced strains. As such, they were well positioned to capture a strong tailwind from the reopening trade and ongoing strong appetite for risk. In high yield, a similar dynamic unfolded, as total returns for B, B and CCC-rated bonds were 4.61%, 4.85%, and 8.59%, respectively, and notable spread compression in COVID-linked issuers and cyclicals also was evident. Furthermore, the structurally high concentration in energy companies benefited the asset class, as commodity prices strengthened over the period. 
In this report, we highlight our main views going into 2022 for leveraged credit. While we expect some similarities to 2021, plenty of challenges remain top of mind for investors as they navigate the current stage of the credit cycle. 
Market technical factors ― supply and demand
Amidst improved macro conditions, 2021 broke many records on both sides of the technical equation. Starting with supply, both senior loan and high yield bond markets were highly accessible to corporations during the year, and new issuance reached unparalleled levels (Figure 2). 
Figure 2. Annual issuance in leveraged credit, in $ U.S. billions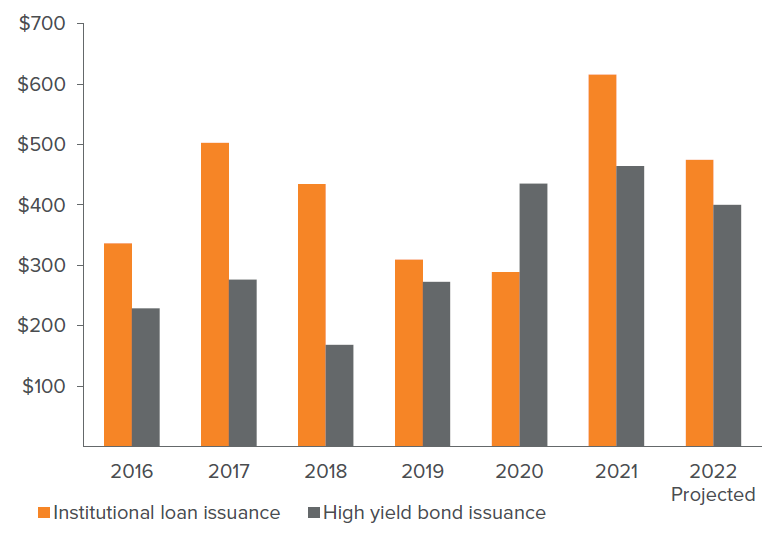 Source: S&P/LCD; data as of 12/31/21.
In the loan market, following relatively muted activity in 2020 due to pandemic concerns, many of the planned deals were pulled forward into 2021. Underpinned by a healthy macro backdrop and plentiful sponsor dry powder, merger and acquisition (M&A) transactions boosted volumes to record levels. Overall, institutional supply amounted to $615 billion, 22% higher than the previous high of $503 billion set in 2017. The robust pace of new loan origination expanded the total size of the loan market to roughly $1.3 trillion by LLI outstandings, a new milestone for the asset class.
Looking to 2022, we expect continued strong new loan formation, though less than 2021's record levels. Strong demand from the dominant collateralized loan obligation (CLO) buyer-base, high levels of private equity dry powder and what is expected to be a continuing supportive macro environment should continue to drive issuance, particularly for M&A and leveraged buyout (LBO) transactions. The transition of the market away from LIBOR as a base rate for loan coupon calculations will certainly add a layer of uncertainty (more on this later) and may cause some initial weakness in the new issue market as participants work through mechanical price discovery. Nonetheless, we still expect arrangers and market participants to navigate the transition successfully. We believe new issue supply will reach $450–500 billion in 2022, well ahead of the average historical pace. On the other hand, repricing is likely to see an uptick in the early part of the year with a decent portion of issuers trading above par, thus creating a potential modest drag on nominal loan spreads.
In the high yield market, the record-breaking new-issue momentum of the second half of 2020 continued through 2021. A refinancing wave combined with increased M&A and LBO deals marked another historical year of gross supply, even surpassing 2020's high-water mark. At $466 billion through December 31, 2021, gross volumes expanded by about 7%. We observed the continued prevalence of secured issuance (up 9% YoY), as companies backed deals with collateral to help get much-needed financing across the finish line. Conversely, 2021 senior unsecured issuance was largely in line with 2020. Overall, we expect a reduction in gross issuance next year inside a range of $375–425 billion in aggregate, reflective of moderating refi activity. Net issuance (ex-refi) should remain elevated given the constructive economic backdrop. The combined issuance of both markets (net of repricing/refis) is expected to further expand the below-investment-grade universe, which hit a new record of roughly $3.1 trillion in 2021.
Robust appetite for CLOs again proved to be a primary catalyst for loan demand globally, as deal structures demonstrated resilience through the pandemic and continued to offer attractive yields relative to other spread products. Accordingly, CLO demand set new records across the board (Figure 3). Total new vehicle formation rose to roughly $187 billion as per LCD, eclipsing the previous annual record of $129 billion from 2018, while an additional $240 billion was churned from refi/reset transactions. Given the strong issuance forecast and numerous existing warehouses currently open, the market is well positioned for a strong pace of new deals in 2022 and we project new issuance to reach a range of $130–150 billion, generally in line with analyst and investor expectations. We note, however, that issuance may slow in the early part of the year as the market moves into price discovery mode during the LIBOR base-rate transition for new deals, as previously mentioned. In the retail loan fund space, flows reversed course from the material redemption activity witnessed in 2020. In aggregate, loan funds and ETFs gained $46 billion of inflows for the year according to Lipper FMI, the second most of any annual period in the last decade. With the Fed expected to enact multiple rate hikes next year and retail ownership still below historical averages, we think there is plenty of runway for stronger inflows in 2022. 
On the high-yield side, demand remained healthy, although retail flows were noticeably weaker compared to 2020. In fact, ETFs saw noticeable periods of redemptions during parts of the year. The main sources for demand originated from the institutional base that increased exposure to high-yield credit in multi-sector bond funds or investment-grade funds, a byproduct of an increased hunt for yield and money looking to capitalize on the reopening trade. For 2022, interest in the asset class should remain healthy, barring material spikes in rates. 
Figure 3. Annual CLO issuance, retail loan fund flows and retail high yield bond flows, $ U.S. billions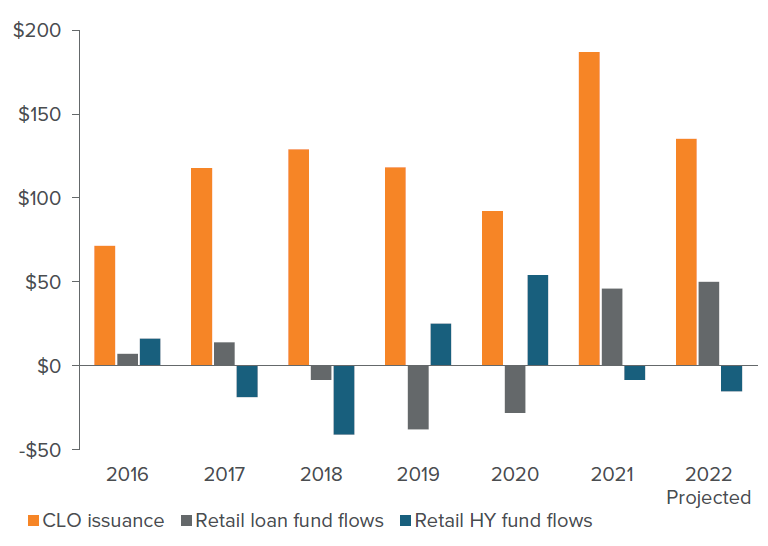 Source: S&P/LCD, Lipper FMI, Morningstar, as of 12/31/21; retail high-yield bond fund data as of 11/30/21.
Defaults and fundamentals
As noted, companies continued to focus on repairing the damage caused by COVID-related pressures, lockdowns, etc. As economies returned to near pre-pandemic levels of output, corporate earnings benefited as a result. As a result, traditional credit metrics such as leverage and coverage ratios improved notably. The rapid improvement in fundamentals propelled a significant reversal in downgrades to upgrades from 2020's historical peak. A continuation of this trend is expected to spill into 2022, further improving the ratings mix of the loan market. Within high yield bonds, 2021 saw a meaningful increase in "rising stars" after 2020 saw notable "fallen angel" activity. Meanwhile, default activity was benign in both parts of leveraged credit universe and remained near or at historical lows for virtually all of the year. Given our belief that the economic backdrop should remain supportive, we would expect default rates to remain well below historical averages in both markets through 2022 (Figure 4). Factored into our expectation is an assumed base case of continued strong GDP growth, healthy credit fundamentals and a relatively benign number of current distressed credits. For loans, we expect the trailing default rate to settle around 1.0–1.5%, with high yield being anchored close to similar levels. 
Figure 4. Leveraged credit default rates are projected to remain below historical averages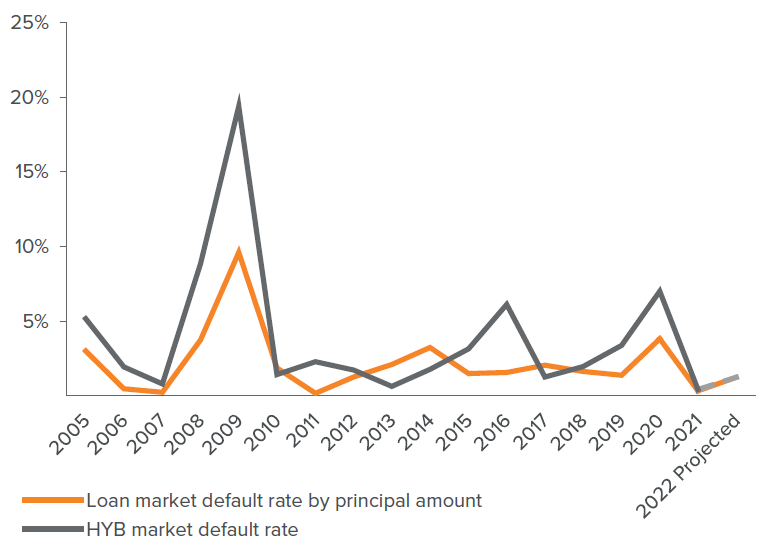 Source: S&P/LCD and BofA Global Research, as of 12/31/21. The loan market is represented by the S&P/LSTA Leveraged Loan index, the high yield bond market is represented by BofA/ML High Yield Corporate index. Default rates are by par amount. Investors cannot invest directly in an index.
Sector views and market opportunities
In 2021, sector performance was tilted towards COVID-sensitive sectors and cyclicals, which underperformed in the previous year due to pandemic-driven headwinds. Conversely, underperformers were largely concentrated in defensive sectors. Due to the incredibly fast pace of recovery witnessed last year (Figures 5A and 5B), a more challenging valuation backdrop underscores our views for 2022. As corporate balance sheets generally have been repaired, liquidity buffers replenished, maturity walls pushed out and earnings rebounded to pre-pandemic levels, our sector sensitivities and focus have shifted. The focus in 2022 will be on those companies likely impacted by continued inflationary pressures, elongated supply chain disruptions, aggressive capital management and exposure to the reopening trade. We expect inflation and margin pressures to reflect a medium-term uptick in idiosyncratic stresses, rather than any broad-based credit deterioration. Therefore, we remain constructive on sectors with pricing power (food and beverage), fewer vulnerabilities to inflationary pressure(healthcare), limited impact from supply chain disruptions (telecommunications, media and cable) and those that continue to benefit from some limited upside associated with an elongated reopening theme (airlines, gaming, travel and leisure, lodging and restaurants). We are more cautious on sectors exhibiting rich valuations (technology), weaker pricing power (consumer products) and susceptibility to continued supply chain headwinds (autos, retail and homebuilders).
Figure 5A and 5B. Loan price and high yield bond option-adjusted spreads (OAS) by ratings
Figure 5A, senior loan pricing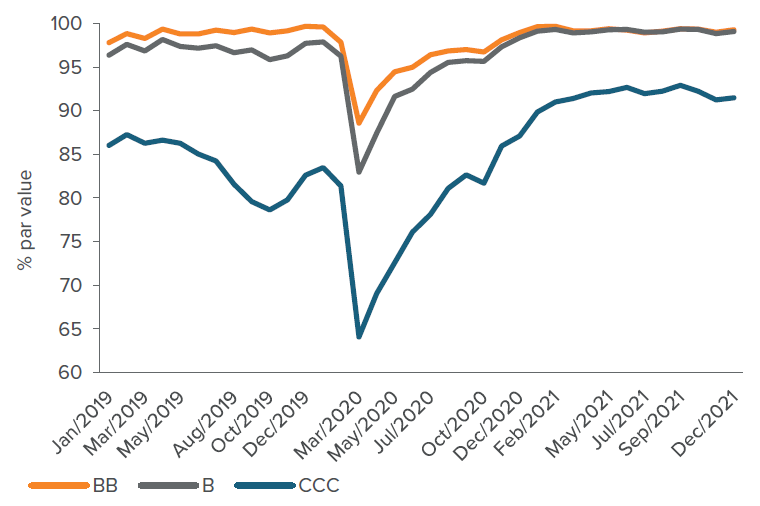 Figure 5B, high yield bond OAS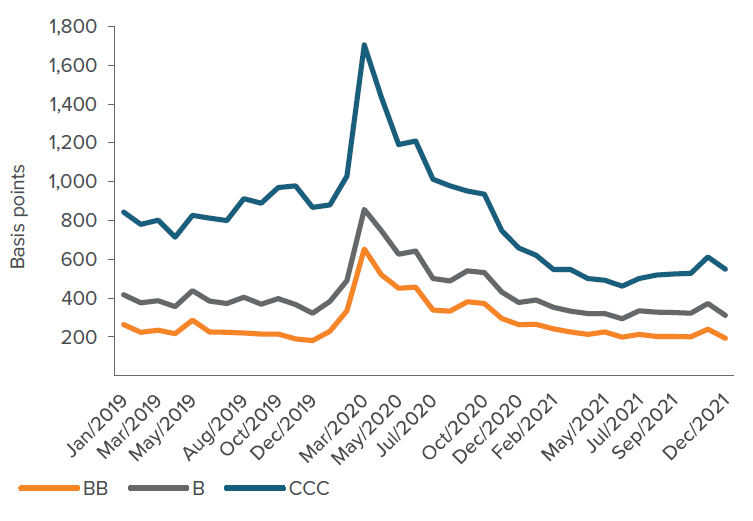 Source: S&P/LCD, Bloomberg, Barclays; data as of 12/31/21.
When observing the investable leveraged credit universe, we believe 2022 will favor credit picking, as individual selection will likely be a key driver of performance. In loans, the upside for price appreciation is more limited across rating cohorts given current trading levels. CCC-rated loans should perform well given higher carry and the expected, muted default environment, but will continue to be sensitive to "risk-off" sentiment given elevated valuations. Therefore, we believe more caution is warranted within this category, both in the context of loans and high yield bonds. We believe BB-rated credits offer decent relative value, as they generally carry a little more market value upside potential and less default risk than B-rated credits when looking at historical price levels. If macro growth exceeds expectations, however, the lower-beta nature and lack of convexity among BBs could weigh on performance. Given strong CLO buyer demand, we expect B-rated loans to remain well bid, although selectivity is needed due to the outsized weighting of the cohort, which has continued to expand due to the increase of first-time loan issuers within this category. 
Macro themes, potential risks and return expectations
While the upside embedded within the macro environment is not quite as constructive going into 2022 as it was going into 2021, we believe it should still provide a supportive backdrop for risk assets. U.S. GDP growth is expected to remain above trend due to pent-up consumer demand for services, deployment of excess savings and the easing of pandemic-related effects on global supply chains. Inflation will understandably remain an overhang on markets but should moderate over the course of the year as supply chain issues abate. On the flip side, if the inflation baseline worsens significantly, central banks may be forced to accelerate tightening of loose monetary policy beyond what the markets can digest, and the risks could trickle into company fundamentals if financing costs surpass range-bound levels. Such a scenario would lead to spikes in volatility, particularity for high yield bonds. Other potential risks that could weigh on high yield and senior loan assets include introduction of new COVID variants and related virus flare-ups, supply chain disruptions lasting longer than expected, geopolitical risks emerging in Asia or Europe and China's economic slowdown continuing, including spillover effects from property markets. 
Specific to loans, the transition away from LIBOR, as the base rate used in the calculation of borrower's coupon payments, will be a key focus for the asset class. Though the full transition still has another 18 months to go (legacy contracts are not required to transition before June 2023), new instruments created after December 31, 2021 cannot be anchored to a LIBOR rate. This will affect newly issued senior loans and CLOs. So far, the fourth quarter of 2021 has produced several deals testing the new rate construct, largely using term SOFR in combination with a credit adjustment spread, determined through the pricing exercises between the buy- and sell-side during the issuance/syndication process. Whether this approach to right-sizing deal economics will provide enough cushion across the full credit cycle remains to be seen, but we take some comfort in knowing the nuances will become better understood over time and believe that the market will navigate the transition in a measured and orderly fashion. 
As for return expectations, presuming no unexpected material disruption to general economic growth forecasts, rate expectations and actual movements are likely to be the primary driver. Of course, should the U.S. Federal Reserve or other central banks react as advertised ("several" Fed Funds hikes are currently messaged for the coming year), we like the outlook for floating-rate loans. While there can be no guarantees of future performance, we forecast a potential total return of 3–5% for floating-rate loans. On the high yield bond side, rate sensitivity is likely to bite somewhat; we therefore expect potential total returns in the range of 2–4%. We believe the wider ranges of outcomes are warranted given a myriad of scenarios that could shift expectations.