Highlights
Legacy loan transition could speed up: CLO demand, cheaper financing via lower base rate, declining liquidity in LIBOR instruments and market dynamics may incent borrowers to refinance or opt into the Secured Overnight Financing Rate (SOFR) ahead of LIBOR's official expiration in June 2023.
SOFR dominates new loan issuance: About 95% of institutional loans through March used SOFR as the base index reference rate.
Markets wrestle with pricing and risk: SOFR needs credit spread-adjustments (CSAs) to equate with LIBOR; SOFR and LIBOR rate changes could become less correlated as market rates rise and increased differential could exacerbate basis risk.
CLO market adopts SOFR: All tranches of collateralized loan obligations (CLOs) issued this year have been SOFR-based, without any kind of CSA.
Introduction
January 1, 2022 marked a significant milestone in the transition from LIBOR to alternative reference rates. As of that date, publication ceased permanently for 24 LIBOR settings — a "setting" being a combination of a maturity tenor and a currency denomination. What's more, newly enacted restrictions took effect regarding U.S. dollar LIBOR usage for new contracts. After years of coordination among regulators, legislators and market participants, the transition to alternative reference rates (ARRs) appears to be progressing smoothly. Though much work remains as we head toward the ultimate cessation of 
U.S. dollar (USD) LIBOR in June 2023, U.S. markets have coalesced around SOFR as the primary USD LIBOR replacement.
Legacy loan transition could speed up
Legacy loans have until June 2023 to update their credit agreement language to ensure the appropriate consideration of the fallback to an alternative base rate once LIBOR tenors fully cease to be published. We have seen a range of approaches to amending credit agreements, as shown in Figure 1.
Figure 1: Credit agreements take a range of LIBOR loan fallback approaches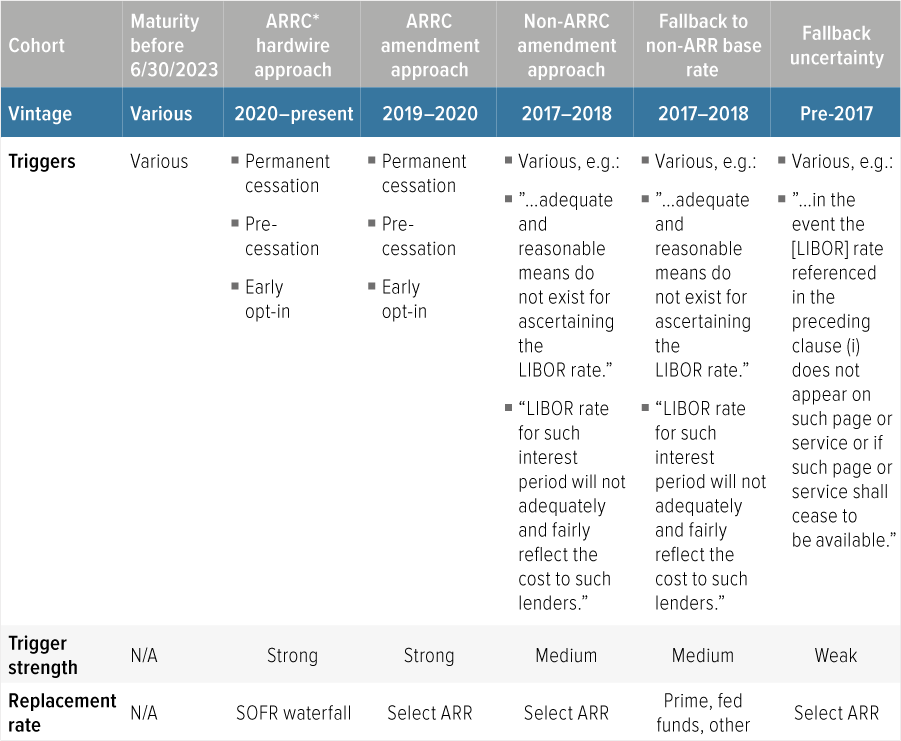 Source: Voya IM; data as of March 2, 2022. *ARRC = the Alternative Reference Rates Committee.
Though borrowers still have a runway for their transition to SOFR on loans issued prior to December 31, 2021, we may see an acceleration of transition activity ahead of the deadline. This could be driven by CLO demand (see below), declining liquidity in LIBOR instruments and market dynamics, which may incent borrowers to refinance or opt into SOFR ahead of LIBOR's official expiration in June 2023.
SOFR dominates new loan issuance
After years of cooperation among regulators and market participants, the first SOFR-based loan was launched in the loan market in October 2021, ahead of the December 31 cut-off for LIBOR-based issuance. Since then, issuance tied to SOFR has only accelerated. To no one's surprise, SOFR has indeed replaced LIBOR as the base rate for leveraged loan issuers in the new-issue market in 2022, and the shift to this new rate has gone relatively well. For context, of the $113.5 billion of institutional loans launched from January through March 2022, approximately 95.4% were priced using SOFR (Figure 2). 
Through March 31, SOFR-based issuance accounted for roughly 7.8% of the total $1.39 trillion of the total outstanding senior loan market, as represented by the S&P/LSTA Leveraged Loan index. As more loans come to market using SOFR and existing loans transition from LIBOR, the percentage of SOFR-based loans will continue to expand. 
Figure 2: SOFR issuance rapidly has superseded LIBOR issuance
Percent of monthly loan issuance since October 2021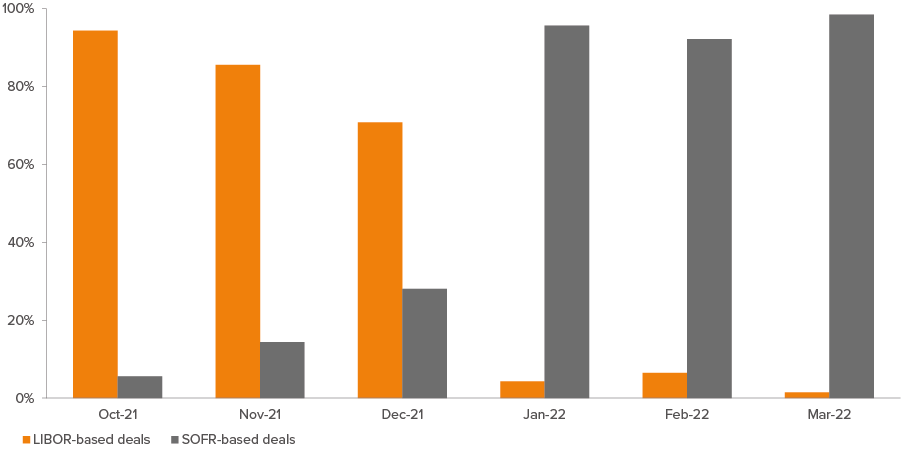 Source: S&P/LCD; data as of March 31, 2022.
Markets wrestle with pricing and risk
As the transition from LIBOR to SOFR progresses, there will still be factors to consider such as relative value, price discovery for new issuance and market trading/technical factors. Among the most important issues is how to appropriately compensate investors for the spread differential between LIBOR and SOFR until LIBOR is fully dissolved and there is no longer a proper comparison for the rates. 
The loan market continues to debate approaches for including a CSA to compensate lenders for the credit risk factored into LIBOR but not into SOFR. To date, we have seen a range of approaches, including attempts to develop a standard curve of 10 basis points (bp) for one-month tenors, 15 bp for three-month tenors and 25 bp for six-month tenors. According to Barclays, about half of all newly issued transactions during the year-to-date period through March 4, 2022 have adopted the CSA curve element during the syndication process. Meanwhile, roughly 12% of deals have come to market with a flat CSA of 10 bp, while 36% of deals have syndicated without the CSA at all. 
In instances where future LIBOR rates move higher at a faster pace than SOFR rates, this could lead to SOFR-based loans, even with a CSA, being less attractive to investors than LIBOR-based loans. When market rates are low and a less pronounced basis differential exists between LIBOR and SOFR such as in late 2021, the technical risk related to the basis differential is partially mitigated for loans with embedded rate floors. However, market rates have already increased above such floors for many loans this year given current three-month and one-month LIBOR rates. For loans using three-month LIBOR, virtually all floors have already been eclipsed, as three-month LIBOR surpassed 1% as of this writing in early April. With one-month LIBOR being considerably lower, this has provided incentive for borrowers to switch to one-month LIBOR and has added another element for loan managers to consider. 
Further adding to the complexity, the difference between three-month LIBOR and three-month SOFR has widened recently due to market volatility, swelling to over 40 bp in March before moving lower to approximately 32 bp in April. The increased spread widening may lead to investors preferring to hold LIBOR-based loans given higher yield potential, particularly if some SOFR-based loans are deemed to have inadequate CSAs to overcome the basis differential between the rates. This development could persist during periods of increased market stress, as LIBOR embeds a credit risk premium not found in the "risk-free" SOFR rate. With consensus expectations of at least six or seven rate hikes this year and likely continued broad market volatility, the basis between the two base rates likely will remain elevated. These will be important considerations for managers, given that they will be managing portfolios consisting of LIBOR and SOFR base rates at different tenors, as well as SOFR-based loans with different approaches to the CSA.
Despite some of this complexity, we do see many of these challenges as temporary. With the recent and expected future rate hikes and the lower bound of the curve officially off zero, we should finally begin to see SOFR (an administered rate closely tied to the Fed funds rate) able to move more freely, reflecting daily repo market levels. We see this as a healthy development. Further, the LIBOR versus SOFR basis differential should become less relevant over time, particularly as SOFR becomes the more dominant market rate, LIBOR liquidity continues to wane and we draw closer to the final curtain on LIBOR.
CLO market adopts SOFR
Beyond the implications for the broader loan market, the SOFR transition is an important topic in the context of collateralized loan obligations (CLOs) — the predominant buyer of loans. CLO issuance levels in early 2022 have been notably behind 2021's record-breaking pace. Market participants largely expected this as investors and CLO managers worked through the initial price-discovery phase. Issuance has picked up since January (Figure 3) and all the CLO tranches in 1Q22 have been SOFR-based. Alongside the price discovery, the market for tier I managers (a typical proxy for the market) started around 130–133 bp over SOFR for AAA-rated CLOs, which is about 15 bp wider than average LIBOR deals from 4Q21.
CLO tranches widened in February as macro volatility and geopolitical risk weighed on the market. As of this writing in early April, AAA-rated CLOs were anchored around 145 bp over SOFR. Of note, CLOs are not using any kind of CSA in their tranche pricing, which is being reflected directly into the nominal spreads of CLO tranches. For some legacy CLOs, a trigger-event clause requiring liabilities to switch from LIBOR-based tranches to SOFR will occur when approximately 50% of the underlying collateral of the portfolio, i.e., loans, is using SOFR. Depending on the frequency of re-pricings or refinancings in the loan market in 2022, which have been relatively muted thus far, it is likely that most CLOs will reach a trigger-event mark by early 2023. According to Fitch, the percentage of SOFR-loan exposure in CLOs was 7.1% at the end of February, up considerably from 2.6% at the end of January.
For new-issue CLOs, the pace of issuance likely will accelerate as the market continues to adopt SOFR-based loans. We anticipate that the transition will become more established and less novel by the middle of 2022. As we entered the year, one of the identified risks was centered on the asset/liability mismatch between the underlying collateral (still largely LIBOR-linked loans) and the pricing of SOFR-based CLO tranches. Until we get to June 2023, CLOs will have mixed portfolios of LIBOR and SOFR-based loans. Of the CLO investor constituency, investors in the equity of CLOs will be the most impacted by the previously described basis differential and volatility between SOFR and LIBOR. However, pressure from the CLO market may result in an accelerated transition of legacy deals to SOFR to mitigate this basis risk. As the transition accelerates, the percentage of LIBOR-linked CLOs will shrink, thereby decreasing demand for LIBOR-based loans. Managers who are nimble in aligning their asset/liability profile to a uniform base rate in an orderly fashion won't bear the risk of paying a premium for swapping over their portfolios. Nonetheless, we believe the transition will remain top of mind for managers and investors and ultimately should not have a material impact on CLO creation.
Figure 3: CLO issuance is expected to accelerate as SOFR becomes established
Monthly CLO issuance, $ billions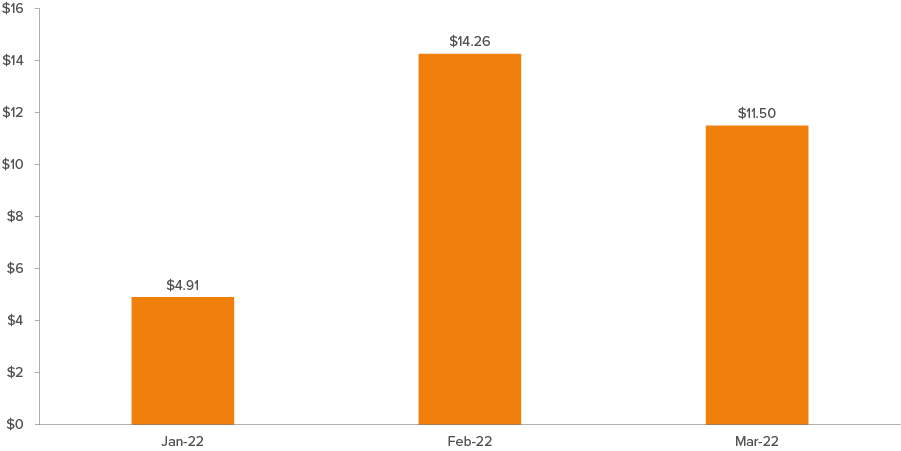 Source: S&P/LCD; March data as of March 31, 2022.
Voya proactively managing SOFR transition
Voya Financial has taken proactive steps to help ensure that as a market participant, fund manager and counterparty, we are well-positioned to adapt to evolving market conventions, norms and benchmarks. In 2019, we established a comprehensive LIBOR transition program and governance structure, headed by the Voya Financial Risk Committee, with executive sponsorship from Voya Financial's CFO and Voya Investment Management's CEO. The program is chartered to manage the financial and non-financial risks related to LIBOR cessation across the entire Voya Financial organization. 
One of the most significant areas of focus of the project is the LIBOR exposure of LIBOR-based floating rate invested assets of Voya's subsidiaries and investment advisory clients. The LIBOR program includes project managers, AI investment analysis and workstreams dedicated to contract remediation, product transition, system and operational readiness, finance and client communications. Project managers and functional area business leads are coordinating these workstreams and their related interdependencies.
As of year-end 2021, Voya has completed work to establish operational readiness for alternative reference rate (ARR) transactions. Between now and the permanent cessation of USD LIBOR in June 2023, the LIBOR program will focus on the transition of legacy LIBOR exposures. This continuing work is intended to ensure that as the market transitions away from LIBOR, Voya systems accurately capture contract-level changes and make the appropriate distinctions between LIBOR- and SOFR-based coupons, as well as any CSAs and the tenor of those CSAs, as applicable. We will also monitor current market developments relating to LIBOR cessation from regulators, the Alternative Reference Rates Committee, trade associations, dealers and market participants. Voya will adjust its transition program as needed.