Highlights
Private equity (PE) derives much of its performance from consistent exposures to common factors and sectors, which can be replicated using public equities at low cost.
 Simulated portfolios show that strategies replicating private equity with public equities can deliver similar risk-adjusted returns to the PE asset class.
In addition to achieving private equity–like returns at much lower cost, these replication portfolios have other advantages, such as providing consistent exposure to the PE asset class and better liquidity than traditional PE funds.
Is private equity simply factors in disguise?
Higher returns and lower volatility. These are the perceived benefits of private equity versus public equities, delivered for a hefty fee. However, numerous studies have questioned whether private equity has provided a return source that justifies the cost—or whether the same characteristics might be achieved through public markets.
For example, Stafford (2016) finds that private equity returns can be replicated by investing in public small-cap value stocks, using leverage and accounting-based returns.1 Other studies show the dispersion of returns among private equity managers is nearly three times as wide as among active managers in public equities, creating significant risk when choosing among PE managers.2 Given the difficulty of consistently choosing a top-performing private equity manager, some critics question whether private equity provides enough value to compensate for its high fees and illiquidity relative to public equities.
Applying style replication strategies to private equity
This debate has played out in publicly traded equities as well. Researchers have reported that the strong performance of Warren Buffet, seen as one of the greatest stock pickers of all time, can largely be replicated by low-volatility and high-quality value stock exposures.3 Similarly, an academic study commissioned by the Government Pension Fund of Norway concluded that much of the overall performance of its active managers could be attributed to systematic style exposures.4 While studies such as these explain why factor investing has taken hold in public equities, it has yet to gain significant share in the private space. A recent survey by Japan's Government Pension Investment Fund and Nomura Research Institute found that just 6% of asset owners, asset managers and academics use private equity replication methods.5
Figure 1 summarizes the drivers of private equity returns and how to replicate them in the public market. For our analysis, we focused on replicating buyout funds, which represent the largest segment of the private equity asset class. Public equity investors can replicate all the return drivers except for deal sourcing and portfolio company operational improvements.
Figure 1: Drivers of private equity returns and recommended replication method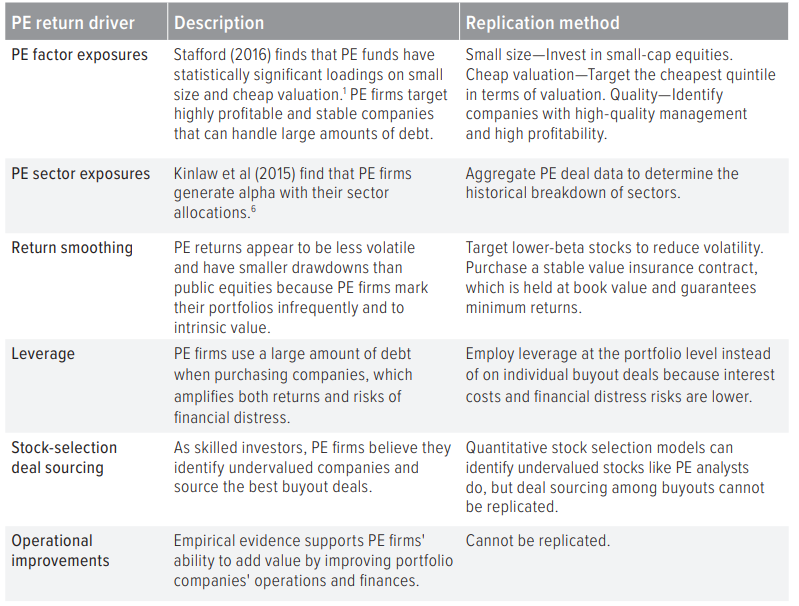 Source: Voya Investment Management.
How do PE replication strategies stack up?
Using the replication methodology outlined in Figure 1, we created two simulated portfolios to demonstrate how those portfolios compare to the average private equity fund, measured by Preqin's PE Index.
Figure 2 displays the simulated returns of two Voya replication portfolios—Replicated Private Equity (RPE) and Smoothed Replicated Private Equity (SRPE), which includes a stable value insurance contract—and the Preqin PE Index return for the same time period. (See Appendix for details on simulation settings and portfolio construction.)
Figure 2: Simulated replication portfolios vs. private equity
Cumulative total return

As of 9/30/2021, based on latest available common data. Source: Preqin, Voya Investment Management. Data represents past performance, which is no guarantee of future results.
Our analysis shows it is possible to replicate the return smoothing and lower drawdowns of private equity using public equities—an outcome not widely covered in prior research). As Figure 2 highlights, RPE and SRPE produced similar annualized returns to the Preqin Index (10.81% and 10.73% vs. 11.15%). However, SRPE, which uses a stable value contract, had significantly lower annualized volatility than the RPE strategy, which does not use the contract (7.27% vs. 17.59%). SRPE's volatility is even lower than that of the Preqin PE Index, which, coupled with its similar returns to the Index, translates to better risk-adjusted performance than private equity.
By recording portfolios at book value rather than marking them to market daily, the stable value insurance contract allows investors to experience lower volatility and smaller drawdowns. In this fashion, a stable value insurance contract seeks to replicate the smoothing process inherent in private equity valuation methodology.
While the returns for the replication strategies are unlevered, SRPE's higher Sharpe ratio indicates that it has the potential to outperform the Preqin PE Index if leverage is used to align its volatility with that of the Index. SRPE also has lower drawdowns than RPE and drawdowns more in line with the Preqin PE Index, particularly during the sharp market downturn in 2020 at the height of Covid-19 lockdowns. In drawdowns like the one during Covid-19, the stable value contract in SRPE is designed to cushion performance by growing the portfolio at the contract's guaranteed minimum rate instead of the RPE's mark-to-market movements. As a tradeoff for lower drawdowns, SRPE will typically lag RPE as the market recovers; the stable value contract return rate needs to reset and the book value of the contract will need to breach a minimum discount level to the underlying equity portfolio (i.e., RPE) before any mark-to-market adjustments are applied.
The benefits of PE replication approaches
In addition to tracking the median PE fund performance at significantly lower fees, the replication portfolios have several other advantages. The portfolios allow investors to remain fully invested throughout the investment period. Meanwhile, the percentage of capital invested in PE funds varies throughout the life of the fund because PE firms do not call committed capital until they need it for buyouts, and they distribute capital once deals are exited. As a result, investors in private equity are usually not fully invested in the early and later years of PE funds' time horizons. Replication portfolios, on the other hand, allow LPs to deploy capital immediately.
The replication portfolios also provide more liquidity for investors than PE funds. Once called by PE funds, investor capital is locked up for the entire holding period of the investments, which on average is around five years.7 Conversely, replication portfolios can allow clients greater flexibility in deploying or drawing upon capital.
Conclusion
Our research about private equity is consistent with numerous studies about the efficacy of factor investing to emulate active management for public equities. Like Norges Bank's review of the value-add of its active managers and the academic analysis of Warren Buffet's alpha, we have shown that private equity derives much of its performance from consistent exposures to common quantitative factors and sectors, which can be replicated at low cost. In addition to achieving private equity–like returns at much lower cost, these replication portfolios have other advantages, such as providing consistent exposure to the product and better liquidity than traditional PE funds. Building on our research, in May 2021, we created an investment solution, Voya Replicated Private Equity, for investors to take advantage of low-cost private equity replication. In a future paper, we will explore how best to utilize this replication strategy in a broader asset allocation.
To learn more about the Voya Replicated Private Equity portfolio, contact your Voya representative.
Appendix: Replication portfolio construction and simulation settings
To create the Replicated Private Equity (RPE) portfolio, we begin with a universe of the Russell 3000 Index stocks, minus the top 200 largest stocks. Then we create an optimized portfolio that has size exposure in line with Russell 2000 stocks,8 sector weightings similar to our estimates of PE funds' exposure (+/- 250 basis points), portfolio weighted-average Voya proprietary valuation scores in the cheapest quintile of valuation, and a lower beta than the Russell 2000 Index. To select the individual stocks in the portfolio, a proprietary stock-selection model is used, which tilts the portfolio toward more profitable and more stable holdings. To ensure a diversified portfolio, minimum position sizes of 10 bps and maximum stock active weight constraints of 30 bps are used. 
The Smoothed Replicated Private Equity (SRPE) portfolio uses the same construction as above but also purchases a stable value insurance contract to smooth out the returns and reduce drawdowns. The terms used for the stable value contract are based on a proposed term sheet from an external stable value insurance contract provider. Specifically, the contract's book value grows at a rate that is calculated quarterly using the maximum of 1/12 of the trailing 12-month return of the replication portfolio and a minimum portfolio crediting rate of 10 bps. The contract's book value will adjust toward the market value of the underlying replication portfolio if the underlying portfolio is less than 70% of the contract's book value or if the underlying portfolio is greater than 115% of the contract's book value. The portfolio returns of the SRPE portfolio are calculated as the difference in the contract value after adjustments each month.
For the simulation, the two portfolios were rebalanced quarterly from Dec. 29, 2000, to Sept. 30, 2021. To ensure that the portfolio was truly implementable, the portfolio positions were capped at the amount that could be traded using 15% of 20-day average trading volume over four days on a portfolio notional of $2 billion. Transaction costs were applied based on our trading desk assumptions of historical transaction costs in US small cap. For the stable value insurance contract, a 25 bp annualized fee was subtracted from performance for administration costs in running the contract.